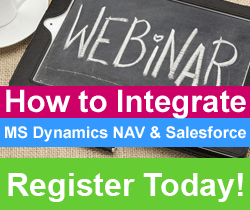 Are you using salesforce.com and MS Dynamics NAV?
Would you like to maximize your use of those two systems?
By integrating MS Dynamics NAV and Salesforce you will have less manual work, eliminate data entry and duplication. Furthermore you will have all your key Business Data available and updated inside salesforce.com. This makes it easier for you to get an overview of the sales and create statistics without having to switch to MS Dynamics NAV. This translates into better customer and partner relationships and in the end – more sales!