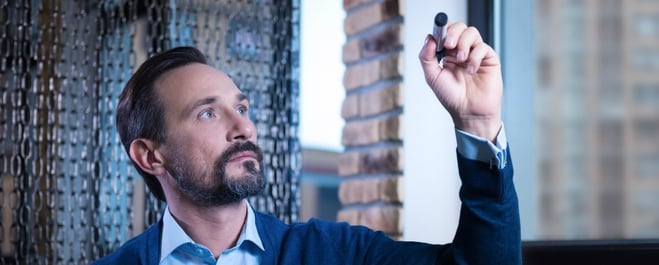 The prerequisite for a robust data integration between Salesforce and Microsoft Dynamics NAV is to have the right setup. Integrations can be made in many different ways, and not all of them are equally well-suited to provide a robust data integration platform.
The good part is that, today, you don't have to build your own costly interface. You can benefit from data integration as a service that is kept up-to-date with the rest of your applications.
Read also: To integrate or not to integrate: the ERP-CRM dilemma
Many companies that are using Microsoft Dynamics NAV also benefit from utilizing a CRM system like Salesforce to increase their revenue and provide better customer insight. They need to deliver relevant and timely information to end users. When developing RapidiOnline, we have had a strong focus on simplifying the integration of ERP solutions such as Microsoft Dynamics NAV and Salesforce. Our Microsoft Dynamics NAV data integration solution for Salesforce gives Salesforce users instant, ubiquitous visibility into their CRM data enabling them to make smarter decisions.

Read also: 10 cases – why integrate Salesforce with Microsoft Dynamics ?


5 ways to ensure a fast and robust Salesforce - Microsoft Dynamics NAV integration
How do we ensure fast, smooth and robust data integration between Salesforce and Microsoft Dynamics NAV?
Data integration templates: We deliver pre-built integration templates that contain the most common integration points. This gets you started quickly and enables you to make further customizations to match you exact needs and requirements.
Fast and secure connection: The RapidiOnline Services run with a unique technology called the RapidiConnector that ensures compressed and secure data transfer between RapidiOnline and the different on premise systems. Your data is compressed and encrypted to increase efficiency and security.
Straight-forward deployment: The RapidiConnector resides in your on premise network connecting outbound to the central RapidiOnline Service and enables two-way communication between RapidiOnline and your legacy systems. This has the advantage that you don't have to change anything in your network or firewalls in order to deploy RapidiOnline integration.
Optimized and efficient data transfers: The communication between RapidiOnline and the RapidiConnector is using a proprietary protocol which is highly efficient in terms of maximum reduction of the total amount of data and the number of packages sent and received. Furthermore the package is compressed before sending. This results in the most efficient data transfer. This method has proven to be able to reduce the amount of data needed to be sent by a factor of up to 50.
Secure encrypted communications: Because of the proprietary protocol and the compression it is practically impossible to decipher the data transmitted. This increases security. If extra security is needed the data can also be encrypted.

Read also: 7 steps to successful Salesforce-Microsoft Dynamics integration


Watch the demo
Would you like to see it work? We have just held a webinar where we explained why integrate Salesforce with Microsoft Dynamics NAV and performed a demo of how this can easily be done using RapidiOnline. You can watch the recording below. Note that the video starts with a walk-through of the benefits of the integration. If you are mostly interested in watching the demo, move forward to 36:00.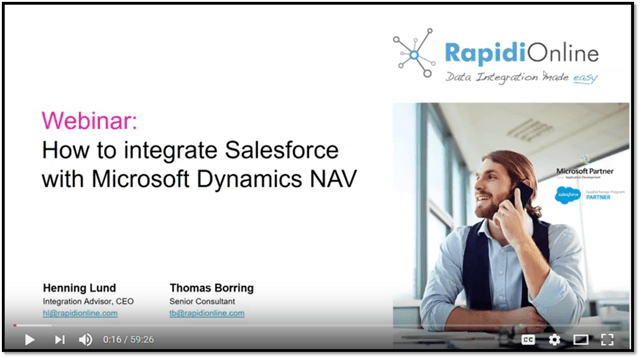 Read also:
Can you afford not integrating your CRM with your ERP?
How easy is it to integrate Salesforce with your ERP?
3 easy steps to plan your data integration project


Learn more: