Replicator for Microsoft Dynamics NAV (Version 7.0)
Data Replication of multiple Microsoft Dynamics NAV Databases
The Replicator for Microsoft Dynamics NAV enables you to replicate data between two or more Microsoft Dynamics NAV databases.
Also available as a "hybrid" version:
Replicate your data locally so that data never leaves your network, but configure online. Gain the best of both worlds for on

-

premise and o

n-

demand

:

Your data will never leave your network, but you can monitor it 24/7 and on the go! Contact us to learn more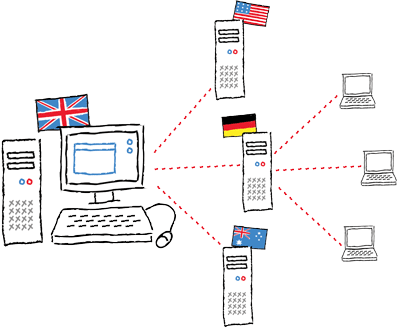 A typical use of the Replicator is to replicate data between a central ERP system/database and to/from several decentralised systems. These could e.g. be servers/databases situated in remote locations/countries or factories or even on boats.
Another scenario could be having laptops with a local stand alone database used by salesmen, service technicians or an NGO employee travelling in remote areas
Another use case for the Replicator is for the retail industry - where you want to have products and pricing in stores kept up-to-date from the central and you want all transactions send back to the central on a daily basis.
The Replicator can scale from replication of a system with just a few databases to replication of large installations with several hundreds of databases and several parallel processes - all handled in a timely manner.
Features and Benefits
Cloud-based solution
Easy to set-up: No need to set-up vpn connection
Easy to monitor and maintain: Centralised running and monitoring of the Replicator system
Possibility to use NAS Server: Access to run C/AL code (using NAS server)
No need to purchase extra NAV objects
Extensive formular system to manipulate data on the fly
Looking for the former Replicator Microsoft Dynamics NAV version 4.30?
Replicator for Microsoft Dynamics NAV is the successor of our popular on-premise Replicator for Microsoft Dynamics NAV 4.30 product Replicator for Microsoft Dynamics NAV version 4.30 - delivered as an on-demand solution.