If you have invested in top rated CRM and ERP systems such as Salesforce and Microsoft Dynamics AX, you need the two systems to be in sync. This will allow you to get the most out of your investment. But do you know how to choose the best Salesforce - Microsoft Dynamics AX integration?
Integrating with Microsoft Dynamics AX (or Microsoft Dynamics 365 for Finance & Operations) is not necessarily an easy task. This article will evaluate the greatest challenges in Microsoft Dynamics AX integration before looking into the best possible way to integrate it with a CRM solution such as Salesforce.com.
The greatest challenge when integrating with Microsoft Dynamics AX
In principle, integrating with Microsoft Dynamics AX does not look much different from any Microsoft Dynamics integration. However, there are a few things to bear in mind.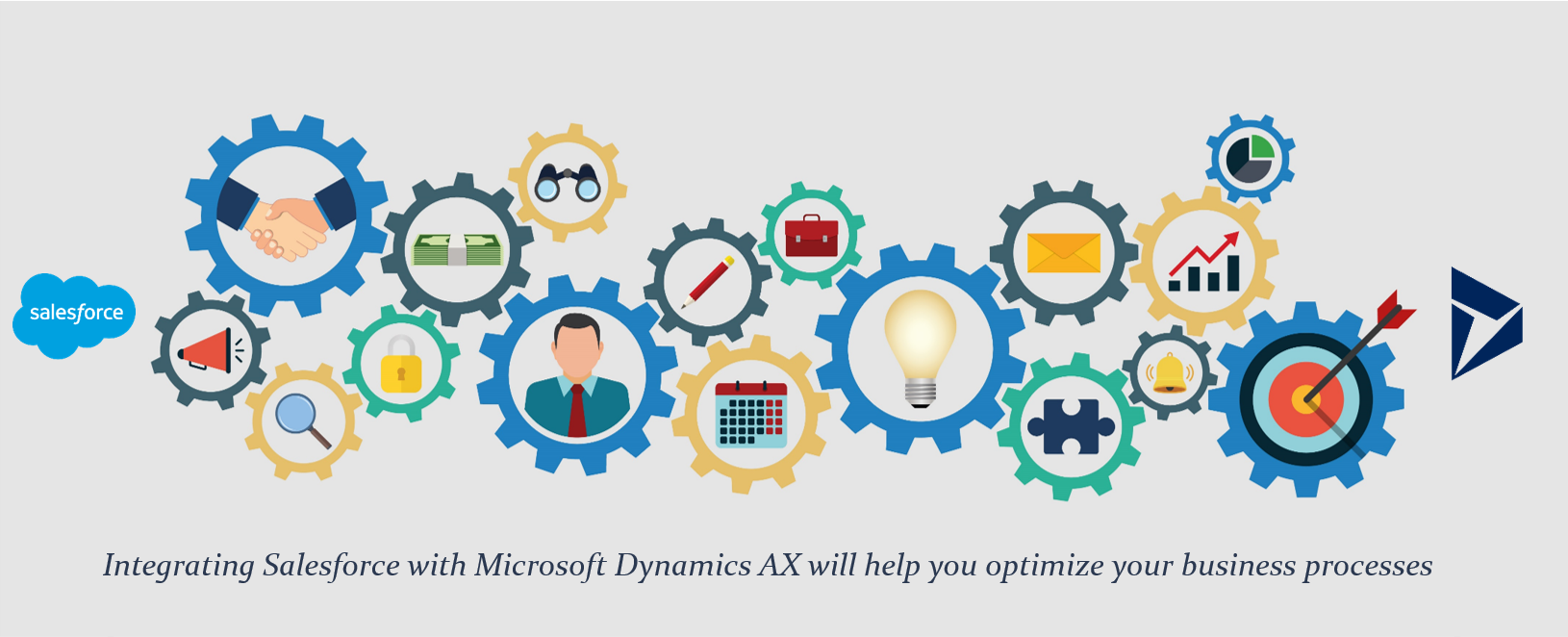 OData
Microsoft recommends using OData services as the method of choice to integrate with Microsoft Dynamics AX and Microsoft Dynamics 365 for Finance & Operations. This should not cause many problems as many data integration solutions such as RapidiOnline have been able to integrate using OData for a while.
Timestamps
Anybody who has tried to do integration with Dynamics 365 or Dynamics AX will not be surprised to read that timestamps can be the greatest challenge.
What are timestamps? To put it simply, timestamps is a way to register when data is being added, deleted, or moved. It is particularly useful in data integration, as it allows systems to only transfer the data that has been added, deleted or moved rather than the entire data when systems are synchronized.
Why are timestamps an issue for Microsoft Dynamics AX integration? Simply because Microsoft Dynamics AX and Dynamics 365 for Finance & Operations do not support timestamps. This makes data integration more troublesome.
Many providers of Microsoft Dynamics data integration platforms have come up with workarounds. For example, some develop triggers in the code. These triggers simply update a timestamp field on the record. This sounds like an easy solution, but it is not and can require quite a bit of development time.
Rapidi and the Rapidi Mirror Technology is a clever and simple way to solve this. RapidiOnline is a data integration solution that connects Salesforce with Microsoft Dynamics ERP solutions.
The Rapidi mirror is a separate binary SQL database (MS SQL, MySQL or similar) designed to easily solve the lack of timestamp issue. The Rapidi Mirror automatically creates the tables needed to store a copy (also called "a mirror") of the data from your source system and automatically uses these to compare with the actual data and deliver a list of changed records.
It is a clever solution that is programming free for you and works regardless of any customizations you may have on your Microsoft Dynamics solution.
5 criteria to choose the best Microsoft Dynamics AX - Salesforce integration
Choosing a vendor that has a proven solution for timestamps is a great first step but it is not enough. Salesforce - Microsoft Dynamics ERP integration is not just about technically transferring data from one side to the other.
There is much more to it and you need to see the integration as the missing link that can substantially optimize your most sales and marketing processes - and other vital business processes. It is also what will allow you to get the most out of your investment in Salesforce CRM and Microsoft Dynamics ERP. Choose wisely.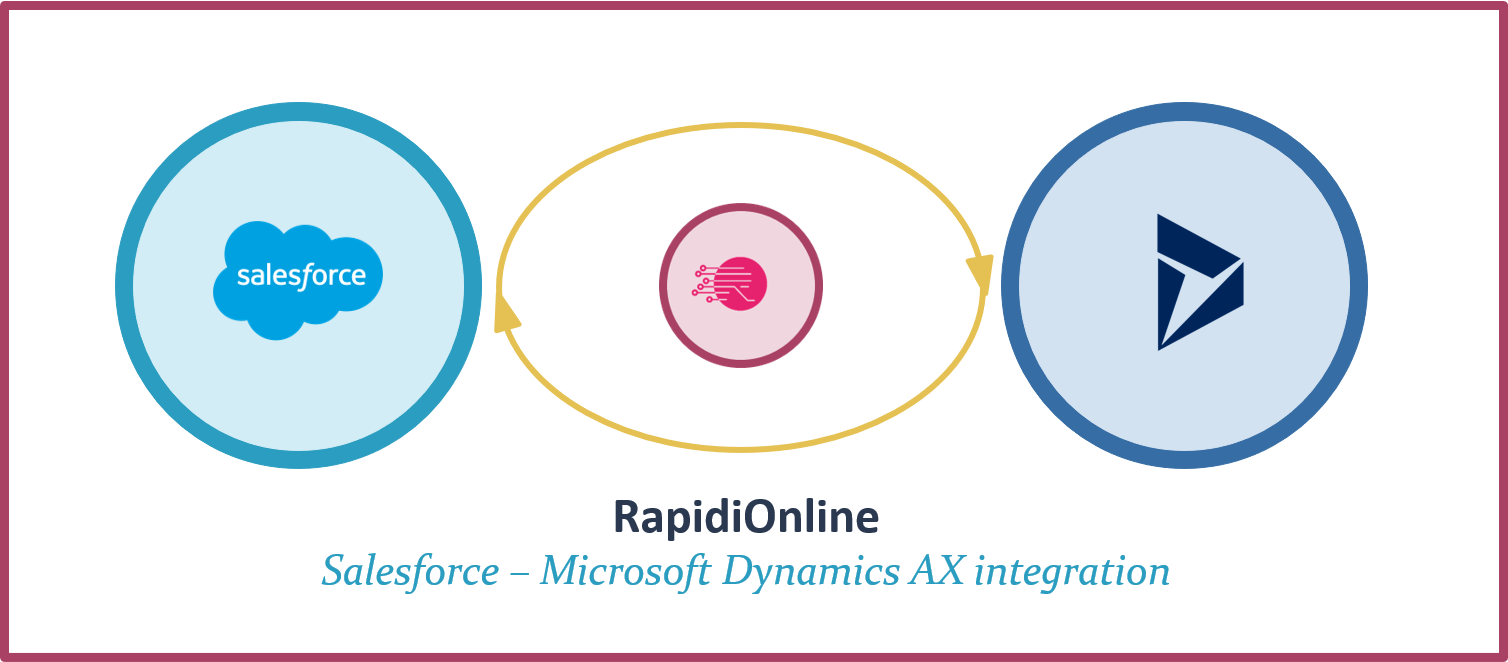 As a rule of thumb, you can use the following 5 criteria to select a data integration solution:
Proven
Stable, robust and reliable
Fast to implement
Technically made for Salesforce - Microsoft Dynamics integration
A match to your business needs and requirements
What is a proven Salesforce - Microsoft Dynamics AX integration?
Has the integration solution been successfully implemented multiple times, preferably at companies with similar integration solutions needs?
While detailed ebooks and fact sheets can tell you a lot about a solution, nothing beats a varied list of satisfied customers. Take the time to read customer stories, looking for the benefits achieved.
Look at other forms of reviews and comparisons. For example, the RapidiOnline Salesforce - Microsoft Dynamics data integration solution has an exceptional 5-star rating on the Salesforce AppExchange listing.
Look at how customers rate the solution provider's service and support can talk more than detailed product sheets about the functionality and supposed benefits of the solution.
What is a robust and reliable Salesforce - Microsoft Dynamics integration?
Your data integration solution must be flexible to match your needs and be able to synchronize data fast and seamlessly. Some data integration solutions have features that monitor that the integration runs and automatically send a notification in case of interruption.
Make sure that the integration protects your data and ensures it does not get stuck somewhere in-between systems. "Staging" of data is often used, but it can involve great risk in terms of data security and quality.
Always know who will be keeping an eye on your integration, monitoring that data is transferred as scheduled, fast and error-free (and how they will do it). If you don't get any errors it might be because the integration is not running.
How quick should you be able to implement?
Fast implementation should be a must - but it should not have a negative impact on quality. Most people have "fast implementation" as one of their top selection criteria.
You can save a lot of time by choosing pre-configured solutions such as the RapidiOnline Salesforce - Microsoft Dynamics AX integration. Standard business processes are already tied to RapidiOnline.
RapidiOnline might not perfectly match your requirements, but it will give your project a jump start and it allows for simple and easy custom transfers with no additional need for programming. Typically, the RapidiOnline Salesforce – Microsoft Dynamics AX integration solution can be implemented in 5 and 10 days. (all depending on scope and specific requirements)
Why do you need to work with solution experts?
One of the most important selection criteria is finding a vendor with deep technical understanding of the solutions you wish to integrate. This cannot be underestimated.
Having a technical understanding of Microsoft Dynamics AX is necessary to understand the details of the AX database and the issues that could occur. This is what makes a difference in how integrations are built.
For example, this is what has enabled Rapidi A/S to develop the Mirror technology, which is very unique and resolves the biggest challenge in Microsoft Dynamics AX integration. The Mirror technology allows to integrate a large amount of data in an easy, seamless and effective way without having to add extra programming into Microsoft Dynamics AX.
Is it possible to find a solution that matches your business needs and processes?
The technical structure, functionality, speed, flexibility of the solution are only one side of your project. You must find a vendor that has sufficient domain knowledge to understand how a company like yours operates and what business processes a data integration solution can optimize.
When developing RapidiOnline, the Rapidi data integration experts have studied the operations that can benefit from the integration between Salesforce and Microsoft Dynamics. Based on this, they have defined a series of transfers that match most companies and industries.
These transfers include account and contact data, product and pricing, quotes and sales orders, sales history and payments. These transfers cover most organizations' needs, but the solution can easily be customized to add other transfers.
Choosing the best integration solution to connect your ERP and CRM systems is not just the icing on the cake. The integration is the missing link that can take the use of the two systems to a new, higher level and guarantee the return on your investment. It is vital to the full success of the strategy behind your investment. Choose it carefully.