System integration is not just about improving a company's business processes. Integrating systems is of course an effective way to streamline processes. It is also a fantastic way to gather data in one place for further processing.
When data silos are unleashed and instead data is integrated, companies can make great use of it. Gathering data in one place allows for better reporting and analyses. It can even provide invaluable insights to create the best integrated marketing campaigns and communications.
This article will investigate what integrated marketing truly means. It will then focus on showing why integrated systems can be a great help for companies that wish to successfully execute their integrated marketing strategies.
What is integrated marketing?
At the heart of integrated marketing is the ambition to deliver a consistent and holistic message throughout all marketing channels. You must coordinate and align marketing messages whether you are communicating via website content, influencers, direct marketing, PR, social media, paid ads, etc.
The evolution of marketing in the past years has shown the explosion of new communication channels. This new fragmented and complex marketing communication landscape has led to increased challenges for marketers around the world.
With such a wealth of communication channels, it is increasingly difficult to keep consistency and have a truly customer centric approach to marketing. Delivering spotless customer experience should be a focus of all companies - not just their marketing department.
Omni-channel marketing vs integrated marketing
After omni-channel marketing, integrated marketing is the new black. They are however not truly similar. Omni-channel marketing has its main focus on channels. It is about finding the right mix of media to promote a product, service or message in the most effective way.
Integrated marketing or integrated marketing communications have their main focus on the importance of consistent messaging.
Integrated marketing communications consists in aligning marketing channels to promote products or services. It is what is closest to omni-channel marketing, but with integrated communications, the focus is on message consistency.
Why is integrated marketing important?
Any marketer out there will know that this is not something completely new. In fact, delivering one consistent brand experience has always been a strong focus for anybody working with marketing. Brand awareness and brand recognition is nothing without consistency.
Since the raise of digital marketing, keeping track of all communications has become a more difficult task. The internet, because of its size, can be overwhelming. Anybody can communicate about your brand online and it can remain on the internet forever. Brand control has not become any easier.
Integrated marketing is highly relevant. For some, it is the current holy grail of marketing communications. Today, large corporations all concentrate on developing the most effective integrated marketing strategy. They plan integrated campaigns.
Is it easy to create integrated marketing campaigns?
Integrated marketing campaigns can be seen as a subpart of an integrated marketing strategy. It is all about pushing a message around a service or product, strongly but consistently across communication platforms.
In real life, this is more easily said than done. To be successful, integrated campaign could have one of many of the following attributes:
Have a simple and concise message. This way it is easy to keep it consistent, no matter how often it is used.
Reach out to a current vibe, or a current perception that people have about your product or service. This part is true for any type of campaign. The more current and newsworthy your message, the better it will be relayed.
Deliver what your target audience expects from your brand. Do they expect you to be frontrunners? Are they waiting for you to create the newest buzzword? Do your customers expect your line of conduct to be sharp but conservative.
Finding your true voice and how it resonates with your market will help make your campaign a success.
Be informative - in digestible quantities. You want to say a lot about your products or services, but sometimes less is more. Be concise and precise.
Prioritize storytelling - and especially visual storytelling so that you can easily be remembered,
Create mystery or push boundaries to create excitement. This can be risky and has to remain a fine balance. You have to hit the exact right level of enigma your target audience can tolerate and will be thrilled about.
Appeal to your audience with a value proposition. Remember that people will always respond positively to an answer to their needs or challenges.
Offer a personalized experience - rather than a bulk marketing experience. Interactivity and creativity go very well hand in hand.


How can integrated systems help integrated marketing?
Creating the best marketing messages requires a very good knowledge of your customers. To truly reach out to them, you must understand what they like, which products they particularly like or the problems they really want solved.
Today, the digital marketing trend is to collect as much information about customers or potential customers as possible. As a customer, systems track every single move you make. They know what websites you have visited, which products have been most appealing to you. Most systems can geolocate you today.
Data collection is nothing if not put at use. The vision of companies that collect customer data is always to use it to provide better customer experience and customer service. They want to be able to predict, anticipate and guide the next customer purchase.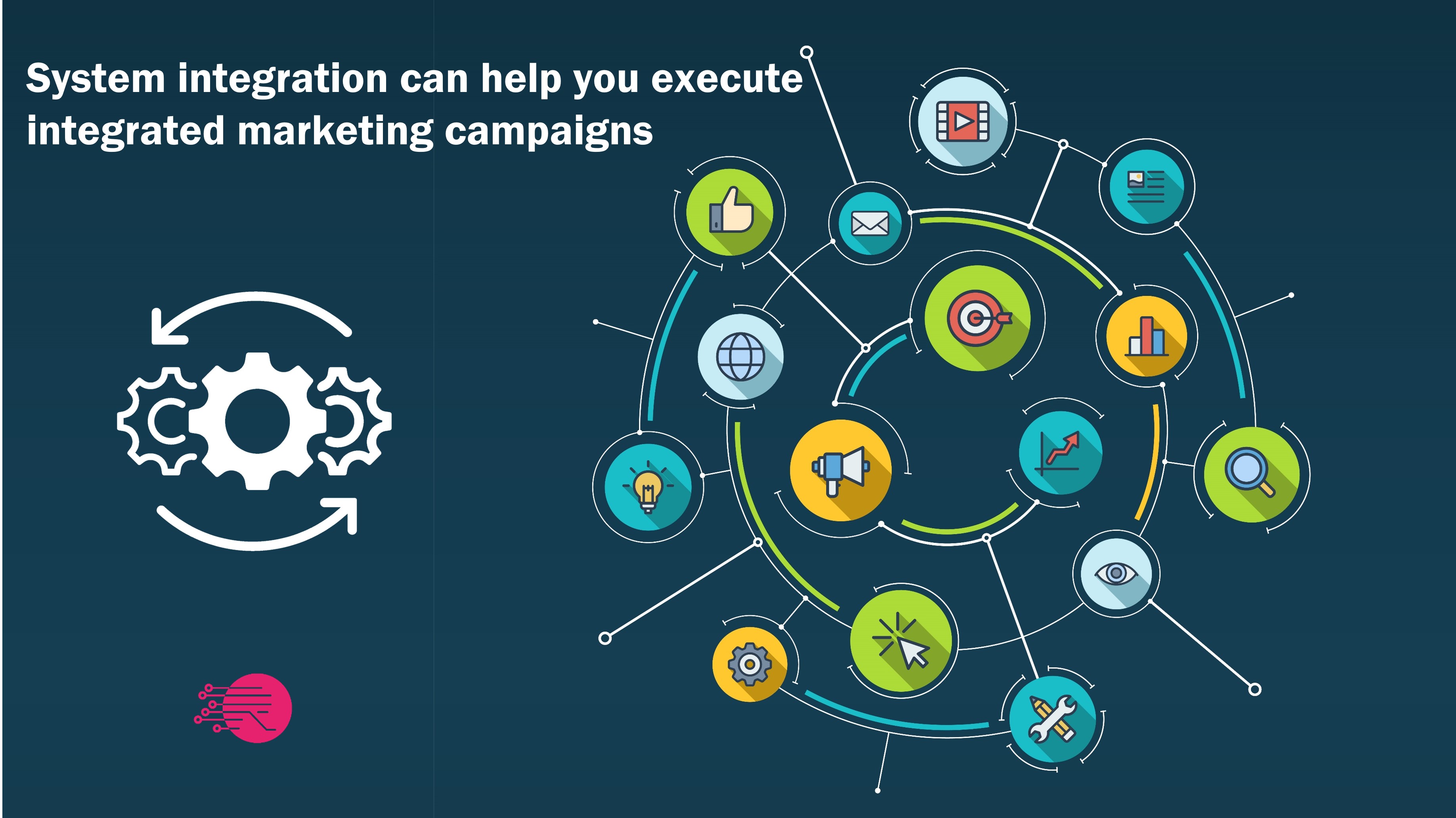 No integrated marketing without good customer data
These huge amounts of customer data collected carefully can be the key to let you create and roll out a successful integrated marketing campaign.
Without this data, how will you know what resonates best with your clients? Customer data can help you define the exact right message with the right tone about the most popular products. This customer data will also guide you towards the channels that your customers prefer for a perfect message roll-out.
System integration to make the best out of your data
Many companies have become experts in collecting customer data. Information comes from many different sources and is stored in many different data storages. If this data remains siloed in different data warehouses or other data lakes, it is not of much use.
On the contrary, you connect and sync your different databases. You will then make sure that you have one integrated view of your data. This data can then be used to create the most effective campaigns. And it can be used to distribute this message to your audience with the most effective channels.
System integration helps you secure the success of your integrated campaigns.
System integration is not that complicated
Many still believe that system integration is a risky endeavour. This is often a misleading thought. System integration is the process of combining data from different sources into one single coordinated system.
There are many different data integration methods (star integration, vertical integration or horizontal integration for example) and it can be difficult to know which one to choose.
If you wish to integrate your ERP and CRM systems, a solution like RapidiOnline can be the solution you are looking for. Through RapidiOnline, Rapidi A/S offers point to point template-based integration between systems like Salesforce.com and Microsoft Dynamics ERP solutions. Rapidi also offers a strong and robust data integration platform to connect other solutions.