You have selected Salesforce to complement your Microsoft Dynamics ERP and get rid of old, disconnected processes. You are ready to get it implemented, or you might even have implemented it.
Top management's ambitions and expectations are sky high. They cannot wait to reap the benefits of their investment.
However, you know that unless you convince your salespeople to use the system, your chances of success are rather thin. If Salesforce barely becomes a database that nobody wants to update and maintain, it will be a wasted investment.
How can you secure the best return on your Salesforce investment? This article will explain why user adoption is vital to achieve high Salesforce ROI. It will then show how to secure a high Salesforce user adoption.
HIGH USER ADOPTION FOR BETTER SYSTEM ROI
User adoption measures the success of the onboarding process of new users of a system. System implementation is an important step. When it is done successfully, it is vital to focus on user onboarding.
Why is user adoption important and why do IT leaders have to focus on user adoption rates? This is simply because the more your staff is inclined to use your new systems, the better they will reach your implementation goals.
Companies that implement Salesforce usually aim at streamline business processes, improve customer service and customer experience. They want to give their existing customers better interactions for longer than just a "period of time".
In addition to that, ensuring a high level of user adoption will inevitably lead to better labor productivity. Customer satisfaction will increase as will, eventually, sales.
When your sales operations get better and your sales results increase, a better ROI of your Salesforce CRM system implementation is secured.
Measuring Salesforce - ERP integration ROI can be complicated. You can learn more about how much you will benefit from integrating your systems by using our ROI calculator.


Secure sky high Salesforce user adoption
Nowadays, there is no Salesforce implementation project without focus on return on investment. IT leaders must provide detailed ROI reports showing the added value of the system they recently invested in. The results need to be there as fast as possible but also long term.
To secure good ROI, they need to make sure that the systems are being used. Just like any product adoption, it requires a pleasant onboarding experience, a great first time user experience and a smooth user adoption process.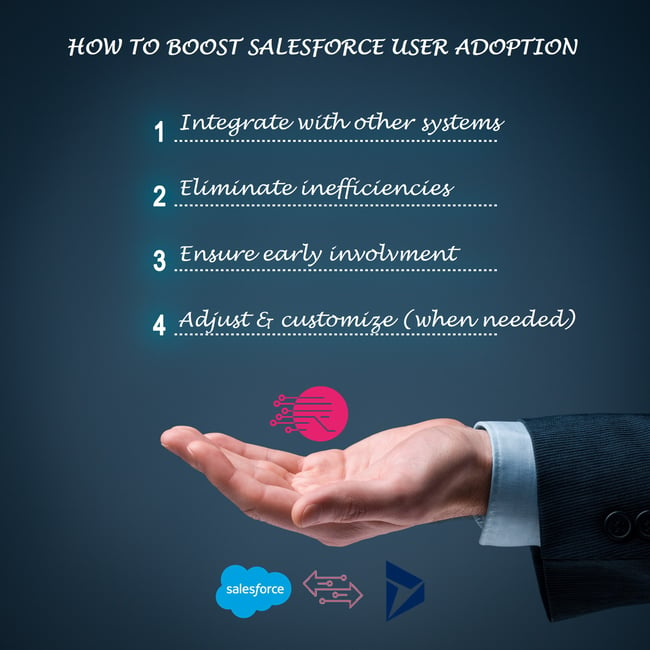 This means that user adoption should be a priority for all IT leaders. How do you achieve spotless user adoption? In the case of a CRM - ERP implementation (for example Salesforce CRM and Microsoft Dynamics ERP), you should focus on 4 areas:
Integrate Salesforce and Microsoft Dynamics as early as possible. A Salesforce - Microsoft Dynamics integration will secure accurate and always updated information in both systems. That by itself will give your sales people a good reason for using your new CRM system. We are often asked when the two systems should be integrated. It is preferable to do it as soon as possible. You will get the highest user adoption by integrating the two systems before you start using Salesforce.com.
This way, you will be able to perform user training with actual data – making the training more tangible, effective and fueling discussion about how to perform critical tasks. You need to make sure that your staff will be fully ready to start working with your system right after the initial training. Our customers have experienced up to 100% user-adoption by using this approach.


Boost users' results. Breaking your salespeople's inefficient working habits in Outlook or spreadsheets is not going to happen unless you show them a better solution.
Show them that they can use your newly implemented system to work faster, be more effective and achieve better results. Speak to their pain points - starting with time.
Show them how you can reduce time not spent on core activities. Show them how to make their cumbersome tasks easier, less troublesome, and more productive. If you increase staff motivation, boosts in effectiveness will follow.
Remind them that the primary purpose of CRM is to allow them to achieve more, not to track and check how they use their time. Correct data collection is vital as reports are based on CRM data. This is also a driving force in adoption.


Involve them in the process as early as possible. Make sure salespeople are a part of the process from the beginning, though not necessarily every stage of the project.
Define key users early and make sure to collect their needs, involve them in defining the ideal processes, in the planning and the testing of the solution. Then you will avoid leaving them behind because they were not a part of the decision-making process.


Adjust or customize – but only when necessary. Listen to and analyze users' wishes and challenges. Motivate them by giving them functionality that solves their key pain points.
This could mean adding new functionality or twisting existing functionality to match their needs. Add individual scorecards – not as an HR tracking tool, but as a performance- coaching mechanism that will help them reach their goals. Usually all this does not require deep customizations. Sometimes small twists or additions can resolve your users' top pains and help you win them.
In short, if you focus on user needs, and involve them early, you are off to a good start. Add to this an integration between Salesforce and your Microsoft Dynamics ERP (preferably as early as possible). With this, you will reach sky high user adoption and satisfaction, ensuring the success of your implementation project. Download the below case studies if you would like to understand concretely how our customers have benefited from it.