I have been involved in many data integration projects along the years, both with this job but also in previous positions. I've taken part in small straight-forward integrations as well as in complex, multi-site or international projects, and I know that some data integration projects can feel like overwhelming mountain ascensions – although you keep on climbing, it feels like you will never reach the top. Especially on the cost side. Large scale implementations can easily take up to hundreds of hours – and the cost of your project can easily get out of control. It does not have to be that way, and in reality, with a simple, dedicated step by step approach you can avoid both the unnecessary delays and extra costs. I've gathered in this article a few tips to keep you out of trouble.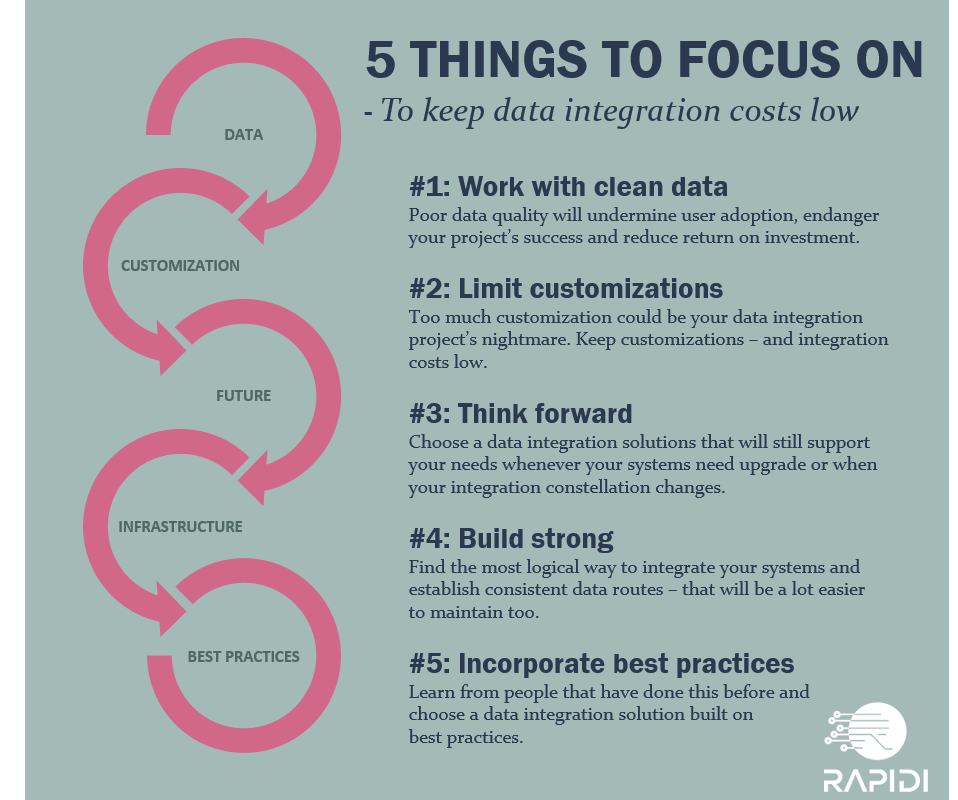 #1: Work with clean data
Any data integration job can be compromised by poor data quality. To put it bluntly, if you put garbage in one end, you will get nothing but garbage out at the other end. Data integration projects without a company-wide focus on data quality before, during and after the data integration implementation project will inevitably fail. At the end of the day, good data quality is what will ensure user-adoption and consequently the success of your data integration project. Give your users poor data quality and they will start to distrust the data in the system and will start going back to old, unproductive processes. My experience is that the best data integration projects always have a dedicated data quality champion.
Read also: Clean and current data with 5 data integration tips
#2: Limit customization – whenever possible
Although today many systems and applications come out-of-the-box with role-tailored functionality, most implementation projects include extra customization and development efforts to support enterprise-, division- or user-specific working processes and habits… This can result in hundreds of custom modules or features; literally data integration project nightmare, and a high risk to see your project go over budget. If you already have many customizations in your project in your ERP or CRM system, you will have to select a solution like RapidiOnline that can still easily integrate your solutions, despite the changes made.
Read also: Minimize your data integration issues
#3: Build for the future
Many ERP or CRM vendors have developed a one-off integration between systems for their customers. Some companies have done it for themselves. Although this might seem as a good idea in the beginning as they have a good understanding of the company's processes and data models, this can prove to be a mistake in the long run. Why? Because in reality, these integration solutions are rarely developed with a full long-term future consideration. What will happen when the integrated systems get upgraded? What if you wish to extend the use of your integration tool and integrate with other systems? When you choose your data integration solution, always make sure that it is future proof and can keep being used when the integration constellation changes. Custom-made interfaces generally require development, which makes upgrades and maintenance less flexible and more expensive.
#4: Build your infrastructure carefully
A company can easily have a need for up to 10-20 integrations between different systems. What is the most logical way to make these systems synchronize? My take is that, when you consider integrating systems you have to differentiate primary systems from secondary systems. Primary systems are operational systems which carry business processes. Secondary systems are feeding information into the primary systems. You can have primary data integrations between several primary systems to support process automations to avoid double data entries and to secure consistency and transparency across the operational systems. Integrations to the secondary systems then feed data into the primary operational systems. This way, you will establish consistent data routes and it will be a lot easier to maintain consistent data. And your integration architecture will also be a lot easier – and cheaper - to maintain compared to a "spidernet" architecture prone to have multiple and redundant data channels between the systems.
Read also: The best way to build your data integration architecture
#5: Incorporate best practices
The first data integration platform was not built yesterday. If you look long enough, you should be able to learn from what other people have done before you. Even better, you can perhaps find a data integration solution that can bring data integration best practices into your system integration project. Take RapidiOnline for example. It is a cloud integration system that comes out of the box with pre-configured templates allowing you to quickly integrate various systems. The RapidiOnline pre-configured templates have been mapped based on the most commonly used fields from our past experience and best practices. However, you can easily add a customized table or field to your integration within minutes. This saves you both time and money.
With these tips at hand, you should head to a good start.