Salesforce events are said to be outstanding. Local or global, technical or commercial, physical or virtual, Salesforce events are known to deliver great value for money. As a Salesforce user, it can be difficult to figure out which even is most relevant to you. Attending them all might not be a reasonable option both budget-wise and time-wise.

Here is a quick guide to help you understand the value of the most relevant Salesforce events. This article will also help you decide which Salesforce event(s) you should attend.

Why attend Salesforce's events?
Salesforce is not just the world-class, globally leading, award-winning cloud-based CRM solution provider. Salesforce is one of the most prestigious companies in the world and its events to live up to this reputation.

Are you a new Salesforce user looking for an understanding of the solution? Or a Vice President in search for strategic directions? Or a Salesforce partner? Regardless of what type of Salesforce user you are, there is an event for you.


Salesforce Live
Due to the global Covid-19 crisis, Salesforce decided to cancel all gatherings/events in 2020. Instead, Salesforce provides their customers, partners, employees and communities a series of Salesforce Live events. These online events have a high virtual experience value.

The Salesforce Live events is a series of smaller virtual events, each with a specific focus. Some deal with strategic input, other have a vertical focus or provide a product presentation. These virtual events are recorded and now available on-demand.


Dreamforce
Salesforce Dreamforce conferences are by far the largest Salesforce events, gathering up to 170,000 participants in San Francisco CA. Dreamforce addresses the entire Salesforce community, customers, users, and all business partners. It is an impressive gathering focused on customer success.

At Dreamforce you will hear about customer experiences and the strategic directions of your favorite CRM solution. This is where Salesforce announces technological breakthroughs and new features. The event is also about community and the expo is always worth a visit.

At the expo, you can meet Salesforce certified partners that can help you implement and further develop or customize your solution. You can meet partners that specialize in integrating Salesforce with ERP solutions to help you fully leverage your Salesforce investment.

The Dreamforce Trailhead area is a must-visit to learn how to build, develop, and understand your Salesforce solution. Last but certainly not least, the best networking parties are held during Dreamforce. Make sure not to miss Dreamfest, the concert arranged by Salesforce. Each year, it features world-renowned artists such as U2, Lenny Kravitz, etc.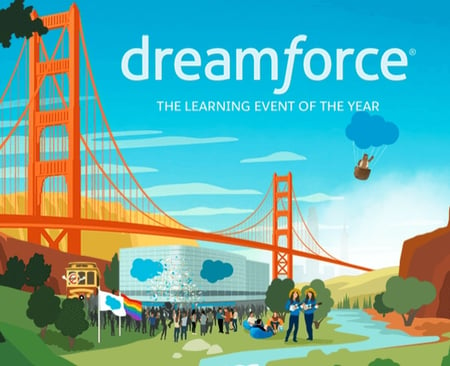 Dreamforce 2020 has gone live due to Covid-19. You can re-watch Marc Benioff's keynote session here.


Salesforce Connections
Salesforce Connections is a customer-centric event. The content of this event is focused around helping Salesforce users to design and offer their customers the best experience. The most optimized and rewarding customer journey.

This event takes place once a year in the US and is targeted towards marketing professionals mostly. For example to pick up new digital marketing trends and how to address them. Sales people will also benefit from attending . Salesforce Connections is a newer event but very promising in terms of contents and size.

Connections 2019 was a great success but Connections 2020 has also been cancelled due to Covid-19.


Salesforce World Tour
Salesforce World Tour is an impressive global roadshow. Its vision seems to be to bring some of the value-adding content from Dreamforce to as many countries as possible. Every year, it covers numerous locations mostly in Europe, Asia and America.

Salesforce World Tour events (sometimes called Salesforce Dreamtour) can give you a taste of the famous Salesforce community and "Ohana" spirit. It is a mini Dreamforce without the travel to San Francisco. This even is relevant to all Salesforce business users.



Salesforce World Tour is a free event. All you have to do is register and show up. Most World Tour events have been cancelled in 2020 due to Covid-19.


Salesforce Basecamp
Salesforce Basecamps are (mostly) European educational 1-day events. At Basecamp, Salesforce users gather to hear more about the innovations and new features about their Salesforce solution.

Basecamp events are smaller in size and duration (1 day). They are usually content-rich, free to attend and definitely worth attending for anyone using Salesforce in an organization.

Many of the European Basecamp events have been cancelled or where never scheduled in 2020 due to Covid-19.


Salesforce Community Events (user groups)
Besides the events organized by the Salesforce organization, there are a wealth of community events all around the world.

"London's Calling" is one of the bigger ones, located in London - a must attend for Salesforce customers and partners in Europe. Here are other examples of events created by Salesforce community / user groups:
Appex Dreamin in Poland
French Touch Dreamin in France
DreamOle in Spain
Because of the Covid-19 crisis in 2020, some events like London's Calling have become virtual events.