Salesforce is largely recognized as the best cloud based CRM solution in the world. Similarly, NetSuite is one of the best cloud based ERP solutions with customers all over the world. Many companies wish to take advantage of both these prominent SaaS providers.
Working with both solutions is a great start and it can bring you significant benefits. Connecting them to ensure consistent data is even better. With that in mind, a natural next step is to investigate how to best perform a NetSuite integration with Salesforce.
This article will look into why and how to connect Salesforce and Oracle NetSuite.
What is Oracle NetSuite?
Originally, NetSuite was the name of a Cloud computing company founded in the late 1990's. NetSuite targeted the small to medium sized companies with a solution that started as an accounting solution (NetLedger).
NetLedger developed into a web-hosted ERP (Enterprise Resource Planning) solution, NetSuite. With time, they added CRM (Customer Relationship Management), PSA (Professional Service Automation) and e-commerce functionality.
NetSuite was the first real "Cloud Company" - even before Salesforce. It has grown to include a impressive install base of over 40,000 customers in more than 200 countries and territories.
In 2016, Oracle acquired NetSuite, which was not a complete surprise as the two companies had been close since the early days of NetSuite. Oracle's CEO Larry Ellison helped funding NetSuite when it started, and the start-up was partly staffed with former Oracle employees.
Oracle started the Oracle's Cloud ERP for small and mid-sized enterprises business unit based on the NetSuite offering. Today, Oracle NetSuite is considered the world best Cloud ERP solution for fast-growing small to medium sized businesses.


Why integrating NetSuite with Salesforce is a good idea
Having an integration between a company's ERP and CRM solutions can come with many advantages. A CRM - ERP integration can help organizations streamline sales and marketing processes. Integrating solutions helps you:
synchronize data across your organization.
avoid silos of data.
give your sales staff all the information they needs in one place. This will allow them to take better advantage of your lead generation efforts.
eliminate manual data entries, thereby removing potential errors.
When data flows across your organization, you have the information you need to make better informed business decisions.
The NetSuite product suite includes both ERP and CRM functionality. Why integrate NetSuite with Salesforce when the product offers CRM functionality? NetSuite is an ERP suite with CRM functionality. Some organizations might find its CRM offering limited compared to best of breed CRM solutions such as Salesforce CRM.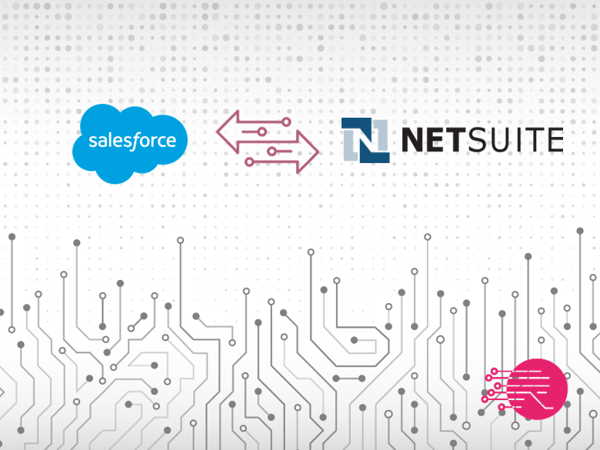 Salesforce CRM vs NetSuite CRM
Oracle NetSuite has gotten a well deserved "visionary position" in Gartner's ERP magic quadrant. Its CRM module has not reach the same position in the CRM magic quadrant. NetSuite CRM is recognized as a solid and robust CRM solution. It includes functionality within marketing automation, sales automation as well as customer service.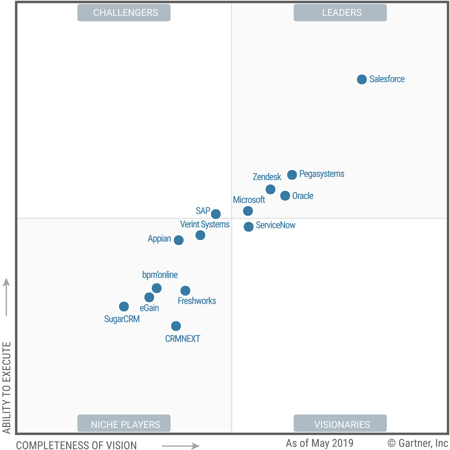 NetSuite CRM can serve the needs of many organizations. But in order to take your organization to the next level of customer satisfaction, you might want to look into Salesforce.
Salesforce is the undisputed worldwide leader of CRM solution providers. Salesforce has been scoring highest on the Gartner Magic Quadrant for years with good reasons. Salesforce's CRM is a top-rated web based solution, regularly bringing new features and innovation to the CRM world.
NetSuite CRM is a recognized solution. In truth, both solutions can help you streamline business processes for your sales teams. Both solutions can help optimize sales processes from the handling of sales quotes, sales orders, to the management of accounts, customers and contacts.
However, NetSuite still lags behind Salesforce CRM in many regards, for example:
NetSuite CRM is best suited for small to medium sized companies. Salesforce is broad enough to support the needs of organizations of all sizes.
While NetSuite seems fairly intuitive and user-friendly, Salesforce seems even easier to learn and use.
Salesforce's spotless customer support also seems to surpass NetSuite's support.
The breadth of functionality in NetSuite is far from equaling the richness of features in Salesforce. You will not find in NetSuite the same range of innovations as you will in Salesforce. For example, Salesforce has a better offering for social media integration. Also, the artificial intelligence (AI) functionality in Salesforce, Einstein, is unrivalled.
There are therefore many reasons why companies would decide to invest in a full blown CRM solution such as CRM.
Choose the best NetSuite Salesforce connector
When you have decided to integrate Salesforce and NetSuite, you need to find the right data integration solution. There are many data integration platforms that offer real time integration to Salesforce and / or Oracle NetSuite. It is important that you find the NetSuite to Salesforce integration platform that will suit your organization best.
Rapidi offers a flexible Salesforce - NetSuite data integration solution. One of the greatest advantages of RapidiOnline is its ease of configuration, implementation and use. The RapidiOnline data integration solution requires no programming.
It can be a difficult task to make NetSuite ERP data available in Salesforce. Especially if you want to do it in a format that is concise and useful. This is exactly what RapidiOnline can deliver.
With RapidiOnline your data is compressed and encrypted, keeping it safe. It has passed the AppExchange security, external penetration tests and availability review.
Start your data integration journey by defining your organization's data integration requirements and needs. Rapidi builds its data integration based on businesses' most common data integration requirements. This insight is used and paired with Rapidi's decades of knowledge delivering integration solutions. This provides companies with a solution tailored to your needs.
Rapidi develops pre configured templates including pre-mapped and adaptable data transfers. However, the RapidiOnline solution can also be further adjusted to match the requirements of your organization.
Feel free to contact us, we can help you seamlessly integrate Salesforce with Oracle NetSuite.