After a very challenging 2020, sales and marketing executives worldwide have the daunting task to predict what will happen in 2021. In a world of pandemic, the sanitary and economic tensions make it close to impossible to predict what will happen next.
As 2021 starts, countries still have to face negative output growth and increase in unemployment rates. Governments are struggling, offering help packages and other fiscal stimuli. There is however light at the end of the tunnel, with vaccines and treatments that will help the world get back to a new normal.
However complex and frustrating, we do not know yet what this new world order will look like. All we know is that it will be different.
This current uncertain situation should incite sales and marketing executives to do more and do better. More than ever, successful sales and marketing activities require a thorough, deep understanding of one's customers. You need to understand what worries them, what triggers them and what their next move will be?
For decades, CRM systems have helped companies create targeted marketing activities via automation. Collecting, analyzing and using relevant customer data is more than ever critical to the success of marketers. Data integration, for example ERP CRM integration, can help you gather vital customer information into your CRM solution for enhanced automated marketing campaigns.


What is marketing campaign automation?
Some might wonder what the marketing campaign automation definition is. Let's start by defining Marketing Automation. Techopedia describes Marketing Automation as the use of software and web services to execute, automate and optimize marketing activities.
Marketing automation has been for years a growing interest of small, medium and large businesses. It allows them to gain a better understanding of their customers. Based on customer data and knowledge, marketing automation systems help organizations deliver marketing campaign excellence. This could be via tailored marketing messages, website landing pages, automated emails and sales offers to defined customer audiences.
Marketing automation includes CRM marketing campaign automation. It is a discipline that focuses on getting the most out of your prospects, leads and accounts.
The marketing automation platform revolution started many years ago and CRM marketing software has been available for ages. Marketing executives worldwide have been using such systems for years to streamline marketing processes, understand the customer journey and plan and automate marketing tasks.
Marketing Campaign Automation is closely related to marketing automation. It is in fact one of the numerous functionalities offered in most CRM systems. Put simply, marketing campaign automation refers to the technologies (software systems) used to automatically create and manage marketing campaigns.
For example, CRM systems such as Salesforce offer functionality that can, via automated processes, create and send messages to target audiences via email marketing, web. They can also do it via text messages and social media.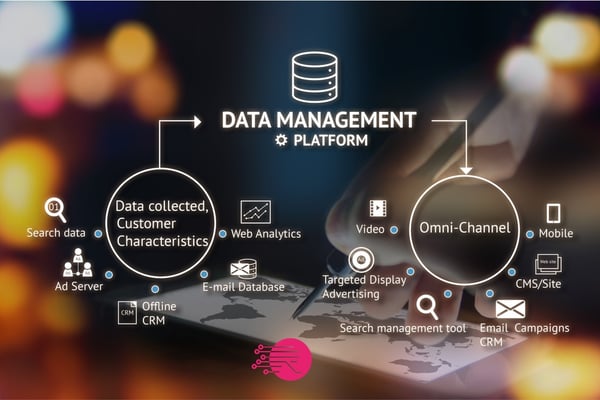 The best CRM campaign management tools
There are countless Customer Relationship Management software providers that promise a solution. Most of them can improve marketing campaign success by allowing for targeted, tailored and winning marketing campaigns.
SelectHub has recently published a list of the Best CRM Campaign Management Software Tools for 2021. This list is fairly selective and contains the best of breed sales and marketing automation tools.
SelectHub lists the following winners, satisfying the needs of companies of all sizes:

There are indeed a multitude of CRM solutions. It is vital that you pick the solution that fits your needs. Choosing SAP CRM probably makes plenty of sense if you are using SAP as your ERP system. If you are a NetSuite ERP user, taking on their CRM system is probably the first option you will investigate. This is very natural.
Remember that the choice of your CRM software should reflect your business ambition and your marketing automation strategy rather than the ERP solution you are using. SAP CRM might not be the solution to meet your needs. It might not be the one to lift you up to the next level, even if you are using an SAP ERP solution.
It is common to see SAP ERP, NetSuite ERP or Microsoft Dynamics ERP users looking for other CRM solutions. This solution is more often than not Salesforce CRM.
Based in San Francisco, US, Salesforce is the world leading cloud CRM software provider. Its wealth of intelligent functionality combined with the unparalleled offering of partner add-ons make Salesforce an undisputed leader in the marketing automation software industry.




Improve marketing campaign automation with ERP CRM integration
CRM systems help you gather precious information about your customers. This combined and consolidated data allows you to create the most successful campaigns. There are however limitations to CRM systems, as they solely focus on some of the business processes in your company. Why not extend the reach of your data digging to other sources of information such as your ERP solution or any other platforms or data warehouses?
If a data source system contains information about your clients, you should check if you can use this information to make your campaigns more relevant and effective. The more data you collect, the more systems you are likely to use to collect this data. These systems should be integrated to give you a single point of access.
The emergence of big data and always new and improved ways to collect data have considerably changed the marketing automation game. It has become increasingly important to get a comprehensive and unified view of your customer data - all data. This is often referred to as a "true 360-degree view of your customers".
Combining data from multiple sources is therefore an imperative that marketing leaders and other company executives have to include in their strategies.
In order to make a killer automated marketing campaign, you might want to combine data from sources such as social media or your ERP solution. Why do you need data from the ERP solution? Because it contains a lot of valuable information for sales and marketing people.
For example, a CRM ERP integration can give you information about what a customer has ordered, in what size and quantity, at what price. This could be the best starting point to keep your clients coming back for more and start elaborating a good account based management (ABM) strategy. In addition, an ERP CRM integration can give you access to information about invoices and payments. This allows you to exclude poor payers from your automated marketing campaigns.


Extend Salesforce marketing automation capabilities with ERP insight
If you are using Salesforce as your CRM, you might want to consider a permanent integration to your ERP software solution. There are many benefits to collect from a Salesforce - ERP integration.
You are maybe in a privileged position where you are looking for a new ERP solution to complement your solution platform. If this is the case, you have probably looked at different systems, including perhaps Microsoft Dynamics 365.
Microsoft Dynamics 365 ERP comes in two versions, depending on your company's size, business processes and complexity:
Microsoft Dynamics 365 Business Central (formerly Microsoft Dynamics NAV) for small to medium-sized businesses.





For larger size organizations, Microsoft offers Microsoft Dynamics 365 for Finance & Operations (formerly Microsoft Dynamics AX).
You could also be in the opposite situation, having used Microsoft Dynamics ERP for years. You are looking for a top-tuned, best-of-breed CRM solution to complement it and support your business towards increased collaboration and enhanced growth.
In any case, you will find that there are many ways to integrate Salesforce with the ERP solution of your choice. Salesforce provides many options to integrate with its CRM platform. Salesforce partners all over the world have developed solutions that can integrate Salesforce with other solutions such as ERP software. The list of these solution providers can be found on Salesforce AppExchange.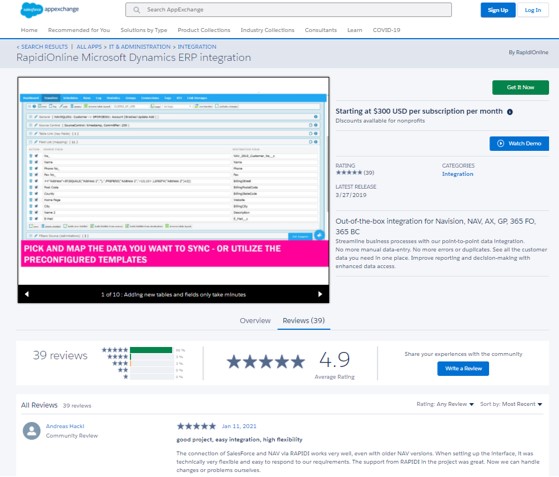 If your ERP is a Microsoft Dynamics ERP solution, then you are in luck! Rapidi provides a robust template based data integration solution that can be installed simply and most of the time in a matter of days. RapidiOnline has achieved numerous top-rated reviews on AppExchange.
Do you need information on how to integrate Salesforce with Microsoft Dynamics ERP? Get in touch with Rapidi and hear how you can get started, simply and easily.