It is not difficult to find reasons to integrate your CRM and ERP systems. Articles and even books have been written about the multiple benefits of an integration. It is typically more difficult to understand how to integrate the systems.
Which data should be transferred? How should it flow from one system to the other to optimally enhance business processes. This article will look into secure ways to ensure the most optimal data flows between your systems.
Improving data flow with CRM ERP consolidation
Generally, "data flow" refers to the movement of data between systems. In this case, the movement of data between a CRM system and an ERP system. Customer Relationship Management (CRM) software and Enterprise Resource Planning (ERP) software tools have very different purposes. Both systems collect data to improve and streamline the most vital processes of companies.

CRM systems concentrate on collecting prospect and customer information, allowing you to enhance all customer interactions. To put it bluntly, CRM systems are implemented to help companies sell more and sell better. CRM software tools have been enhanced over the years to include more advanced functionality. Marketing automation, lead scoring prediction and artificial intelligence have enriched the long list of features. ERP systems on the other hand focus on processes around production, distribution, finance and human resources.
Integrate CRM and ERP for Better business intelligence and business decisions
Imagine that your company is split in two separate buildings with no possibility to exchange information. One building hosts all your production, stock, finance activities. The other gathers your sales and marketing people.

Not knowing if/what/how much you have produced, your marketing people keeps sending promotional offers about products that have been removed from your production lines. Worse even, your sales people sell lots of them. If a customer has a long history of unpaid invoices, your sales staff have no idea and keep selling to them.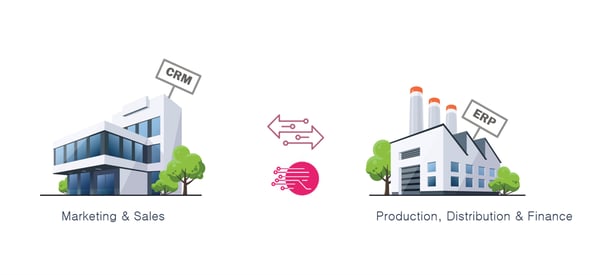 Having disconnected ERP and CRM systems is the equivalent of this horror scenario. Of course, employees often take corrective actions and information systems are never completely disconnected as the buildings in this scenario. These corrective actions are disruptive and time consuming. And they are not necessary - not when you can secure the flow of data with a simple ERP CRM connector.

Some ERP systems like Microsoft Dynamics NAV or Microsoft Dynamics AX have a certain level of built-in CRM functionality. These are typically a very light version of what your sales and marketing teams need to thrive and top perform. These light CRM apps can be a patch for a while. In order to truly enhance your business processes, you need a full blown best-of-breed CRM software solution such as Salesforce CRM.

As soon as you opt for one of the leading CRM solutions, for example salesforce.com, you will need to think about how to secure the flow of customer data from your ERP system to your CRM solution. Data integration specialists have specialized in offering custom integrations that help businesses manage such challenge.


Your ultimate CRM ERP integration guide
Understanding that ERP and CRM software work better when integrated is one thing. Actually performing the integration with success is another, often more tricky challenge.

When thinking about ERP-CRM data flow, many envision context diagrams, complex data flow diagrams (DFD) with levels. The reality can be a lot less complicated. Based on experience and best practices, providers of data integrations can connect your systems in a very short time and without extensive preparation work.

Data integration providers like Rapidi have implemented ERP - CRM integrations for decades. They know how companies typically need their customer data to flow from one system to the other.
Optimizing the quote to cash process - an example
Experience shows that companies that wish to do a ERP - CRM integration are driven by the same fundamental first need. They want to optimize their quote to cash process.

Typically, sales quotes are created in a CRM system where all customer information is stored. In order to give customer accurate price and product quantity information, sales people need information that is stored in the ERP system.

Already at this point, your sales people will need to consult both systems (unless they are integrated). Worse, if they do not have access to both systems, they will have to ask someone else in the organization for the info. All these manual processes are cumbersome, error prone and time consuming.

When the sales quote is approved and the customer is ready to buy, the quotes is converted into a sales order in CRM. Your production and / or distribution people, however, need the information to get the production or the distribution process started. These people work in CRM. With disconnected systems, the sales order will have to be created one more time, manually in the ERP system.

Eventually, the customer will be invoiced. This information seats in the ERP system. If a customer has troubles paying and has a long history of unpaid invoices, sales people will not have a chance to know it before talking with them. Unless the two systems are connected.

Based on this scenario, Rapidi has developed RapidiOnline, a data integration solution that offers pre-configured integration templates for:
accounts & customers
sales quotes and sales orders
product information and product pricing
sales history
payment information
This type of information easily and painlessly streamlines your quote to cash process.