Salesforce.com is a Cloud CRM solution used by businesses around the world to connect better with their customers and grow. The Salesforce team knows that their users often need to expand Salesforce.com's capabilities with add-ons or even integrate Salesforce.com with other applications. This can help them get the best results and achieve their business goals.
This is why Salesforce has always been committed to making it easy for businesses to integrate Salesforce with other solutions. They have developed their own add-on cloud marketplace, AppExchange. AppExchange is where customers can buy Salesforce-certified add-ons for Salesforce.
That does not mean, however, that Salesforce is always easy to integrate with any other solution - for example an Enterprise Resource Planning (ERP) software. It is vital to have the best and most robust data integration solution if you want a simple and easy data integration process.
ERP SALESFORCE INTEGRATION
The Salesforce API is often used to create simple data integrations between Salesforce and ERP systems, for example Microsoft Dynamics. Having a secure data integration solution means collecting all customer data from different sources in one place. This could include order history, credit status and all other interactions a sales team may have with customers.
Sales teams often proactively develop good relationships with customers when they have all this information in one place. For example, they can contact a customer at a specific time of year when they know they usually buy at that point in time.
If their Salesforce CRM solution is integrated with their ERP system, they will be able to check the stock and most recent pricing before fulfilling that order.
Integrating data between CRM and ERP prevents companies from suffering data silos. These silos typically occur when data does not flow between data pipelines and data centers.
Data integration is the process of combining data from multiple data sources. When it is used to combine ERP and CRM systems, it allows companies to have a 360 degree view of their customers. It allows them to have the best tools, business intelligence and reports to service (potential) customers.
WHAT TO CHOOSE: CUSTOM INTEGRATION OR OFF-THE-SHELF?
There are two ways to set up a Salesforce ERP integration:
You can build a custom integration
You can decide to buy and use a data integration platform that comes ready-to-use.
If you have your own in-house development team, or can find a reliable tech partner, it might seem as if a custom integration is the obvious choice. But it could be that an off-the-shelf data integration platform suits your business better.
There are pros and cons to each solution. It is important for companies to prioritize what they would like to achieve and match it with the list of available solutions.
When you are collecting sensitive data, you know all about the risks of data breaches. Data governance is at the center of your decisions. You might be worried about access control. In this case, you must make sure that your new solution provides the best data protection.
Both custom solutions and ready-made solutions have pros and cons. There are risks and benefits inherent to both approaches. This article will consider each solution to help you decide which is right for you, your business and your team.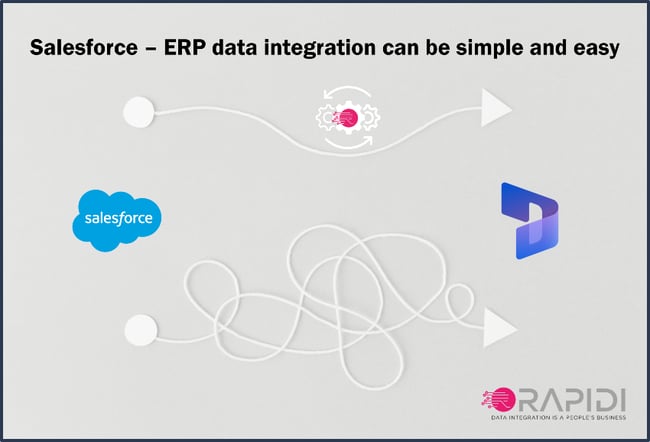 BUILDING YOUR SALESFORCE ERP INTEGRATION
The most appealing reason to set up a custom integration is that it will be built for your specific needs and requirements. It can be difficult to see, at first glance, how an off-the-shelf solution can compete with this.
Customization capabilities
A good data integration platform appears as a more rigid solution. However, most standard data integration solutions offer room for customization. This is the case for RapidiOnline.
If the data integration platform you are considering does not provide customization capabilities, look elsewhere. For most businesses, it is possible to find a data integration platform that can do what they need just as well as a custom integration.
Pricing
Cost is one of the most important worries of executives entering a data integration project. Budgets are never unlimited and more often than not, IT projects have gone over budget.
Often, producing a precise price estimate is a difficult task. A custom integration will usually cost more to set up than buying a platform will. This is because you must build everything from scratch.
At the same time, a custom integration might be cheaper to maintain in the longer-term. As they're built for you, and already meet your needs exactly, custom integrations can often need less maintenance.
This is, however, not always the case. It can be difficult to properly evaluate future maintenance costs at the beginning of the process. You will often find that you need more maintenance than you thought you would.
As your business needs change, your maintenance costs may increase. Business needs can change in very unexpected ways, and this does not keep maintenance costs low.
Support of your future needs
Custom integrations can also fall down on additional functionality, for similar reasons. As your business grows and changes, you might find that you need more functionality. This could be features for scheduling, error-handling or monitoring, for example.
Data integration platforms usually have these built-in. Custom integrations generally do not. If you anticipate that you might need these things, then you could build them into your custom integration.
This often comes at an extra cost. If you find you need things that were not in your original scope, you could end up in a negative cost spiral.
BUYING A DATA INTEGRATION PLATFORM FOR YOUR SALESFORCE ERP INTEGRATION
Data integration platforms do not suffer these problems associated with custom integrations. It decreases further if you choose an experienced and seasoned data integration provider.
The Rapidi team, for example, has spent years developing RapidiOnline. As a result, the RapidiOnline platform has all that learned best practice built in.
It can be difficult to know which solution to choose. In the early days of data integration, a custom solution was often better, because the entire IT sector was still figuring out how to do it.
Now, however, data integration platforms are generally more robust, easier to use and faster to set up than custom integrations. They can be better at meeting the needs of most businesses.

.