The IT landscape has evolved considerably in the past decades. Companies worldwide collect more and more data from multiple sources to understand the needs of their customers.
Growing amounts of data are stored in data warehouses, data lakes, and an overwhelming number of business applications. Companies are undergoing digital transformations and they are challenged with making the best use of this data.
No data is worth collecting that will not be able to feed business intelligence, reporting, and data analytics processes. As a result, connecting these data sources to synchronize and consolidate data has become a priority for many businesses.
Business leaders considering the integration of their solutions are faced with a fundamental choice. The first option is to have a data integration solution developed from scratch by competent developers to connect their applications. The second option is to select a data integration platform from the wealth of solutions available on the market.
The answer is not as straightforward as it may seem. This article will investigate which solution to choose depending on your setup, needs, and requirements.
WHAT IS CUSTOM INTEGRATION?
Custom integration is the process of building from scratch a connection between two or more applications, software solutions, platforms, or IT systems. Such an application integration is then 100% tailor-made to answer the specific needs and requirements of your business.
Examples of integrations that can help your business
Many businesses can benefit greatly from a data integration project. For example, they can choose to integrate their ERP with their website or their eCommerce solution. One of the most beneficial data integrations is without a doubt an integration between a CRM system and an ERP system.
By integrating CRM and ERP applications, businesses can experience gains such as:
Impeccable data quality. Data integration moves data and synchronizes data from various sources to allow for better data access and data analytics

Better customer understanding and a true 360-degree customer view

Tremendous improvements in efficiency and effectivity thanks to timely access to accurate and relevant data
Limitations of custom integrations
Custom integrations are however not "cure-all" solutions. Custom integrations are often chosen by companies that have done many customizations to their systems. They often believe that these customizations make it close to impossible to use standard integration solutions.
Custom integrations seem therefore like the perfect short-term solution. However, they are rarely a cost-effective solution. Integrating two solutions at one point in time is fairly easy and the cost might not be excessive.
However, it is important to have a longer-term view of the data integration challenge. The actual maintenance costs of such custom integrations are often difficult to predict. It is difficult to know if the integration will still support new versions or upgrades of the integrated applications.
Some custom integrations show their limitations when companies experience changes that require adjustments in their business applications.
Custom-developed transfers are often rudimental. They rarely include additional functionality within scheduling, error handling or monitoring. Data integration platforms offer such functionalities. This makes it easier to work with the integration, especially in case of transfer errors or problems.
It is also important to remember that all business applications will sooner or later be updated or even upgraded. This is really where custom integrations show their limitations. Custom integrations are rarely future-proof.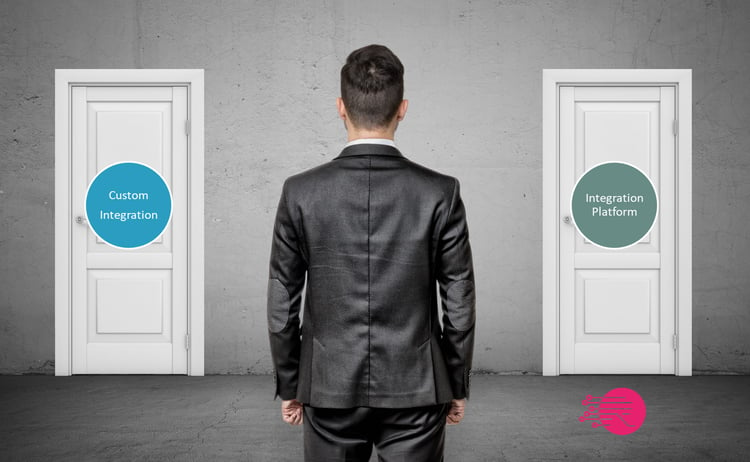 What is a data integration platform?
Data integration platforms are platforms that allow developers to easily gather data from different sources. They can then process this data, consolidate it and transfer it to other sources. The goal is often to have a unique data set that can be used as the one true data source. This data source can then be used for business purposes.
ARE DATA INTEGRATION PLATFORMS TOO PRICEY?
Many consider data integration platforms as an expensive option. This is inherited from the early days of data integration tools and ETL (Extract, Transform, and Load). The first generation of ETL tools were simple but quite expensive code generators with limited functionality.
In the early times of data integration, it was way more effective for companies to develop their own custom integration code. Today, data integration tools have evolved to include development, operational processing, and integration functionality. Many data integration providers offer attractively priced solutions that can suit the needs of smaller organizations or large enterprises.
TOP BENEFITS OF DATA INTEGRATION PLATFORMS
Many companies wishing to integrate two (or more) systems have common ways of working and therefore similar requirements. To meet these requirements, some integration tools have developed a number of pre-configured integration points.
E.g. Rapidi offers a data integration template for companies that wish to integrate Salesforce with Microsoft Dynamics ERP. It comes with out-of-the-box, preconfigured endpoints for Salesforce - Microsoft Dynamics Business Central, AX, NAV, and GP integration.
Rapidi data integration solution is a cloud-based data integration platform that helps companies:
Set up their integration faster:

Setup is easy thanks to the

out-of-the-box templates.

Part of the integration is ready-made allowing you to save time, effort, and money.

Easily map data:

Data mapping can be tricky. This is especially the case when you have validation criteria or different field types between the systems you wish to integrate. It can be very time-consuming to do with a custom integration.
It becomes worse if you integrate more than a few fields from a couple of tables. Data integration platforms such as Rapidi provide all the formulas and tools needed to facilitate this.

Schedule and sequence data transfers:

Not all your data should be transferred instantly. Some can happen once a day or every hour. Data integration solutions provide suggestions for mapping, scheduling, and sequencing data transfers.

Handle errors:

Data integration solutions offer error escalation and handling systems. Rapidi sends an email to the system administrator(s) when an error occurs. The email contains a direct link to the problematic data transfers. This makes it easier to understand and fix.

Avoid interruptions:

Data integration platforms can be set up to inform you immediately if the integration is interrupted or not working.

Keep their integration up-to-date:

custom-made integrations are known for their limitations when it comes to updates and upgrades. Rapidi does not require any code changes in the systems involved in making updates and upgrades a simple process.

Grow:

With a data integration platform you can reuse what you have already configured in other integration scenarios. Adding transfers between new tables, and fields becomes a lot easier than with a custom-developed interface.
Data integration platforms have evolved considerably in the past few years. Often, they are the most reasonable approach to systems integration.
Rapidi is a provider of data integration, data migration, and data replication solutions. The Rapidi data integration platform has been developed by Rapidi to meet the data integration needs of companies worldwide.
If you are interested in how Rapidi can help you with your integration project, please do not hesitate to get in touch with one of our data integration experts.
Also, please feel free to download our Data Integration Ebook to learn more about how to implement your integration successfully.