Data is information, and information is knowledge. Fast and effective access to data has become crucial. It has become a number one priority for most executive leaders, worldwide.
By giving employees accurate and trustworthy data, effective data management can give companies a tremendous competitive advantage. But how do you secure that all relevant employees get access to the data they need in a distributed environment?
For example, leaders of retail chains can be faced with a serious challenge. How can they deal with a central ERP system at headquarters and up to hundreds of retail stores, each having their own solution.
The problem is the same if you are heading a large hotel chain. How do you ensure that all entities are up-to-date and share the same, accurate information in order to make informed decisions? Can you make sure that all transactions created locally are registered centrally?
This is where data replication software solutions can be the solution. This article will explain why database replication solutions can help companies operating in a distributed environment.
It will also focus on how fast and easy the data replication process can be if you use a solution with the best data replication techniques.
Data replication is the solution
Data replication is the action of copying data from one location to another. In the case of the retail chain, a replication solution is ideal to keep products and pricing up-to-date in the stores while registering all transactions (for example purchase orders) at headquarters level.
At first look, data replication seems to be easily done. There are however different levels of complexity and different data replication techniques.
It is possible to replicate data between two data sources, whichever the scenario is. It could be
On premise data sources sources
Data sources different locations
Different storage devices
To or from a cloud-based data sources
Types of data replication and data replication techniques also vary based on requirements and scenari.
Transactional replication
Transactional replication refers to the process of periodically (and automatically) transferring/updating new/updated data between databases.
Synchronous replication
In synchronous data replication, you copy and transfer the data to another storage (local or network area for example) so that there are several copies of the current data.
Full table replication
If you use full table data replication, you simply replicate an ENTIRE database to multiple data hosts. You are then sure that all data centers have the same data wherever they are located.
Log based replication
In log-based data replication, you identify modifications to records using the database's binary log files. You then only copy newly deleted data or as well as new and updated data.
Merge replication
Merge replication refers to the process of letting different databases work and get updated separately and only later on merge them into one consistent format.
Partial replication
In partial data replication, you divide your database in several parts stored in different locations - each relevant for the specific data.
Snapshot replication
In Snapshot data replication, you take a "picture" of the data at a certain point in time - and can any time restore the data the way it was at that point.
Data can be replicated on demand. Alternatively, it can be transferred in bulk (batches) based on a specific schedule. Data can also be replicated in real-time, each time the data is modified at its source.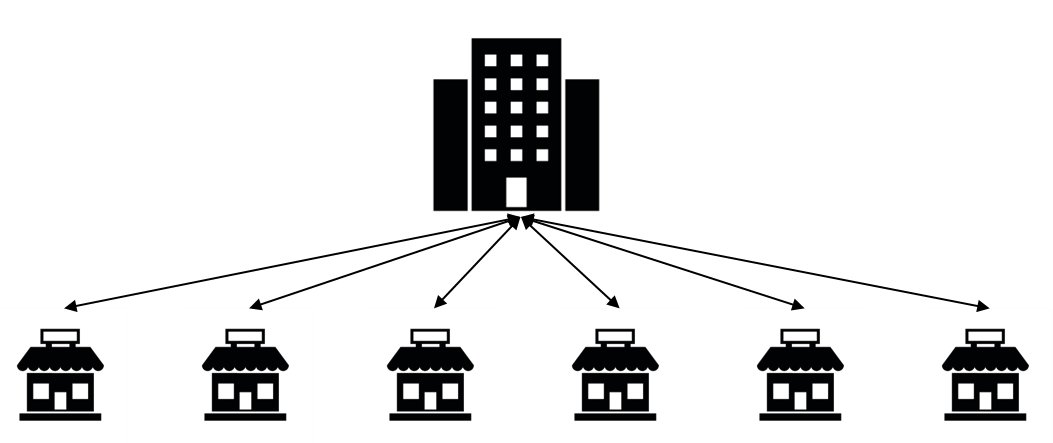 Data replication is often a popular solution for companies that are using one central server and have employees working remotely from a laptop – for example salespeople or technicians. It can also be used by companies that have a central server at headquarters and various sites (for example production sites), each with their own local server.
There are many relevant examples of data replication usage in different industries.
Data replication challenges and limitations
As simple and easy as it may sound at first, data replication can be complex and challenging. Its success will heavily depend on data quality. Any consistencies in your data centers will potentially be a show stopper.
In any data replication project, database administrators must at all time review and secure the highest quality of data. They are also there to avoid any kind of data loss.
As storing data becomes a must, data stooges tend to blossom in size and form. Moving more and more data from one source to another means more network capacity, increased processing power and impeccable server performance. The cleaner the database is, the faster the data replication process will be.
Besides these challenges, there are many benefits of data replication. Data replication makes your entire network more reliable. Should one of your systems go down, your data is safe and can be accessed through another system.
Moreover, replicating data from your local data centers to a central data warehouse considerably improves your reporting and data analytics capabilities.
Data replication – secure, fast and easy
Most people considering data integration or data replication solutions are faced with the same questions or concerns: Is data replication expensive? Will data replication put my data at risk?
There are many approaches to data replication. For example, Rapidi has developed our data replication tool ( Replicator for Microsoft Dynamics ) that delivers fast, easy, secure and reliable data replication. The Rapidi Replicator is:
Secure : All data transmissions are SSL encrypted, keeping your data safe.
Fast and easy to install : Our solution is on-demand with a web 2.0 based setup and configuration. Our connector can be installed in and configured in less than 10 minutes. It runs in the background as a local Windows service. No need for fixed IP address and no need to open your firewall.
Get started with data replication in 7 easy steps
We are often asked what "fast and easy" means. It can be narrowed down to 7 easy steps:
STEP 1 : Sign up to MyRapidi .
STEP 2 : Download and install the RapidiConnector.
STEP 3 : Log on to the source and target systems via MyRapidi.
STEP 4 : Click on Read Design. You will then get access to all tables and fields in your systems, including customizations.
STEP 5 : Start mapping. You can choose to map all fields in a table or only some of them.
STEP 6 : Decide how often you want the transfers to run.
STEP 7 : Do an initial data sync, and you are good to go.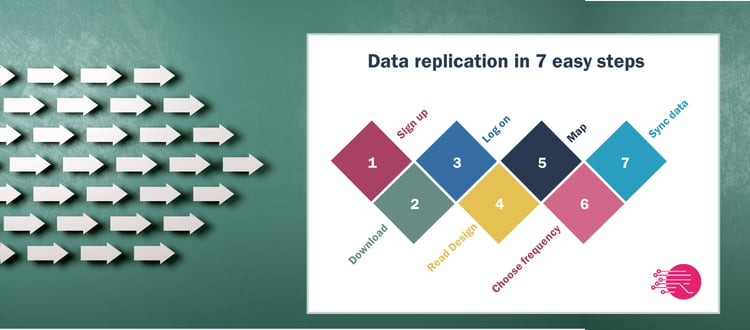 Many companies use data replication to safely, fast and easily transfer data throughout their entire retail chain, thereby improving their business processes and sales routines. Another more and more current use of data replication is for disaster recovery (i.e. to have copies of your data that are up to date in the event of a disaster) or as a "safety net" when upgrading systems (allowing you, for example, to have two Microsoft Dynamics NAV systems running in parallel while upgrading).