Sales organizations throughout the world experience increasing pressure from their management to sell more, sell better and sell faster. Sales targets are higher and higher. Sales executives must be more effective and reduce sales operating costs.
To improve sales and increase their bottom line, companies have been investing heavily in IT systems. Supply chain management, enterprise resource planning (ERP) and CRM systems have become a must have in many companies. There is however often a strong resistance from sales to adopt new technologies.
Sales teams are particularly notorious for resisting CRM adoption. Some resist because they do not believe that systems can do better than human relationships. Others because they are worried about sharing their insight with others.
Many of them resist because they have not yet seen enough value in using their CRM system. Paradoxically, CRM systems have been developed to help salespeople overcome their biggest work challenges.
This article will investigate why This made me wonder why CRM systems seem to fail to deliver the expected customer insight and sales success.
It will then explain how a CRM and ERP integration can help sales people make the best use of their systems and thereby increase sales.
A TRUE 360-DEGREE CUSTOMER VIEW TO BOOST SALES EFFICIENCY
CRM systems claim to deliver a 360-degree view of the customer. Some claim that a 360-degree customer view is not enough. In reality, in most CRM systems, the customer view is still limited to contact information and marketing data. This is however only a fragment of all interactions between an organization and its clients.
All customer data and customer interactions are important in a sales situation. Information about existing customers' previous orders, payment terms, habits, are all valuable to a salesperson. It can contribute considerably to top line growth.
These are however not usually present in a CRM software. Then, why rely on a system that anyway only gives you a partial vision of your customers?
Is a stand-alone CRM system not enough to enable salespeople and customer service to perform a good job? Your sales staff also need access to highly relevant information and data usually contained in other systems.
An ERP system, or an e-commerce solution can add value to a sales process. Without such information, your sales people are navigating partly blindfolded. That does not mean that your sales reps need to have access to all the systems that contain customer-related information.
It means that you want to provide them with the RELEVANT customer information from these systems in their CRM system. This way, they will have the FULL picture. Only then will they be able to truly deliver to the maximum of their potential.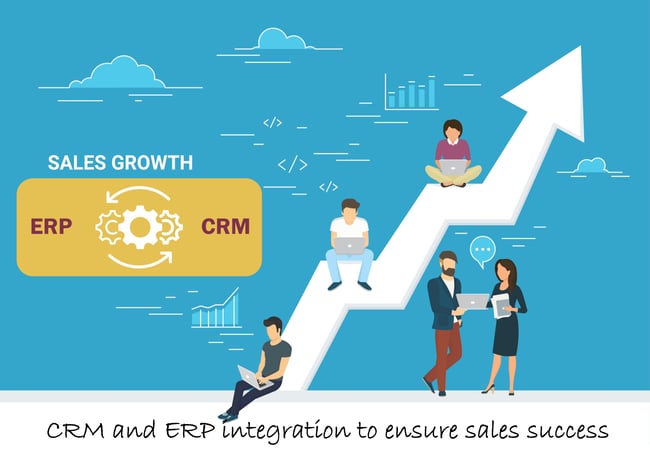 AN EXAMPLE: HOW ERP-CRM INTEGRATION BOOSTS YOU SALESPEOPLE'S PRODUCTIVITY
It is possible to sell more, sell better, and sell faster with CRM-ERP integration. Based on a simple lead to invoice workflow, salespeople can benefit from having ERP information at their fingertips. From lead to invoice, ERP-CRM integration can easily streamline sales processes.
This is how it works when you use a cloud based data integration platform like RapidiOnline to connect your CRM and ERP solution.
A company receives a lead. The lead is created in their CRM system (for example, Salesforce). As the sales process moves along, the lead in Salesforce is converted to an account, a contact, and an opportunity.
This is standard in Salesforce Sales Cloud. At a trigger point, for instance when the quote is accepted, a transfer in RapidiOnline creates a customer, a contact and the order in the company's ERP system. The integration also ensures that, moving forward, the record stays in sync.
Because there is an open sales order in Microsoft Dynamics, the sales order is transferred back into Salesforce as a copy of the sales order. It can be displayed under an opportunity or an account. Or it can be displayed wherever it makes the most sense for you.
If you are using a data integration solution such as RapidiOnline, you can also trigger additional workflows to notify your back office. This could be to make a credit check on a new customer or to review an order before it is released. It could be anything you need in regards to your order fulfillment process.
This allows you to follow any changes to the order in Salesforce because RapidiOnline secures that the systems stay in sync. When an order is invoiced, it also syncs from the ERP system to Salesforce. The sales order is consequently removed from the open sales orders in both systems and re-appears as a posted invoice.
When the customer pays the invoice, the payment is shown as a ledger entry. This allows you to follow the client's balance and payment history directly in Salesforce without having to switch systems. The payments are balanced out with the matching invoices. This gives you a good customer overview as well as possibilities for improved reporting directly from CRM.


CRM and ERP INTEGRATION CAN BE INSTRUMENTAL TO REACH YOUR SALES GOALS
This simple process and therefore the job of your sales people is much more complicated without an ERP-CRM integration. The integration will get your sales reps a step closer to a 360-degree customer view. It will improve their efficiency.
From lead generation, to sales and support, to finance and accounting, together these systems provide complete visibility into your customers' needs. It exposes their buying habits, order history, preferences, account standing, etc. This gives you better insight into your customer base. You can use it to build lasting relationships with customers and determine where there is potential for future growth.