If you have been looking into buying a Microsoft Dynamics 365 solution, you have probably heard about Microsoft Dataverse. The launch of Microsoft Dataverse was announced in November 2020, not without excitement and high expectations.
This article will look into what Microsoft Dataverse is and whether it is a game changer for Microsoft applications. More specifically, is it something you should look into if you are considering Microsoft Dynamics 365 data integration solutions.
What is Microsoft Dataverse?
Microsoft Dataverse has a good sound, it is a catchy term, one that you will remember - but what is it really? A short research will let you find that Microsoft praises Dataverse for letting you securely store and manage data that's used by business applications. This is not enlightening.
In fact, and to simplify Microsoft Dataverse is a database hosted in Microsoft Dynamics 365. It provides a cloud-based storage for your data if you are using Microsoft Dynamics 365. It has standard and custom tables that let you store the data - and is organized in columns, tables, and rows. You can organize your data so you can use it in any Microsoft Power App you may want to create.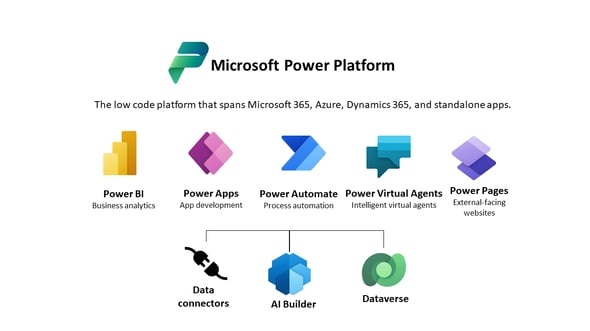 Source: Microsoft Learning Center
Is Microsoft Dataverse a new technology?
Does all this sound familiar? It is because Dataverse is nothing new. Dataverse is what was formerly known as the Microsoft Common Data Service (or CDS). Don't worry if you did not know, many have not heard that the Microsoft Common Data Service has been renamed.
A quick clarification - CDS is not CDM (Common Data Model), which is more of a standardization of data concepts.
The new name was chosen to try and make the platform more understandable and reach a broader audience. For a short period of time, it was called Microsoft Dataflex before being given its final name. This renaming and new launch was mainly meant to push the Power Platform in Microsoft Teams.
What has changed between the CDS and Microsoft Dataverse? Not much has changed besides the name. Some of the terminology in Microsoft Dataverse has been changed. In fact, the renaming process is probably still work in progress. The Microsoft Power Platform still has references to the CDS.
If we look at the very origins of the Common Data Model, it is far from being something new. In fact, CDS (now Dataverse) is the evolved version of what used to be the engine for Microsoft CRM. This engine has grown to become an important part of the Microsoft Power Platform.


Microsoft Dataverse for Teams
Although this article focuses on Microsoft Dataverse for Dynamics, let's have a quick presentation of Microsoft Dataverse for Teams.
Dataverse for Teams is presented as "a data platform for low-code apps that can be built right within Microsoft Teams". Dataverse for Teams is the new dimension of Dataverse. It comes bundled with every subscription to Office 365 / Microsoft 365 that includes the right to use Teams.
The Teams version of Dataverse is somewhat simplified, like a light version. It was made for work within Teams and app creation to resolve business challenges within teams of employees.
Dataverse vs SQL database
When you first look at it, you will see many similarities between Dataverse and SQL. They are both organized in rows, columns, and tables. In fact, Dataverse is based on the Microsoft Azure SQL database.
Why should an organization choose Dataverse rather than SQL? Because Microsoft Dataverse is more than just a database. As opposed to SQL, Dataverse also includes a business application layer. It includes a set of features that are usually found in applications, or systems.
Dataverse is a database. It also has a data access layer. It has a business logic layer. It even has a presentation layer. It would not be unreasonable to consider it more like a "platform".
If you select Dataverse, you will not have to worry about data management (import/export) or creating dashboards for various users. It will also help you detect duplicates, and integrate with MS Office or SharePoint if this is what you need.


Integration to Microsoft Dataverse
Dataverse functions as an API. It is possible for Power Apps or Power BI to interact with Dataverse. Data can be integrated with Dataverse either directly or via the use of connectors.
Pre-built connectors such as the Dynamics 365 Connector or the Common Data Service Connector can access Dataverse.
As long as you remain in the Microsoft Product family, this seems easy to do. Dataverse is even able to populate Microsoft Word templates, integrate with Microsoft Excel, and send and receive communication with Microsoft Exchange. You can get all this out of the box.
Dataverse can also be used by some of the Microsoft Dynamics 365 applications such as Microsoft Dynamics 365 Sales, Microsoft Dynamics 365 Customer Service, and Microsoft Dynamics 365 Marketing. These applications are used by companies worldwide. They can securely store the data they collect and use in Dataserse. With the help of Power Apps, users can build apps based on this data.
Put simply, Dataverse easily integrates data from these multiple Microsoft application sources into a single store. The data can then be reused in Power Apps, Power Automate, Power BI, etc.
Does Dataverse make integration with other applications easier?
It is clear that Dataverse makes integration within the Microsoft product family much easier. But does it help companies that wish to integrate with other applications or systems? Where does it leave you if you wish to integrate Microsoft Dynamics with for example Salesforce?
When it comes to integration with Dynamics 365 if you are using Dataverse, the situation does not look brighter than before.
One-time data transfer (import/export) between Dataverse and other systems can be done using Excel or CVS files. This is not an optimal way of working but it is OK if this is a one-time need. You can also do scheduled integrations with other systems. However, you will not find any pre-built connectors to let you seamlessly do Microsoft Dynamics 365 integrations.
If you need a deep integration between a Dataverse-based Microsoft Dynamics 365 and Salesforce, you will most likely have to build your own custom integration between Salesforce (or another system) and Microsoft Dataverse. It has the benefit of giving you integration with all the Microsoft Applications. However, it could be a long and tedious process.
If you are using an SQL-based Microsoft Dynamics 365 ERP solution, you can benefit from simple, robust, and intuitive data integration solutions. These solutions can connect with your other, non-Microsoft systems.
Contact us
A solution like Rapidi Data Integration Solutions for example provides simple and affordable Salesforce - Microsoft Dynamics 365 integration.

Please do not hesitate to Contact us to understand your options and choose the best solution for your business.
Do you want to learn more about the best practices of Data Integration? Download our free ebook.