There are many reasons to integrate Salesforce with ERP solutions such as Microsoft Dynamics ERP (AX, NAV, GP, 365 for Finance & Operations or Business Central). Integrated solutions provide accurate data to your staff. You can eliminate manual double data entries or data loading. Finally, you can automate processes, enhance customer experience and motivate your staff to do more.

In a world challenged by the Covid pandemic, being able to quickly adapt and adjust processes is not just about efficiency. It has become instrumental to the survival in the market.
The latest Salesforce State of Sales report shows that the companies that have been most successful have adopted the following three measures:
They have recognized the importance of empathy, trust, and insights in building customer relationships that outlast the current crises.
They have acknowledged the increasing strategic importance of optimizing sales operations.
They have accelerated their digital transformation even further.
The common denominator for enabling these key success factors is having accurate data and efficient automated business processes. To achieve this, system integration is key.


What will be the ROI of your Salesforce ERP integration?
Data integration projects are not always long, troublesome and expensive. Many solutions can integrate Salesforce and Microsoft Dynamics (for example, Microsoft Dynamics 365) simply, easily and without extensive costs. The real question is whether such a data integration projects are worth doing for Salesforce customers.

Return on investment (ROI) is always a relevant topic when consider implementing new systems. Data integration ROI is just as relevant, for example in the case of a Salesforce MS Dynamics integration.

Knowing the ROI of your Salesforce ERP integration project beforehand facilitates the decision to integrate the solutions. This article provides a Salesforce integration ROI model based on examples and assumptions.

Generally, integrating systems will save you time and time is money. What exact savings will you realize?

Say that an organization saves 10% of their time by implementing something new. What is the best way to use these hours? This can be a substantial amount of time if used appropriately. The saved hours can be spent on (examples):
Increasing revenue: Either within the current business or by developing new business initiatives.
Preparing for growth: Improving product or process quality or enhancing customer service with a more proactive approach.
Reducing cost: By reducing staff or decreasing the need for double licensing.
Cutting costs means that the savings are a yearly recurring saving with a factor 1 (one), while spending time on directly increasing the business or improving quality can have a higher factor. This ROI calculation example is based on an hourly rate to make it conservative and simple. It is possible to refine it to match your own case.



ROI Calculation Case example
Our ROI calculation case example includes the processes most common in Salesforce – Microsoft Dynamics integrations. It is a quote to cash process, therefore based on actual known optimization possibilities. The variables in the calculations are:
Cost price per working hour
Time to perform a certain task
Data volume


Cost price per working hour
The cost price can be calculated in different ways. It can be an average cost price calculated for the entire company. It can be all direct costs for a specific function divided by the number of hours. It can also be a person's monthly salary divided by the number working hours during a month.

In our case example, the hourly cost is €25.
Average cost price = (Salary + Pension + direct costs) / (monthly working hours)
To make your calculation more accurate, take an average monthly salary + pension + direct personnel costs and divide it with the amount of monthly working hours. In our example, the monthly salary is €4,150 including pension and direct personnel costs and a month counts 166 working hours in average (€4,150 / 166 hours = 25 €/h).
Time to perform a certain task
A simple way to capture this information is to monitor the current performance. What is being done? How long does it take? A task can be performed with different levels of task complexity (e.g. some orders with few lines some orders with more lines). In this case, we use an average task time to represent the specific work situation.

Another method is to look at how many orders are created during a time period. In some cases, this can be a more accurate method because it brings other elements such as transition time or disturbances into the calculation.

In this calculation we use a "stopwatch method", looking at the actual time it takes to complete a certain task in real life.
Data volume
Data volumes vary a lot from company to company. Data volumes are related to new data (number of new customers, new orders, new items etc) and updated data (product price change, account address change, contact details changes etc).

A table like the one below can help you gather the relevant information regarding data volumes to feed the ROI calculation (we have inserted our sample data in the table).



Case Process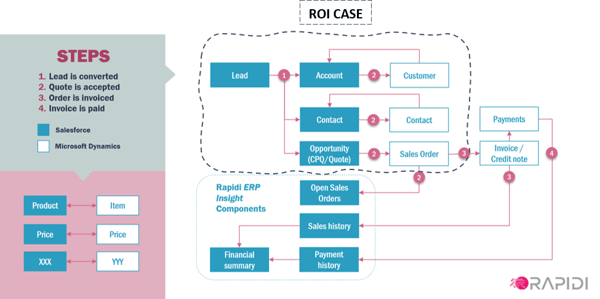 Case ROI calculation
In this ROI calculation example, the company creates 10 new sales orders a day. Half of these are new customers. New customers are created automatically from the CRM in the ERP system via the integration. Thanks to the integration, the quote from CRM is converted to an open sales order in the ERP. Any updates for the below tables are synchronized automatically. No double manual maintenance of the data is required.

In this example, the company is saving €39.453 yearly as a result of the integration (equivalent to 197 workdays a year).





To get an accurate annual ROI calculation, we need to compare these savings to the initial investment made in the data integration solution. In this example, the cost of the investment (data integration solution implementation plus the cost the first years' subscription) equals €13,980, giving a positive ROI as early as the first year.





This example is based on a RapidiOnline data integration solution. It shows an ROI of 2.82 the first year (including the initial integration implementation), while it is as high as 6.09 the following years.


Other indirect benefits of the data integration
In addition to the above savings there are several related benefits which should be considered as they can bring interesting long term benefits.



Data integration increased user adoption and give sales staff more time to focus on revenue-generating tasks rather than spending time on repetitive and error-prone manual entries. Enabling sales reps to spend more time researching and reacting to your most important tier 1 customers can yield impressive results.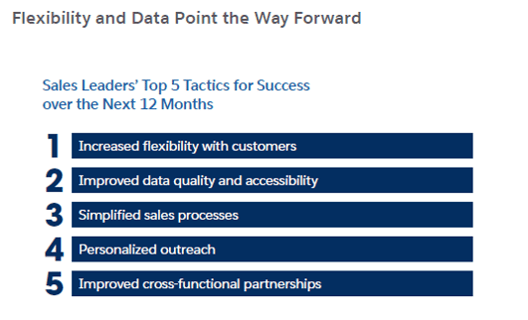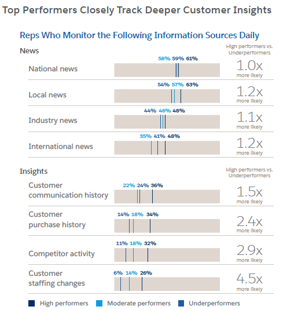 This ROI model is not based on complex ROI formulas but on a simple analysis of costs and savings in an Salesforce - Dynamics ERP integration project. Contact us to see what the ROI would be for your company.