Choosing the best data integration solution is not always the easiest task. The job does not necessarily get easier when you need to integrate Salesforce with Microsoft Dynamics 365 for Finance & Operation – especially if you have done customization to your systems or have add-on solutions running in parallel. There are several solutions on the market that can in principle do the job without any problem. This is both good and bad, as it can be difficult to evaluate them all and truly understand which is better suited to the needs of your organization.

I have collected 6 key questions you should be looking at when you choose your data integration solution.


Does the solution provide data integration templates?
If you want to have a smooth and fast integration process, it is important that you choose a solution that offers pre-built integration templates. For example, RapidiOnline contains the most common integration points such as Account-Customer, Contact-Contact or Product-Item. This gets you started quickly and enables you to make further customizations to match your exact needs and requirements. At Rapidi, we have specialized in integrating Salesforce with Microsoft Dynamics ERP solutions. Our developers and consultants are all Microsoft Dynamics and/or Salesforce experts. We have used this expertise to develop pre-configured templates that have been mapped based on the most commonly used fields from our past experience and best practices.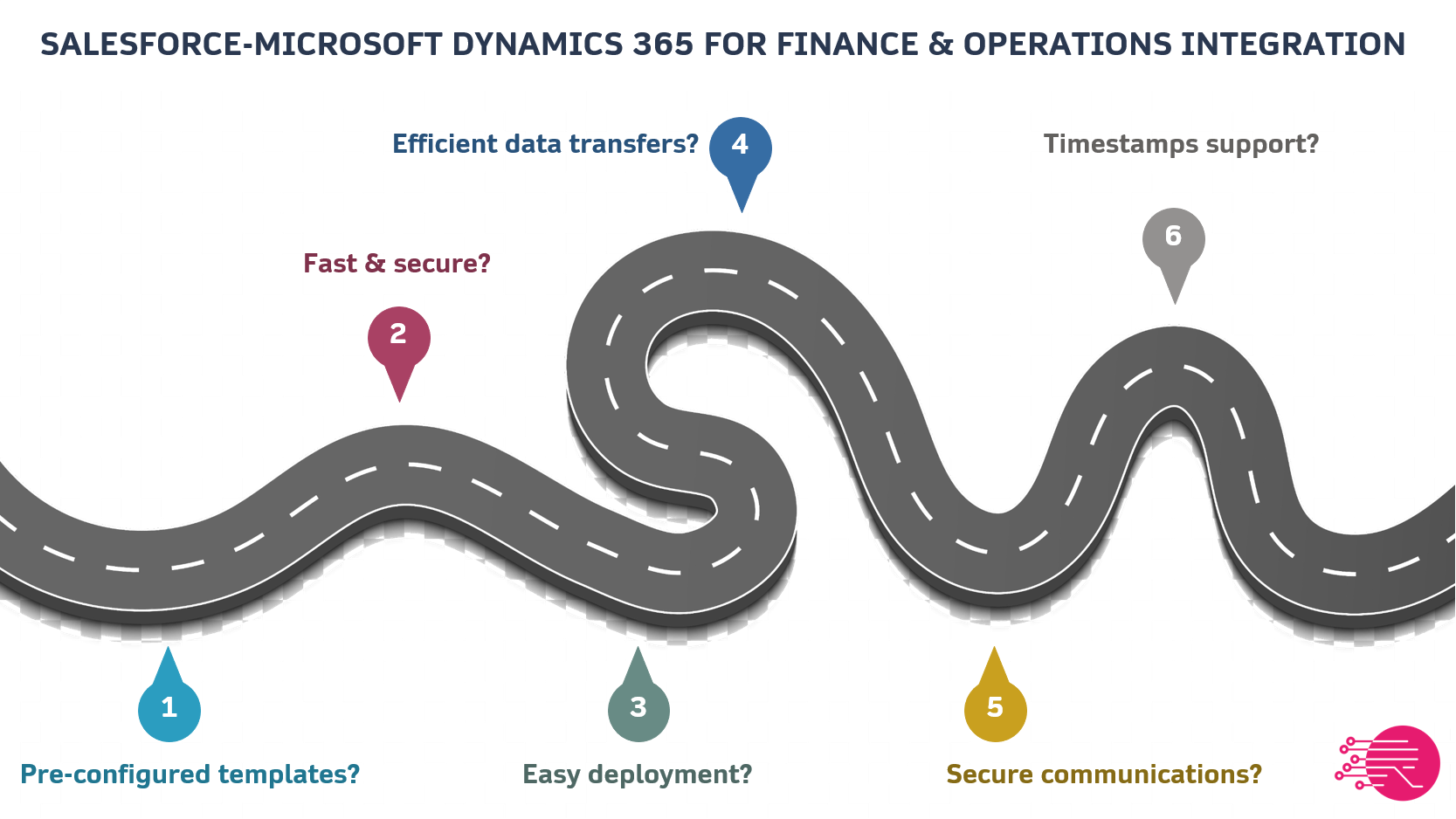 Does it offer a fast and secure connection?
Because you do not want disruption in your business, you need your data integration solution to be fast and secure. In the case of RapidiOnline, our services run with a unique technology called the RapidiConnector that ensures compressed and secure data transfer between RapidiOnline and the different on-premise systems. Your data is compressed and encrypted to increase efficiency and security.


How straight-forward will deployment be?
Why make it complicated when it can be done simply? Implementing Salesforce or Microsoft Dynamics 365 for Finance & Operations can be quite complex projects. Your data integration project does not have to be just as difficult – in fact, deployment can be made simple. If you take again the example of RapidiOnline, the RapidiConnector resides in your on-premise network connecting outbound to the central RapidiOnline Service and enables two-way communication between RapidiOnline and your legacy systems. This has the advantage that you don't have to change anything in your network or firewalls in order to deploy RapidiOnline integration.
Are data transfers done efficiently?
You don't want slow or delayed data transfers between your systems. The communication between RapidiOnline and the RapidiConnector is using a proprietary protocol which is highly efficient in terms of maximum reduction of the total amount of data and the number of packages sent and received. Furthermore, the package is compressed before sending. This results in the most efficient data transfer. This method has proven to be able to reduce the amount of data needed to be sent by a factor of up to 50.
Are all communications secured?
Your data is highly valuable to your company and it is crucial to choose a solution that ensures secured communications. Because of the proprietary protocol and the compression in RapidiOnline, it is practically impossible to decipher the data transmitted. This increases security. If extra security is needed the data can also be encrypted.
Does the solution offer support for timestamps?
Why all the other points in this article could apply to integration between any two systems, this one is very specific to integration with Microsoft Dynamics 365 for Finance & Operations. Anyone who has tried to make a data integration with Microsoft Dynamics AX or Microsoft Dynamics 365 for Finance and Operations knows thatt the system does not support timestamp via the API. That makes it troublesome to identify new and modified data. One of the best ways to solve this issue is to use the Rapidi Mirror. The mirror is a separate binary SQL database (MS SQL, MySQL or similar) designed to solve the timestamp issue without constraints. It is programming free so you don't have to write a single line of code. It is very easy to setup because it's all automated even if your Microsoft Dynamics 365 for Finance and Operations systems has a lot of customizations or add ons. No matter how a record is modified it is detected as a change and can be used by the integration platform RapidiOnline to identify the specific records that are changed.
Want to learn more?
To learn more about our Salesforce-Microsoft Dynamics 365 for Finance & Operations solution, download this free e-book: