Data is a substantial company asset, just like people, time and money. No company should gamble with their data or their data security. Instead, all companies should invest in improving data quality and start fueling this data in their sales processes.
High data quality allows staff to make informed sales decisions and offer spotless customer service. As a result, customer satisfaction increases, reporting capabilities improve and eventually revenue and bottom line are positively affected.
How much is your data worth and how do you protect it? This article will help you understand why protecting your customer data is essential and how to do it.
How valuable is your data?
Data is where your company's history and experience is stored. Data helps you get a better overview of your operations. It lets you run your company efficiently.
Customer data gives marketing the foundation to select better target groups, create personalized campaigns and fuel up-selling and cross-selling opportunities.
Vendor data helps you select the best performing providers and select them for your most critical jobs. There are many different types of data that companies can collect. It ranges from simple name and email address to many other forms of data, for example personal data, behavioral data. Some data can be very sensitive data and requires special attention.
Without this type of data collection about customers, vendors, partners and other third-parties, you are left to navigate your organization in the dark.
Having consistent, up-to-date, accurate customer data gives your sales people a 360-degree view of your customers. It improves the quality of the sales process tremendously. This is the true value of your data.
Data value can be difficult to evaluate, but nobody will deny its importance. For example, it enables your sales force to be more precise and add value to the customer interactions. It eliminates the time wasted switching between systems to find information.
All companies use data to create strategies, make important decisions, and set business goals. Having good data helps you align strategies and identify areas of growth.
Being able to make informed decisions before your competition, or making the best decision for your business is essential to the growth of your business. Reacting quickly to changing demands from customers and environmental conditions is a must.
This is why the ability to analyze and act on data should be top of your mind if you mean to compete in a global marketplace. Making sense of huge amounts of data has become the common challenge of today's business leaders. This is why keeping your data safe and current is vital.


How to avoid data silos and islands of data
Most companies use different systems to collect customer and vendor data. These systems range from small accounting systems to data warehouses, as well as full-blown ERP or CRM systems. Using these types of systems can take you a long way in data management.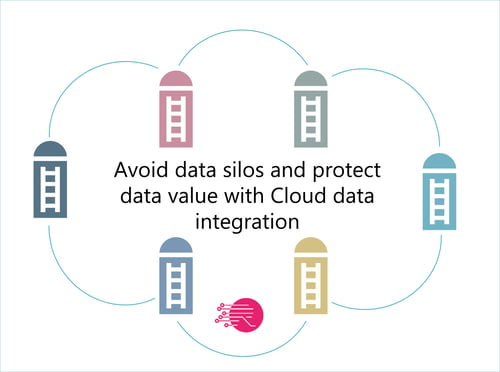 However, using these as disconnected systems can create Islands of data or data silos. Simple information such as a customer's address and VAT number can be stored in many different systems.
When this information changes, it must then be updated multiple times, once in each separate system. Each manual entry is a risk for manual errors. It is also a risk to forget to update one of the systems, resulting in inconsistent data.
This is very frustrating and counterproductive for the people who are hands on with the systems. It is also frustrating for management who cannot optimize the business operations and expand the business as fast as they would like to.
Growing a business in these conditions is very difficult. If you don't create the necessary foundation for efficiency before you grow, the only thing that will grow durably in your company is inefficiency.


Connect your systems to ensure better data value
When your data is split over several systems, you need these systems to communicate and exchange data. How do you do that?
To simplify, data flows like electricity does in a wire, to be utilized where it is most needed. When your data is moved seamlessly from one system to another, it eliminates manual inefficiencies and allows you to automate your business processes. You can then use your data actively to improve your bottom line.
Integrating your systems, for example your CRM and your ERP can take you a long way and reduce double data entries and manual efficiencies.
Data integration solutions such as RapidiOnline are the answer. Connecting your systems enables your organization to become a data connected company. Moreover, it gives you a platform for future growth, customer satisfaction and employee motivation to focus on what's most important for you and your clients.


Keeping your data safe and secure
Integrating your systems might seem like a good idea, but how do you make sure that your data is protected? What happens when you integrate two systems? Does the transfer of data from one system to the other expose and potentially endanger the security of your data? How does data integration impact data security? Can data integration make your company more vulnerable to a data security breach?
Data losses, data erasure and data breaches are unfortunately a reality. Data has become of top importance, and with it data protection. For companies but also for data subjects.
Many governments and organizations have created rules and regulations to protect data and the processing of data to avoid misuse and increase the protection of data and data subjects. This is why The General Data Protection Regulation (GDPR) was introduced in the EU.
Companies' focus is rather on preventing unauthorized access to their data. To that purpose they can use access controls, data masking or data encryption methods.
Can data integration potentially put your data at risk? There is no risk with a data integration system such as RapidiOnline. The way RapidiOnline handles secure data integration is simple. The RapidiOnline Services run with a technology called the RapidiConnector that ensures compressed and secure data transfer between RapidiOnline and different on-premise systems.
In addition, to ensure efficiency and security the data is compressed and encrypted. Using RapidiOnline means your systems are never exposed to the outside world so hackers cannot gain access. Your data is kept secure and you can use it to invest in your future growth, in all safety.