When all your systems work together as one, they support your company processes and your business ambitions in the most optimal way. This is what system integrators can provide you. A good system integrator like RapidiOnline will help you integrate any systems, for example Salesforce with Microsoft Dynamics ERP, or any CRM with any ERP.
Even the very best legacy systems need an update every now and then. This sounds very natural but often turns out to be a daunting task, especially if these systems are connected. What happens when you have to upgrade one (or all) of your integrated systems?
This article will look into the challenges linked to the upgrade of an integrated systems environment. It will also look at which setup is best suited for a painless upgrade process.
When upgrade is the only option
Company leaders worldwide are happy about their CRM and ERP software, for example Salesforce and/or Microsoft Dynamics. They are even happier if these systems are working together. They would be happy ever after if they never had to change anything about these systems.
However, software updates and upgrades can be inevitable. A minor change in one of the integrated systems could cause the integration to fail or become unreliable.
Also, every now and then, decisions from software providers to discontinue support of older versions can push companies to upgrade to a newer version of one (or all) of their systems. Not because they are dissatisfied, but because they have to.
Take the example of one of our customers who had to upgrade from their Microsoft Dynamics 2009 when Microsoft announced that NAV 2009 was no longer supported on Windows 10 devices.
Like in any software upgrades, it serves a better purpose. No company should expect that the version from the original ERP implementation can be used indefinitely. Also, being upgraded to one of the newest versions of Dynamics (NAV 2018 or 365) also brought up a lot of new functionalities and user experience improvements.
It is clear that this customer's only option was to upgrade. What they worried about was their system integration. They feared that the integration would not work in the same way with the upgraded systems? They needed to know if their systems would still be in sync after the upgrade.
Note that this would have been just as interesting in the case of a CRM upgrade. Or for a customer that wished to have an integrated Microsoft Dynamics CRM - ERP solution.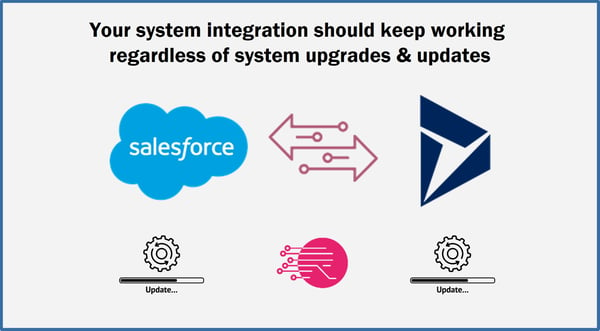 TURNING THE ERP UPGRADE CHALLENGE INTO AN OPPORTUNITY
In such a case, it is important to have a system integration that can keep supporting the very same business processes and data transfers between the connected systems.
Companies usually decide to integrate their systems in order to optimize and automate business processes. A CRM system will allow staff to provide better customer service if it can display all relevant information about a client. Also information that is typically stored in an ERP system. This is why we tend to perform a lot of CRM-ERP integration projects.
ERP vendors like Microsoft are always striving to improve their solution. The latest version of an ERP (or CRM) software usually comes with a wealth of useful new functionality.
Upgrading to these latest versions can prove very beneficial. In the customer case we referred to earlier, it is interesting to see that this customer decided to add new data transfers to their original ERP CRM integration. This was in order to take full advantage of the new features in their Microsoft Dynamics ERP.
When they realized that the system integrator was not a show stopper in the process of upgrading their systems, they started seeing the possibilities of new transfers. This allowed them to gain additional process efficiencies based on newly gained functionalities.


THE BEST SYSTEM INTEGRATOR MAKES FUTURE SYSTEM UPGRADES EASY
There are many ways to perform system integration and many different integration methods. Since common data formats were introduced to ease the transfers of data between systems, many have come up with ways to handle data integration.
You can read more about data integration methods in this article.
The most appropriate data integration tool could depend on whether you want to do horizontal integration, vertical integration or star integration. But what really matters is that you have a system integration that:
Supports your needs today
Easily lives through the different system updates and upgrades on both sides of the integration
Allows you to keep taking advantage of new ERP and CRM features so that you can keep offering excellent customer experience
This is when a challenge becomes an opportunity and when companies realize that having the right system integration can be instrumental to the success of their business, today and in the future.