It is more than ever important for companies to be flexible, agile and responsive. It is crucial for organizations to base decisions on current and accurate data. This is not always an easy job. Sometimes, data that is just a couple of hours old can already be old news.
The emergence of large data centers, big data and the widespread use of data warehouses have made using fresh data even more challenging for organizations worldwide. As a result, it has become a must to be able to access all necessary relevant data at any time and from anywhere.
Accessing data is a top priority but it is not always as easy as it sounds. Having the right data at the right time and at the right place sometimes requires replicating data between the different systems you are using.
This article will look into how data replication can solve the "one true data" challenge that many companies face. We will evaluate data replication solutions and will especially investigate what the best way is to replicate MS Dynamics data between different databases or instances.
What is data replication and why do you need it?
Data replication as such is a simple concept that most will understand quite easily. It simply consists in copying data from one place to another. In the case of Microsoft Dynamics data replication, it could be copying data from one database or instance of Microsoft Dynamics to other databases/instances.
There are several subtypes of data replication. For example, full table replication means that you copy all the data. Partial replication, on the other hand, refers to the action of only complying part of a database based on what data needs to be in what location.
Transactional replication starts with making a full copy of the database. Then, you only copy the changes that are made, as they are made. There are other data replication types that we will not cover in this article.
Many organizations, small and large use data replication to remove the stress and the efficiency challenges of distributed systems. Any company can benefit greatly from giving their employees the ability to share the same data - without inconsistencies.
What should be the top qualities of a data replicator?
You will find many vendors out there that can do database replication. It is however essential that you choose the replication tool that perfectly matches your organization needs.
There are many different qualities for a good data replicator:
Easy data identification: It can quickly and easily identify what data to copy and transfer and what data not to transfer
Flexible distribution: It can distribute data using whatever connection string or communication line available
Fast: It allows for a quick transfer of data
Robust: it keeps your data safe as you do not want to deal with data loss or disaster recovery
Easy maintenance: it should be simple to maintain and offer good support
How to replicate Microsoft Dynamics data between sites or databases?
Moving data from one place to the other can be quite complex. Data export solutions can be a technical and administrative hassle. Many vendors are offering real time data replication solutions to simplify the replication of Microsoft Dynamics data.
For example, Microsoft offers Microsoft Dynamics 365 Data Export Service. This is an app that can export data and schema from Microsoft Dynamics 365 online to a customer owned Azure SQL database. This is a good solution though for a limited scenario. However, most companies would require a solution with a broader scope.
A solution like Rapidi Replicator was built to replicate Microsoft Dynamics databases regardless of whether they are on-premise, privately hosted or in the Cloud. It works nicely with Microsoft Dynamics AX, GP, NAV, 365 Business Central and 365 for Finance & Operations, but also 365 for Sales & Marketing (formerly known as Dynamics CRM). It can also replicate other systems and offers a perfect solution for companies that do business in a distributed environment.
How does the Rapidi Replicator work?
The Rapidi Replicator is a solution that enables you to share and replicate data across different Microsoft Dynamics databases. There are two scenarios that can describe how the Rapidi Replicator works:
For organizations with local or privately hosted installations, the Rapidi Replicator runs with a unique technology called the

RapidiConnector

. RapidiConnector remains on the company's on-premise network (or alternatively private hosting center). From there, it connects with the central Rapidi Replicator, making sure that there is secure communication between the systems.

This solution is easy to install and it automatically packs, compresses and SSL encrypts data. With this solution, you don't need to worry about inbound connection nor need to open inbound ports. Your internal systems remain protected at all times.


For organizations that wish a Cloud solution - or a hybrid solution - this can be done without any changes to the code of the Microsoft Dynamics solution. In the case of a hybrid set up, the engine that runs all data transfers is installed on your server so your data remains on your network. And then only new configurations take place in the cloud interface.
You can read more about the Rapidi Replicator in this dedicated e-book.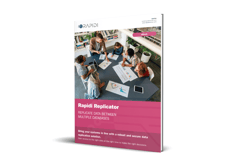 Example scenarios of Microsoft Dynamics data replication
In what situations would you benefit from a Microsoft Dynamics data replication solution? A replicator can benefit a broad range of companies that need to keep multiple servers aligned and in sync. Below are a few examples that illustrate how a Microsoft Dynamics data replicator can be used.
Data replication for sales representatives
This is a typical "laptop to server" scenario. Imagine a salesperson or a support/service employee travelling from customer to customer. This person is typically using a laptop to connect with a central multi-server database.
He/She will need full up-to-date information in order to offer the best deals or to provide the best service to his customers. A Microsoft Dynamics data replication solution like Rapidi Replicator is ideal for them.
It can also be used with success in more challenged situations. For example if a member of your staff is working offline with a local copy of your Microsoft Dynamics database. In this case, they can work offline and capture data locally. Later, they will have no problem synchronizing the data when back online at the office on the central server.
That way, they never have to re-enter the data and are sure that everybody is updated with the newest information. Even if the HQ server is down, the subs' systems will keep running. When the server is up and running again the Replicator will handle a seamless update to bring the systems back in sync.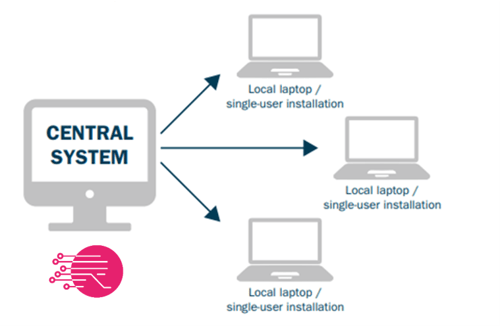 Data replication for multi-site or international companies
The case of multinational companies is particularly interesting as it is a case of master data management. If you are an international multi-site company, operating with a central server at headquarter level and a number of sites in various countries - all operating on their own local Dynamics server - then a data replication solution can also help you.
In this case, the Rapidi Relipcator is absolutely perfect. It does not require any changes in the code of your Microsoft Dynamics solution and will therefore not endanger any localization or customization you may have added locally.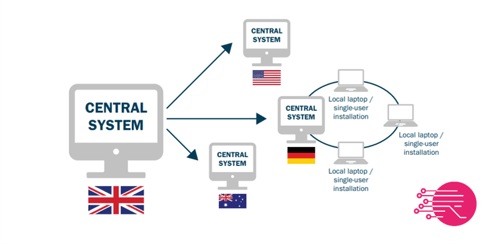 Data replication in retail, shipping, fleet or hospitality
Data replication is widely used in the retail industry, for example in retail chains with stores spread out geographically. If each store is running a Microsoft Dynamics Point of Sales solution based on SQL server, the Rapidi Replicator can help you exchange product data between the stores' Dynamics solutions and the central HQ's Dynamics solution. Information about products, prices, purchases is always up-to-date - in all systems.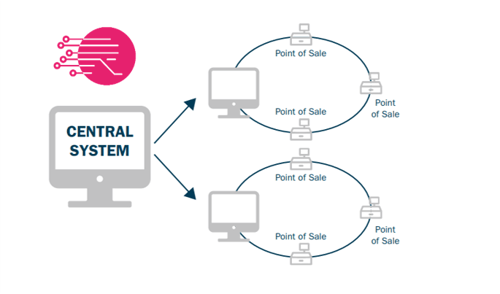 This works in a very similar way in the shipping or hospitality (hotels chain) industries and any other that require fleet management.


Next step: replicate your data
A Microsoft Dynamics data replication solution can ease and streamline your business processes and help you increase data quality. The Rapidi Replicator for Microsoft Dynamics is a robust and affordable solution that is also simple to install, use and maintain.
Contact Rapidi for more information about the Rapidi Replicator and get started in a matter of days.