Many Salesforce integration tools can help you integrate your Salesforce CRM with your ERP solution. Some offer a broad data integration platform that lets you integrate with a wealth of other solutions.
Others are more solution specific and typically let you connect deeper with the other system. Often, they provide a form of point to point integration. If your key goal is to integrate Salesforce CRM with one specific ERP solution, this is the way you should go.
Let's say that you have decided to connect Salesforce with a Microsoft Dynamics ERP solution. You must then find a solution that is specialized in this integration.
This article explains why a good data integration solution removes the pain of lost productivity hours by connecting ERP and CRM. It then lists the most important qualities of a good Salesforce ERP integration solution.
Salesforce ERP integration to re-find lost productivity
Making ERP and CRM systems work together as one system is one key element in order to increase business productivity. When you integrate these systems, you:
Streamline business processes, letting information flow more freely from one system to another. Your staff always have access to information vital to decision making.
Automate workflows, as data doesn't have to be manually moved or copied from one system to the other.
Make data more reliable for all as you reduce errors and duplicates, usually the result of multiple data entry sources.
ERP and CRM integration is known for strengthening businesses and boosting their operations. Let's consider this an established fact. The real question is then how to secure a successful ERP - CRM integration.
Well, this simply depends on which systems you want to integrate.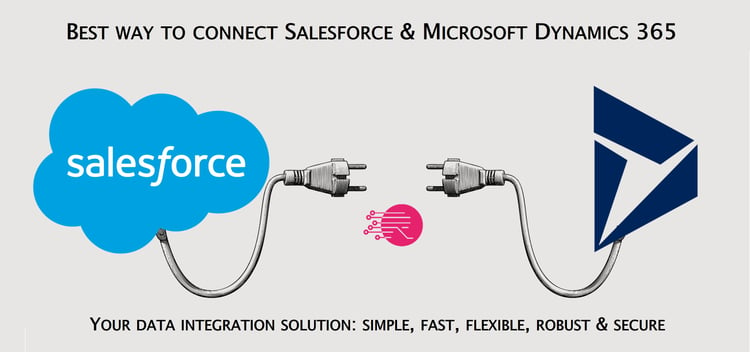 Top 3 qualities of a good Salesforce - Microsoft Dynamics 365 integration
When it comes to CRM applications, there is little doubt about the qualities of Salesforce CRM. Salesforce org was founded over 20 years ago. Since its early beginning, it has proven to be a top performer in the Customer Relationships Management market.
Salesforce clients include Spotify, AWS, Toyota, Macy's, T-mobile and the New York Post - just to name a few. Salesforce can be integrated with many other systems. Lightning Connect allows access to data from external sources. It does not however give you the deep integration capabilities of a real time point to point integration.
If you are looking for a top-performing Enterprise Resource Planning system, you should consider the Microsoft products. Microsoft entered the ERP market in 2001 with the purchase of Great Plains Software. Since then, they have heavily invested in making their Business Solutions a success.
Today, Microsoft can offer a strong ERP solution in Microsoft Dynamics 365. If you want to take advantage of these amazing solutions, you should integrate Salesforce with Dynamics 365.
This may seem more easily said than done - but it does not have to be complicated. Especially if you choose a data integration provider that is used to integrating these solutions.
Providers such as Rapidi can integrate Dynamics 365 with Salesforce in a matter of days and without risks for your data. The RapidiOnline data integration solution is specialized in connecting Salesforce with Microsoft Dynamics.
RapidiOnline works with all versions of the Microsoft product suite. It works with older legacy systems or newer versions such as Finance & Operations. It even works if you want to integrate Salesforce with Microsoft Dynamics 365 CRM.
RapidiOnline works whether you are using the Salesforce classic or the lightning platform.
But the biggest strength of RapidiOnline resides in the way it is built. It is both simple, fast, flexible, secure and robust.
Tip #1: A simple data integration solution will ease the integration process
Data integration projects have a reputation to be long, complex and risky. This is not the case if you choose a solution like RapidiOnline.
RapidiOnline is an innovative software product that is three-fold in its simplicity. It offers a simple design, on-boarding and use. It is a cloud integration system that comes out of the box with preconfigured, adaptable business processes and templates. This allows you to quickly integrate Salesforce and Microsoft Dynamics 365 Business Central.
RapidiOnline offers deep integration into both Salesforce and Dynamics ERP. It fully supports the Quote-to-cash process, which is a common business process for many companies.
The quote to cash process comes in a number of variations depending on a company's actual business processes. If a quote is generated in Salesforce, it can automatically be synchronized to a new open sales order. It can then be further processed e.g. when the opportunity is won.
With RapidiOnline, the optimization of this process is supported out-of-the box. It can easily be further adjusted to match the specific requirements of your business.
Simple but deep system integration
RapidiOnline is a simple system - however, it can go deep in each system. The Rapidi implementation consultants know both systems and will help you optimize and automate your processes across systems.
RapidiOnline offers ERP components for Salesforce. These components enable you to utilize your Microsoft Dynamics 365 data in Salesforce in the most optimal way.
The integration pushes financial data, sales history, order updates and payment history into your Salesforce. This data, along with a variety of Salesforce reports empower your staff to work smarter with customer, product and financial insight.
This Salesforce - Microsoft Dynamics 365 Business Central integration is designed to specifically enable direct integration. This way, your data will never get stuck in-between your two systems. As a result, RapidiOnline gives you data you can trust.
Easy installation
Installation is easy with the programming-free data integration platform like RapidiOnline. The Rapidi LinkStorage makes sure that you do not have to create additional reference fields.
No programming is required even if you decide to extend Salesforce or Microsoft Dynamics with add-on solutions or customizations. Should you need more, the Rapidi consultants are experts within both Salesforce and Microsoft Dynamics 365 Business Central.
Customers have consistently rated RapidiOnline highly for its simplicity in design and usability on Salesforce AppExchange.


Tip #2: An integration that is fast, yet flexible
If you choose a data integration platform like RapidiOnline, you choose technology that supports fast implementation. RapidiOnline is a cloud integration system and as a result, all configurations happen online.
With RapidiOnline, you do not need any additional code or programming to Salesforce or Microsoft Dynamics to perform your integration. If you want to extend your systems' capabilities with customizations, you can easily embed these into your integration.
RapidiOnline comes out of the box with specific features to optimize integration between Salesforce and Microsoft Dynamics ERP solutions. And it works with AX, GP, NAV, 365 Business Central and 365 Finance. The underlying technology in the solution makes changes and updates possible and as a result, fast and easy.
When implementing RapidiOnline, you do not have to undergo an extensive testing process. All you need to do is verify your data, making the implementation process both easier and faster.
RapidiOnline offers flexibility in setup and configuration. It comes with 'out-of-the-box' configuration but it can easily be tweaked to meet specific needs. Its built-in scheduler allows you to set up transfers to run whenever you want.
RapidiOnline is built to allow for customizations to meet your requirements. You can add custom services. You can set up automatic as well as manual transfers. You can choose to have real-time or triggered transfers.
RapidiOnline can easily meet the needs of large corporations or those of a small startup.


Tip #3: Do not compromise with security
When you integrate Salesforce with external objects, you have to think about security. You must make sure that your systems are never exposed to the outside world at any time.
RapidiOnline was developed with security in mind. You can choose to deploy Microsoft Dynamics 365 Business Central on premise or privately hosted. In any case, RapidiOnline runs via the RapidiConnector.
The RapidiConnector is a unique technology that ensures data communication between RapidiOnline and your on-site systems is not compromised. The RapidiConnector resides in your network and automatically compresses and SSL encrypts data before transferring, making it practically impossible to decipher.
Microsoft Dynamics 365 Business Central can also be deployed as the SAAS version. In that case RapidiOnline connects directly.
All transmissions via the internet are SSL encrypted. Our encryption method follows the newest TLS standards, currently TLS 1.1 and TLS 1.2. All data is processed end-point to end-point in memory directly.
There is no intermediate storage. No customer data is stored on any Rapidi server. Any sensitive configuration data is stored only an encrypted-basis.
RapidiOnline follows the latest certification standards for Microsoft and as an AppExchange partner for Salesforce. It is always updated according to Salesforce's new requirements and complies with all new security standards.
As a further backup, Rapidi monitors your RapidiOnline system setup to identify anything that may jeopardize your data and/or transfers. Potential interruptions are spotted even before they may affect your systems.
An error could be a server not responding, or data that cannot be exchanged because it is invalid data. In such a case, RapidiOnline logs the incident and immediately notifies you.