There are many benefits to achieve when integrating a CRM software with an ERP solution. Integrated systems let you deliver more accurate sales quotes, better understand your customers, increase sales opportunities, achieve sales goals and accelerate your invoicing and payment processes.
There is one benefit that is maybe less obvious than the others. It is however at least just as important for companies. By connecting your CRM with your ERP, you get reliable data that you can use to create better reports. More specifically, data integration can help you deliver better financial reporting.
This article will explain how companies have increased their financial reporting capabilities after integrating the Salesforce CRM system with their Microsoft Dynamics ERP.

Why all companies should focus on improving their financial reporting
A significant improvement of a company's financial reporting capabilities is one that benefits many in a company. It is in fact one of the most valued gains from a CRM-ERP integration, all the way to top management.
Financial reporting is the collection and presentation of a company's financial data. It is the picture of a company's financial health at a point in time. The importance of financial reporting should not be underestimated.
Financial reporting is made for and used by a company's management team, but also its investors, shareholders and other stakeholders. It helps them understand the company's real financial position, its business assets and its profitability. It is used to define the shareholders' equity.
The financial reporting also gives an accurate idea about the company's cash flow situation.
The exact contents of a company's financial reporting can vary. Most contain the following:
Income statement

Balance sheet

Cash flow statement

Statement of shareholders' equity

A communication about quarterly (retained) earnings

Annual report
All companies must provide financial reporting as required by the law. It is used to check if the company pays the taxes it is required to pay.
Financial Reporting is therefore of the utmost importance and is used for developing a company's future investment activities and growth strategies.


Good financial reporting requires high quality data
It is easy to agree on the importance of delivering accurate, precise and reliable financial reporting. The difficult part for companies often resides in having data they can trust to feed these reports.
High quality data is a must have in order to deliver valuable financial information. This is one of the reasons why many companies have started to focus on data management. It has become vital to become more data driven, focus on data quality improvements and remove all data quality issues.
Some companies with strong focus on data governance have started to appoint a data steward to keep track of and protect their data. Data stewards' mission is to make sure that data is accurate, reliable and easily accessible.
Data stewards around the world are looking into integrating their systems in order to keep track of data quality. This has become an easier job as data integration solutions can provide affordable, cloud based, real time solutions.
Connect Salesforce with Microsoft Dynamics ERP to strengthen your processes
Salesforce CRM comes out of the box with awesome and robust reporting capabilities. But reporting is always only as good as the data that is fed to it. When you add ERP financial data to the Salesforce reporting functionality, it simply becomes extraordinary – easy, precise and reliable.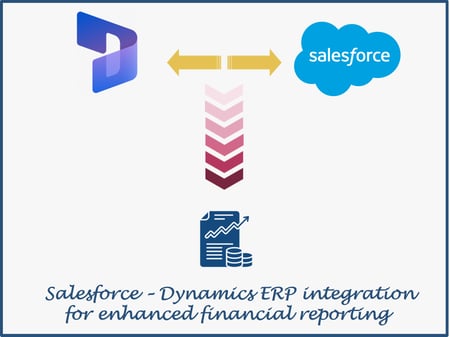 HOW DOES ERP INTEGRATION IMPROVE DATA QUALITY IN SALESFORCE?
Let us look at a simple quote to cash process for a company using Microsoft Dynamics as their ERP and Salesforce as their CRM. This company has connected these two systems using the RapidiOnline data integration solution.
In such a process, a lead is created in the Salesforce CRM system. As the sales process moves along, the lead in Salesforce is converted to an account, a contact, and an opportunity. This is standard in Salesforce Sales Cloud.
At a trigger point, for instance when the first quote is accepted, a transfer in RapidiOnline creates a customer, a contact and the order in the company's ERP system. In this case let's say they are using Microsoft Dynamics ERP, whether it is AX, GP, NAV or 365.
The integration also ensures that, moving forward, the record stays in sync.
Since there is now an open sales order in Microsoft Dynamics, the sales order is transferred back into Salesforce as a copy of the sales order. It can be displayed under an opportunity or an account. It can actually be displayed wherever it makes most sense for the company.
Using RapidiOnline, it is also possible to trigger additional workflows to notify your back office. For example, you can make a credit check on a new customer, review an order before releasing it or do whatever you need to your order fulfillment process.
One of the benefits of working with a data integration solution such as RapidiOnline is the ability to follow any changes to the order in Salesforce. This is because RapidiOnline ensures that the systems stay in sync.
When an order is invoiced, it also syncs from the ERP system to Salesforce. The sales order is consequently removed from the open sales orders in both systems and re-appears as a posted invoice.
When the customer pays the invoice, the payment is shown as a ledger entry. This enables you to follow the client's balance and payment history directly in Salesforce without having to switch systems. The payments are balanced out with the matching invoices. This gives a really good customer overview as well as possibilities for improved reporting directly from CRM.


HOW CAN YOU IMPROVE YOUR DYNAMICS REPORTING AND YOUR PROCESSES?
RapidiOnline is designed to provide seamless integration between Salesforce and Microsoft Dynamics ERP. It offers an easy way to improve not only your financial reporting but a number of other processes as well. To hear more about the possibilities, feel free to get in touch with us.