When integrating Microsoft Dynamics and Salesforce, not all data integration tools will ensure data quality in a fast and smooth way. Most data integration software enable Salesforce–Dynamics integration in its most basic form.
The process will be more or less expensive and complex depending on your chosen data integration tool and approach.
Let's look at how you can evaluate different business applications and consider your options for easy data integration between Salesforce and Microsoft Dynamics.
Whatever your data integration needs or systems you use for enterprise resource planning, this post will help you find the quickest road to improved business data processes.
What's Microsoft Dynamics 365 And Why Integrate It With Salesforce?
Microsoft Dynamics 365 is a suite of enterprise resource planning (ERP) and customer relationship management (CRM) software applications for larger organizations. This includes diverse business workflows like supply chain management, customer service, inventory management, financial reports, human resource management, etc.
As a business application for digital transformation, Dynamics 365 is designed to streamline business processes, improve customer interactions, and drive sales.
Top Features: Microsoft Dynamics 365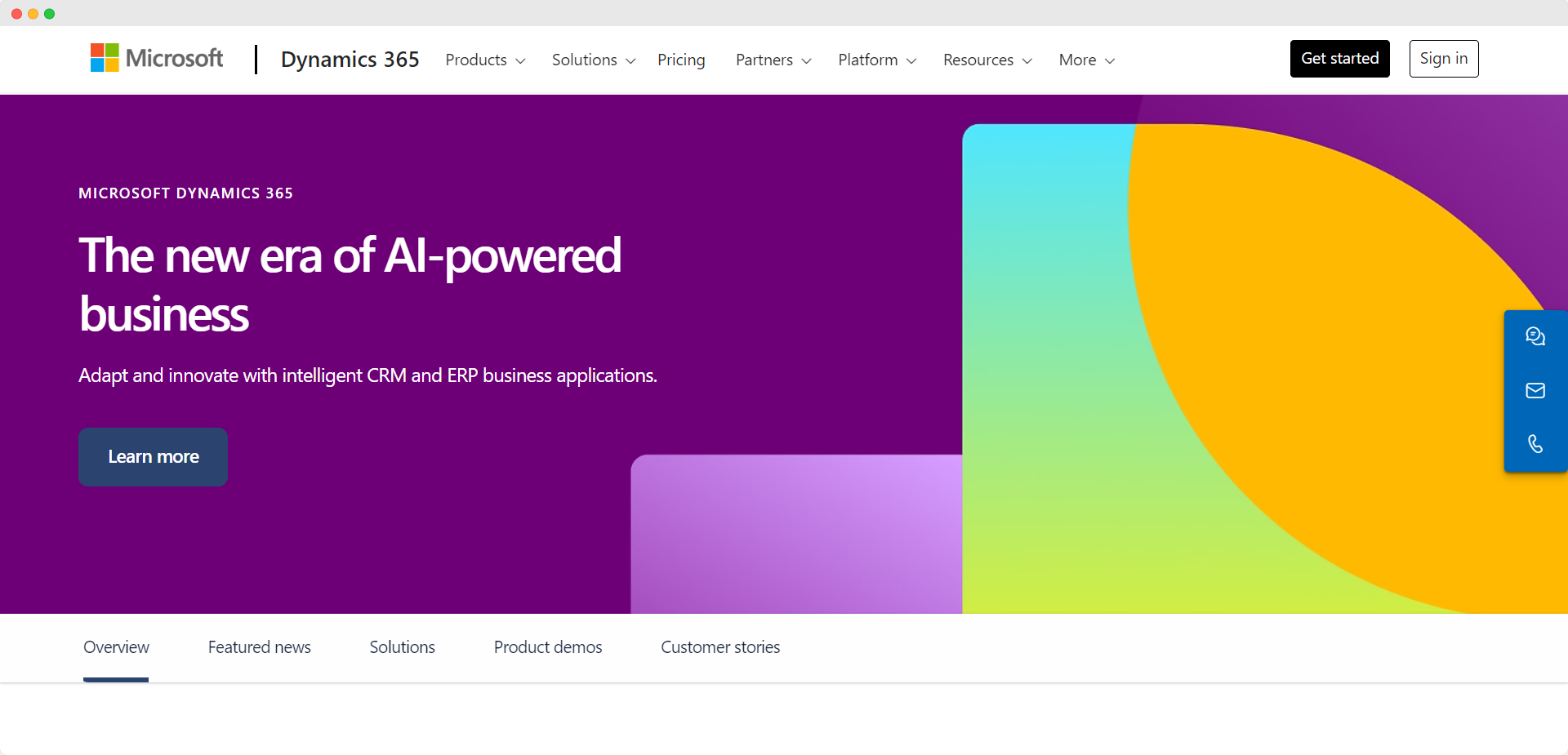 Image Source: Microsoft Dynamics 365
Comprehensive Dynamics CRM And ERP Capabilities: Integrated solutions for sales, customer service, operations, financials, commerce, and human resources.
AI-Driven Insights: Advanced analytics and AI capabilities to provide actionable insights. The Dynamics 365 Copilot acts as your professional assistant to help you make data-driven decisions.
Customizable And Scalable: Can be tailored to specific business needs and scaled as your business grows.
Seamless Integration: Easy integration with other Microsoft products like Office 365, as well as third-party applications.
Cloud-Based Platform: Secure and reliable cloud-based solutions ensuring accessibility and flexibility.
Real-Time Data: Access to real-time data to enhance operational efficiency and customer engagement.
Automation And Workflow Optimization: Tools to automate business processes and optimize workflows.
Global Compliance: Features designed to help businesses meet global compliance standards.
Dynamics 365 Finance: Offers comprehensive financial management capabilities including financial planning, analysis, reporting, and automation of financial processes.
Salesforce, on the other hand, is a leading CRM platform renowned for its customer-centric approach, offering tools for sales, service, marketing, and more.
Top Features: Salesforce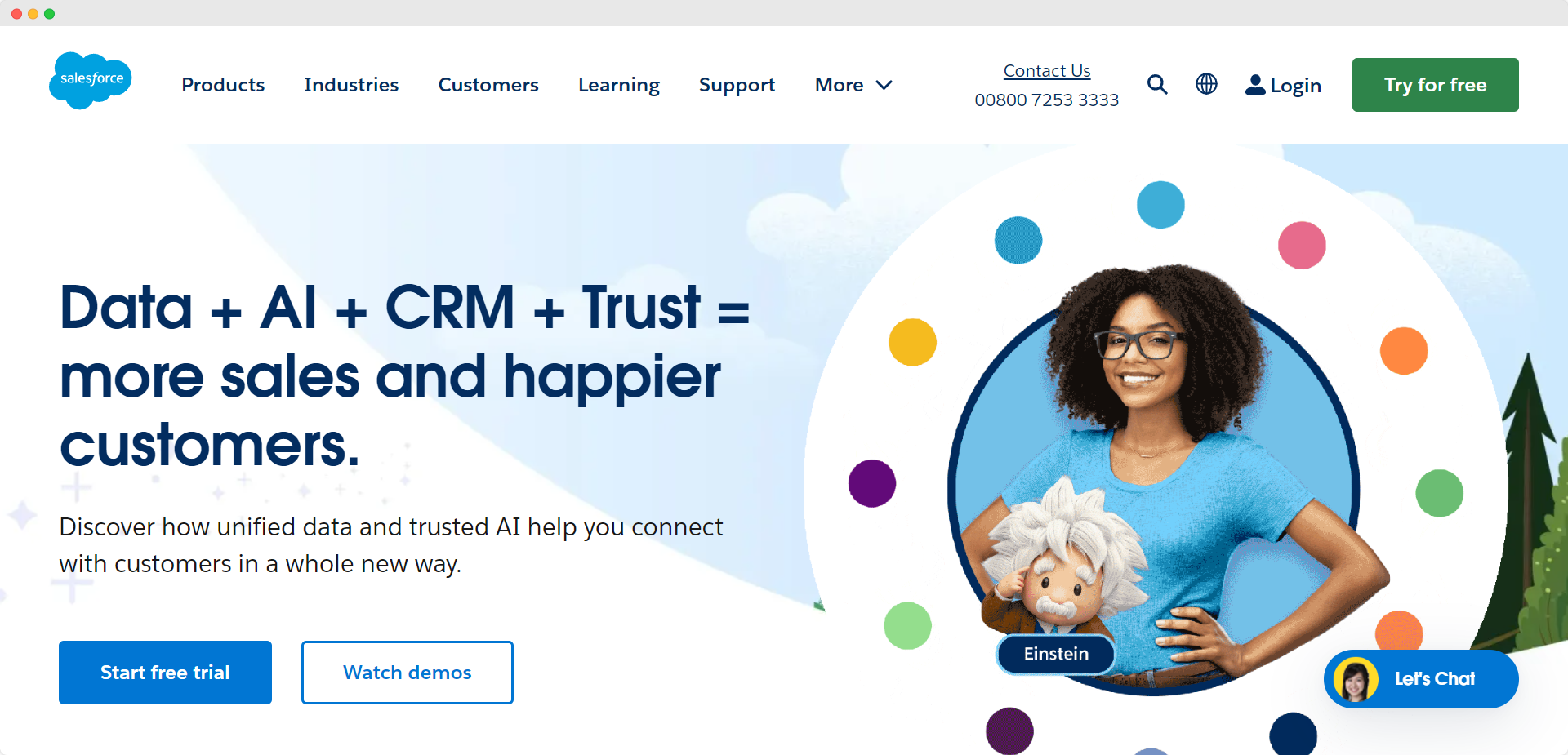 Image Source: Salesforce
Customer 360: A unified CRM platform that provides a comprehensive view of every customer interaction across sales, service, marketing, and more.
Sales Cloud: A sales module with advanced tools for lead and opportunity management, sales forecasting, and pipeline management.
Service Cloud: Features for customer service and support, including case tracking and resolution.
Marketing Cloud: Salesforce's marketing module offers integrated marketing automation tools for email, social media, and digital advertising campaigns.
Einstein AI: Artificial intelligence capabilities to deliver predictive analytics and personalized customer experiences.
AppExchange Ecosystem: A vast marketplace of third-party apps and integrations.
Customization And Scalability: Highly customizable and scalable to fit diverse business needs.
Cloud-Based And Mobile-Friendly: Accessible from anywhere, providing flexibility for remote work and mobile teams.
Analytics And Reporting: Comprehensive analytics and reporting tools to measure performance and gain insights.
Financial Services Cloud: A finance module offering tools for wealth management, banking, and insurance, integrating client data into a unified view.
Integrating Microsoft Dynamics and Salesforce bridges the gap between the ERP and CRM functionalities that these two business management platforms offer. It also helps you avoid double manual entry of the important business data needed to run these platforms.
Real-time integration will help you create a unified system where data flows seamlessly between backend operations managed by Dynamics and front-end customer interactions handled by Salesforce, or vice versa.
This synergy allows businesses to:
Enhance Data Accuracy: Eliminate data silos and discrepancies by ensuring consistent information across all departments.
Boost Productivity: Automated data synchronization reduces manual data entry, freeing up time for more strategic tasks.
Improve Customer Experience: With comprehensive customer data at their fingertips, teams can provide personalized service and support.
Drive Informed Decision-Making: Integrated data provides deeper insights, enabling businesses to make data-driven decisions.
Streamline Business Processes: Unified systems simplify workflows, leading to more efficient operations.
Microsoft Dynamics and Salesforce integration is not just about connecting two systems. It's about creating a cohesive ecosystem to propel your business forward.
In the following sections, we'll delve deeper into the considerations for data integration between these two platforms. We'll also compare top data integration tools, guiding you toward making an informed decision for your business needs.
Comparing Data Integration Tools For Microsoft Dynamics–Salesforce Integration
Before comparing and considering the best integration tools for your integration project, company situation, or business goals, you need to consider reliability, speed, and technical requirements.
For the best solution to Salesforce–Dynamics integration, analyze your entire company's primary needs, data integration requirements, and database constraints.
As most experts will tell you, there isn't a single platform or business product that fits all companies and integration goals.
So, it's important to understand your options for data integration tools. Compare them in different situations to understand which data integration solutions will bring you the greatest benefit. Then, when you need to choose a data integration platform, you can weigh up all the pros and cons.
To help you choose among data replication, data management, and data integration solutions, you should ask about stability, implementation, and complexity.
Here are a few basic qualification questions to guide you as you choose from popular data integration tools:
Is The Data Integration Solution Proven, Stable, And Reliable?
Before you evaluate the best business solution for your Salesforce Dynamics integration, check how long the solution has been in the market and how many customers are using it. User adoption are one of the key elements you should look out for.
Read customer stories and ask to make contact with reference customers for any of the enterprise solutions you think you can trust.
As you do so, consider whether their customers are satisfied by these data integration tools. Ask yourself whether their platform runs smoothly, seamlessly, safely, and speedily.
Consider whether the solution offers all the integration tools you need to improve inefficient business processes or if you'll have to purchase additional business tools to integrate your MS Dynamics and Salesforce accounts.
Is The Solution Easy To Implement And Quick To Build?
Based on your business size and requirements, establish whether you can use the data integration platform to make a direct connection. Make sure you understand how much of the data integration solution can cover your needs and requirements right "out of the box."
As you do, consider how much time, effort, and money you will spend to get it up and running. Data integration tools can make claims about the ease of implementation but look up real customers' experiences on review sites. Do the majority of customers report easy data migration, data capture, data formats, and more?
A good, affordable-looking solution can quickly rack up operational costs if the implementation process is long and tedious.
Another consideration is whether you'll need a custom integration solution for your particular business requirements. How easy will it be to use the data integration platform for customized, complex business operations? Does it offer customization services, and what are the extra costs?
To ensure you get the same benefits, make it a point to consider relevant customer case studies and documentation. Get as much information as possible to understand where potential pitfalls may be while building bridges between Dynamics and Salesforce.
Is The Solution Simple, Easy To Understand, And Intuitive For Business Users?
Business users may not always have a "data pipeline," "data mapping," or "data capture" background when making the two data warehouses cooperate and complement each other.
But as part of business operations, you may be a decision maker about non-negotiable and key features you require as part of the Salesforce Dynamics integration implementation process.
We recommend stopping short of any steps that require serious data integration expertise to implement and operate.
With seamless, no-code data integration options like Rapidi available, you shouldn't need to get a data expert on board to automate this business process. You can advocate for a solution that collects data from among all your data sources and makes it more valuable without complicating the process: no training or development required.
Some Salesforce–Dynamics, Salesforce–CRM, and Salesforce–ERP solutions will be better designed than others. Choose one that requires little training and technical skills while you transfer data, transform data, and prevent data loss.
Choosing Data Integration Tools For Microsoft Dynamics-Salesforce Integration
There are three main options when it comes to increasing your business performance with MS Dynamics and Salesforce integration.
Each integration gateway has advantages and disadvantages. Let's look at these more closely.
Option 1: Build Your Own Data Integration Tool
Historically, there have been different ways to create data integration, and most of them have worked fine under the circumstances. But, most of them are very expensive to develop and maintain. If you come from the Microsoft Dynamics world, you may know about BizTalk as the preferred technology to integrate data between systems.
Microsoft BizTalk Server: While not exactly a tool you build from scratch, BizTalk Server represents a highly customizable solution that requires significant expertise and development effort, akin to building your own integration tool. It's highly flexible but complex.
Among data integration tools, such a solution is so flexible that the configuration of data integration is typically long, difficult, technical, and challenging to maintain, as it requires expensive and hard-to-find experts. The problem with generic, low-level technologies is that they require too much effort to become operational and continue working.
If you have more essential and streamlined data integration needs, you may have tried or considered a custom build where you extract data from one table in one system and store it somewhere until you can load it into the other system.
With such a lengthy and cumbersome export-import interface, you must have strong IT skills to mitigate any issues that may crop up while transferring data. In that case, there's a high risk of data corruption and loss. And it's not always straightforward to bring the two systems back in sync once there's a data integration error.
Pros:
High Customizability: Tailor-made to fit specific business needs and processes.
Full Control: Complete control over the integration process and data handling.
Cons:
High Cost: Expensive to develop, deploy, and maintain.
Requires Expertise: Needs specialized knowledge and skilled personnel.
Time-Consuming: Development and maintenance can be slow and resource-intensive.
Risk Of Errors: Custom solutions may be prone to integration errors and syncing issues.
Scalability Challenges: May not easily adapt to changing business needs or data volumes.
If you have more complex and process-oriented data flows, such as setting up the transfer of quotes to orders (or sales headers and sales lines), creating the correct sequencing and connecting data into the appropriate pipelines can be complicated and aggravating.
Building custom data integration tools can then become costly, slow, and painful as data lakes continue to grow and the value of data sits in a silo.
Option 2: Use GENERAL Data Integration Platforms
The second option in common integration solutions is a data integration platform. If you invest in a central integration app with a user-friendly interface, you'll remove most of the abovementioned worries about in-house data integration tools. Three top tools that fall into this category are e.g. Jitterbit, Informatica or Mulesoft.
Jitterbit: This tool is a data integration platform that provides a more user-friendly, cloud solution. It removes many complexities associated with custom-built solutions and offers a platform with best practices for integration.
Informatica: This is a comprehensive data integration platform. It offers a wide range of features and connectors, suitable for businesses looking for a robust and scalable integration solution without building from scratch.
Mulesoft: Provides a powerful platform for APIs and integrations. It's designed to connect applications, data, and devices both on-premises and in the cloud with API-led connectivity. MuleSoft is particularly known for its Anypoint Platform, enabling businesses to build, deploy, and manage integrations and APIs with a flexible and scalable approach.
Most cloud integration platforms are fast, user-friendly, and robust. If you ask anyone who has tried to maintain a custom-built interface, they'll tell you they wish they had a more thought-out way of dealing with complex integration challenges between systems.
That's where platforms help with combining data, data warehousing, and data transfer without the complexity.
Pros:
Robust And Reliable: Designed to be robust and reliable in handling data.
Security: Often come with high levels of data security.
Reduced IT Dependency: Less reliance on IT departments for data management.
Cons:
Potential Limitations: May not cater to very specific or unique integration needs.
Potential High Cost: While less expensive than custom builds, still involves investment.
Steep Learning Curve: Requires familiarization with the platform's functionalities.
Such a platform also integrates data with a high level of data security – a crucial aspect of integration. These third-party systems combine data from each data source or data pipeline with interfaces that don't obstruct data flow. Using a cloud data integration solution, you don't need a data expert to perform manual integrations or troubleshoot issues.
Instead of relying on an IT department to manage incoming data, data loss, data transfer, and data integration, you can improve business processes using an expertly designed platform that simplifies your systems' connections.
Option 3: Use Prebuilt Integration Software
You can also opt for prebuilt native integration. Many companies wishing to integrate two (or more) of the same systems have common working methods and similar business goals. To meet these requirements, integration tools like Rapidi can include several pre-configured integration points.
Rapidi Data Integration Solutions: This is an open data integration platform that can accommodate a wide range of integration requirements and supports the most common CRM, ERP systems such as Salesforce CRM and Microsoft Dynamics ERP and other IT systems and databases.

With Rapidi, you benefit from many years of best practices integrating Salesforce with ERP or other CRM systems and further more you benefit form a powerful tool that works out of the box.
Another great thing about prebuilt solutions like Rapidi is that they provide best-practice standard data integration templates between Salesforce and Microsoft Dynamics (and other software) that let you get started quickly and can be adapted to your specific needs.
That means you get all the most common integrations between Salesforce and Microsoft Dynamics standard and built-in. Any additional customizable integrations can be done with an implementation effort of a few days, depending on the scope and need for additional transfers.
Pros:
Quick Implementation: Pre-configured solutions offer faster deployment.
Best Practice Templates: Includes standard data integration templates for common needs.
Best Practices: Benefits from years of industry best practices for CRM and ERP integrations.
User-Friendly: Generally more user-friendly and less technical.
Flexibility: Accommodates most integration requirements and supports various IT systems.
Reduced Development Time: Significantly less time-consuming compared to building from scratch.
Cost-Effective: Generally more cost-effective than custom-built solutions.
Outstanding Customer Support: Relying on a prebuilt solution means you'll have access to an integration support team who can advise and guide you through any issues that may come up.
Cons:
Steep Learning Curve: Requires familiarization with the platform's functionalities if you are a non-technical user, but once you are familiar with it, it will just run in the background.
By choosing Rapidi's data integration software, you will have few limitations to your specific integration requirements. You won't need to worry about software updates, either, as Rapidi Data Integration Solutions is a cloud-based service where updates and maintenance will happen automatically via Rapidi's hosting environment.
Other options, like building your own tool, would take months to implement. Some cloud-based software tends to avoid offering customization, not allowing an easy, accessible way to bridge data lakes without experts.
Why Choose Rapidi's Prebuilt Data Integration Software
Clients give Rapidi glowing recommendations and reviews. Even for non-technical users, the data integration tool is easy to implement, works as designed, and makes data management easier.
With key features released monthly to ensure consistent data integration, Rapidi is one of the smartest prebuilt cloud solutions for data integration on the market.
Rapidi provides a subscription model that fits most businesses and business data systems. You can use the software to build custom data integration with Salesforce and Microsoft Dynamics.
To understand the ease and simplicity of implementing data integration with Rapidi, contact us to learn more.
You can also check out what existing customers say about our top-rated Salesforce AppExchange solution.