A simple 5 minutes' research on Google can show you the endless benefits of data integration. Still, you have not jumped the gun yet. Your ERP and CRM systems still stand as independent systems, without automated integration.
You are not the only one. Integrating CRM and ERP for their businesses sounds like a must do for many. Some even start thinking about CRM to ERP integration in the early days of a new CRM system evaluation.
There is very little doubt about the benefits of the integration. This article will start by investigating the most relevant benefits of system integration for companies worldwide. It will then take a look at the consequences of a decision not to integrate systems.
The main benefits of system integration
Today, businesses worldwide collect data from source systems ranging from enterprise resource planning (ERP) solutions, to e-commerce or data warehouses. This is the era of big data and business intelligence.
In a time where companies collect more data than ever before, they also need to make sense of this information. As a consequence, they must consolidate and combine data to leverage it fully.
From that point, having disconnected systems is a break to further growth and system integration becomes a must do.
Integrating systems can bring many benefits to companies that choose this path. This is only a few of the named benefits of data integration:
It automates and streamlines business processes for increased productivity.
It offers easy and secure access to accurate customer data, from sales teams to finance and human resources. All members of a company's staff can work optimally with a unified view of their data.
It eliminates the number of manual, repetitive and error-prone tasks linked to the keying-in process of customer data.
It secures a higher level of system user adoption as systems contain reliable data. Data quality and user adoption always go hand in hand.
It allows companies to easily scale, as they collect a dramatically increasing amount of data. Removing the need to manually key in data always results in better processes.
it can dramatically i

ncrease the ROI of the integrated systems

.
System integration is no longer a difficult task
Data integration does not have to be complex. Data integration methods have evolved a lot since the early days of ETL (Extract, Transform and Load). There are many data integration tools on the market. IT executives can make informed choices between vertical integration, horizontal integration, or star integration.
Integrating ERP and CRM is a strategic decision
System integration has become a highly relevant topic in executive decisions. ERP - CRM integration can increase business efficiency and boost productivity.
ERP and CRM integration allows people performing customer-facing tasks to access vital customer data. This includes financial data, billing information and purchase history.
The benefits of ERP - CRM integration are very similar to those of system integration:
Remove double data entries and manual errors
Easier access to accurate customer data
360-degree customer view for all customer-facing staff
Ability to streamline and improve customer centric business processes
Increased ERP and CRM return on investment (ROI) and user adoption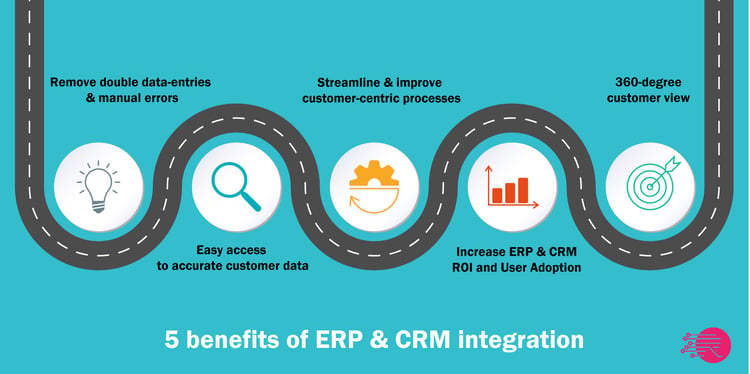 THE CONSEQUENCES OF A LACK OF ERP AND CRM INTEGRATION
Listing the benefits of ERP and CRM integration is not always enough. Sometimes, listing the risks taken by not integrating applications can be a better way to prove the point.
Generally, when ERP and CRM systems are not integrated, they work as silos of information. They are two systems unable to communicate with each other. As a consequence, the company loses the 360 degree view of their customers. This results in a slowdown of sales processes and sales performance.
All companies can benefit from the integration of ERP and CRM
All companies in all industries throughout the world can benefit from integrating their systems. Let us take the example of a goods manufacturer with stand-alone CRM and ERP applications. These manual tasks take time that could be spent elsewhere and it implies a certain level of risk of error.
The company's salespeople work with sales opportunities in the CRM system. Their accounting functions are handled in the ERP application. With disconnected systems, when a sale is closed, the order has to be created manually in the ERP system.
When ERP and CRM are connected, the flow of data is uninterrupted throughout the marketing, sales, financial and administrative processes. This results in increased efficiency, better sales results and increased customer satisfaction.
The best way to understand these benefits is to consider the consequences of the opposite scenario. What would happen if you keep your ERP and CRM system disconnected?
Typical consequences of disconnected systems
These concrete examples show the direct consequences of a lack of data integration:
No Contact & Account Integration. Both CRM and ERP systems contain important contact and account information. The ERP solution focuses on billing and shipping addresses. The CRM solution is centered around prospects and sales/support. Without integration, your salespeople lack information about credit limit information about your customers.


No Product/Item Integration. Without integration, your sales people do not have access to critical product information such as stock level and price. They might sell products that are temporarily out of stock, or that imply delays in delivery. They could sell at a price that is outdated. The CRM application should provide access to the products/items in the ERP system. This allows your sales reps to view, or even order from bills of materials.


No Order and Quote Management integration. Without this integration, your sales people are unable to turn opportunities into sales orders themselves. They have to manually transfer the information to your accounting that will manually create the orders in the ERP system. This is a time-consuming and error-prone process.
These simple examples only scratch the surface of the challenges faced by companies without integration. An integration between your ERP and CRM systems lets you share information and provide visibility into both frontend and backend systems. This increases productivity and simplifies business processes.
Today, standard integration solutions are available between all the common platforms. It can take as little as 5-10 days to define, setup, configure and test. This means that it is also affordable for most companies.