Salesforce is the nr.1 cloud CRM solution provider. The company has built his reputation on a strong worldwide partner community. Having a network of dedicated and professional partners has allowed Salesforce to provide top rated customer service to their customers. The Salesforce partner community is the cornerstone of the Salesforce customer success strategy.

The Salesforce partner ecosystem is one of the largest in the world. Broadly speaking, the Salesforce ecosystem refers to all companies that are doing business based on the Salesforce solutions. Working with a Salesforce partner is pivotal to the success of your Salesforce.com implementation.

Who is the best Salesforce consultant partner for your business? What if you need to integrate Salesforce with another solution? Where can you find the most appropriate Salesforce.com integration partner?
Navigating the Salesforce partner communities
The Salesforce partner community s not only the largest tech community in the world. It is also one of the strongest, best connected in the world. Being a Salesforce partner, a Salesforce admin or a Salesforce user really means something. You can find in different groups.

There are many Salesforce user groups around the globe, which are fairly easy to find following these Salesforce instructions. LinkedIn is a renowned source of Salesforce communities. There are more than 2,000 Salesforce related groups on LinkedIn.

It can however be difficult to navigate between these LinkedIn groups. If you are looking for a Salesforce partner, the best place to go is Salesforce AppExchange. Salesforce AppExchange is originally a platform where Salesforce ISV partners can promote and sell their solutions, apps and components.

Salesforce AppExchange is also the place to find Salesforce consultants, developers and consulting or implementation firms. This Salesforce platform works like a partner portal, easy to use and navigate in order to find the right partner.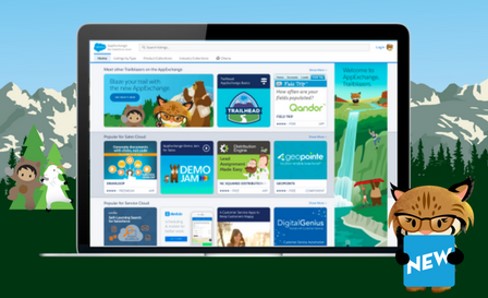 In AppExchange, you can search partner according to their:
Salesforce expertise (Sales Cloud, Service Cloud, Marketing Cloud, Community Cloud, Pardot, Heroku, Einstein, Lightning, non-profit, etc.)
Industry expertise (Auto & Manufacturing, Consumer Goods & Retail, Energy, Financial Services, Public Sector, etc.)
Country and state/region
Number of certified experts
Current AppExchange ratings
Another thing to look for is whether they are a part of the Salesforce partner program. In the Salesforce partner program, partners are tiered according to their Trailblazer score, number of certifications and an annual fee.

Trailblazer points can be collected in the Salesforce Trailhead. Trailhead is the Salesforce online learning platform. In Trailhead, you can learn Salesforce and earn "badges" to become a "trailblazer".

The Salesforce partner program consists of:
Registered partners
Silver partners
Gold partners
Platinum partners
Global strategic partners
These partners can without a doubt help you implement Salesforce.com to optimize your business processes or support your full business transformation.


Finding a Salesforce data integration partner
Looking at the partner size (registered, silver, gold, platinum or global strategic) is a great start. It might not be enough when you have specific needs. If you are in a very specific industry, you might want to select a partner with extensive experience within that industry.

What if you are looking for a partner that can provide you with a Salesforce data integration solution? You might want to connect Salesforce with an ERP solution such as Microsoft Dynamics 365. This would allow you to bring financial insight to your customer data.

In that case, the Salesforce consulting partner program might not be the place to start. Looking directly at the AppExchange Apps can be a more effective approach. All apps are delivered by a partner, so in that way you will also select a partner.

On AppExchange, apps are sorted by:
Price level (Free, paid and discounted for non-profit)
The edition of Salesforce they are compatible with (Essentials, Professional, Enterprise, Unlimited, Performance, Force.com, Developer)
Clouds and features (Financial Service Cloud, Health Cloud, Government Cloud, Lightning Experience, etc..)
Language
Their current AppExchange ratings
This still does not give you an option to select "ERP integration". Therefore, the best way to go about it is to use the search field.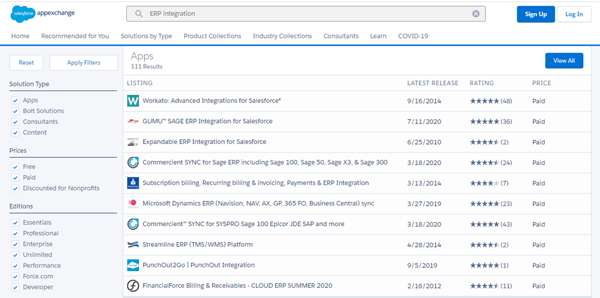 There are several Salesforce system integration solutions available in the market. Finding the one that matches your business's requirements and needs might not be an easy task.

Many vendors offer cloud solutions and other integrated apps. In order to find the best Salesforce Dynamics integration solution, it is important that you select an expert partner. There are many partners that are experts in Salesforce implementations. Being a Salesforce partner does not mean being a data integration partner.



Selecting the right Salesforce Microsoft Dynamics ERP integration partner?
Finding a Salesforce data integration partner is also possible. This is rarely enough. Building a good Salesforce ERP integration solution is not "just" creating a solution that extracts data. Connecting data sources can be a difficult task, especially at the age of "big data" and large data warehouses.

You need to find a partner that is also a specialist in the other system you wish to integrate with. Many organization using Salesforce have a need to connect with a strong and solid ERP. They do that to strengthen their customer business with insightful financial information.

Microsoft Dynamics 365 ERP (for example Business Central or Finance & Operations) is often used as a complement to Salesforce. Many vendors offer API integrations to such solution. However, the best integrations between these solutions are made by experts in:
Salesforce
Microsoft Dynamics 365 ERP
Data integration
That kind of partner can be hard to find but not impossible. A company like Rapidi A/S provides a cloud-based data integration solution based on expert knowledge about all these areas. RapidiOnline is a robust solution that was designed to make Salesforce - Microsoft Dynamics integration simple. It provides pre configured templates and is priced to remain affordable and can be used by companies of all sizes.