Today, companies have to deal with very large amounts of data. As a consequence, big data, data storage, data management and data migration have become topics of the utmost importance for business leaders.
Maintaining a high level of data quality is crucial. Organizations must find the best data storage solution and the best software solutions such as ERP, CRM, WMS, etc.
Assembling the perfect set of solutions sometimes means moving data from one location to another, from one system to another. A company could be changing CRM systems from Microsoft Dynamics 365 to Salesforce. Or from Salesforce to Microsoft Dynamics 365. It could be a strategic decision or the result of a merger.
Because a company's data is one of its most valuable assets, they must find the most secure way to perform this data migration. Selecting a data migration solution provider with extensive experience and robust data integration technology becomes a must.

What is data migration and why is it important for your business strategy?
The simple definition of data migration is the action of moving data from one location to another. In practice, data migration could mean moving data from one application to another, or even moving data from a format to another.
During a data migration process, data can be moved to a new data warehouse, a new database, a new system or simply to the Cloud. Data migration could also refer to the action of moving data acquired from an external source.
At first glance, this does not seem overly complicated. However, the data migration process can be challenging. Moving data from one location to another means that the data will be extracted from its original location. If the format required by the new location is different from that of the original location, it will need to be transformed. Finally the data will be transferred / loaded to the new desired location.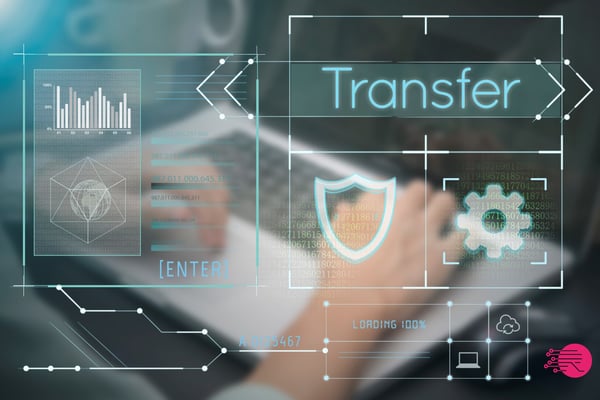 When do you need data migration?
Typically, organizations use data migration tools when their legacy systems have become obsolete or outdated and they want to move to another system. For example, your company might have grown considerably and your old ERP system cannot keep up with your business needs, requirements and ambitions. In this case, you might want to start using one of the leading ERP solutions available in the market. When you have chosen a new ERP, you will need to transfer (or migrate) your existing data to this new system.
Data migration can be an alternative to a painful upgrade. Sometimes, companies will choose to do a data migration between their existing systems and a newer version of the same system in order to avoid a difficult upgrade path. Data migration might be more appropriate than an upgrade when moving from an older version of Microsoft Dynamics NAV ("Navision") to the new, more sophisticated Microsoft Dynamics 365 Business Central. This is especially the case if your older system has been altered with many customizations.
How to choose the best data migration strategy?
Some data migration processes are simple and straightforward. Others can be a lot more complex. You might think that you have high data quality, and that your data migration tool will allow you to make the migration in a matter of hours. If this fails, this could mean increased migration time and costs. It could even mean business disruptions as the migration ends up being done during business hours.
This is why, before migrating data, you need to have a data migration strategy in place. A thought-through data migration strategy will allow you to be better prepared and have a chance to eliminate risks.
There are many ways to plan your data migration. In order to secure a smooth and seamless data migration process, you must do it in a few systematic steps.
Data assessment. Before transferring data, you need to review your data and assess its quality level. It is important that you know where and how your data is stored, and in which format. Is it easy to access and transform? How much will you need to transform it before it is ready to transfer?
Data cleansing. Any issues related to your data needs to be resolved. You must prepare your data so that it is clean, correct, and in the format required for the transfer.
Data maintenance. More than ever, it is time to define a set of rules that will keep your data clean and reliable moving forward. It is also time to assign this task to one responsible person.
Data extraction and test. Testing is vital and it should be done as early as possible. You should not wait until your data has been transferred to its new location to test it. Thoroughly checking your data at this stage can save you considerable time and money.
Transfer data. There are many different data migration tools available. As a rule of thumb, it is important to choose a data migration solution provider that has deep knowledge and extensive experience in the systems you are migrating data from and to. This way, you will avoid surprises.
Migrating data between Microsoft Dynamics 365 and Salesforce
Migrating data between Salesforce and Microsoft Dynamics 365 CRM is a common task. Some companies might do it because of a change of strategy and ambitions. This could be to seek a system that supports their requirements and growth plans better than the old one.
Sometimes it is simply as a result of an acquisition or a merger. Two or more companies that are being brought together might not use the same system. In this case, it could be a good idea to simplify and migrate everybody to one system. Having only one system could result in more effective, streamlined processes and therefore a higher productivity.
Whether companies choose Salesforce or Microsoft Dynamics 365 CRM as their one and only CRM is often a matter of preferences. Both systems are market-leading solutions with outstanding CRM functionality and vision for future developments.
In any case, data migration should be an important part of your business growth strategy. And, if you are well prepared, the data migration task can also be a smooth and seamless process.
Migrating data to / from Salesforce
It can be crucial for businesses to be able to get all their data into Salesforce. Importing data to Salesforce can be required if you wish to migrate your data from a legacy org to a new Salesforce org. This covers Salesforce to Salesforce data migration.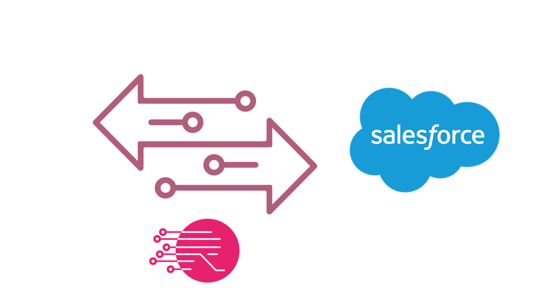 As for any data migration processes, in a Salesforce data migration, your data will have to be checked, cleaned, prepared for import (e.g. combined or separated). There are many Salesforce data migration tools. The configuration of these data migration tools can be more or less difficult.
In some cases, you can use the Salesforce Data Loader. Data loader is an application that allows the data to be transferred to/from Salesforce (import and export of data). The Salesforce data loader can read and extract data from CSV files, but can also do it with a database connection.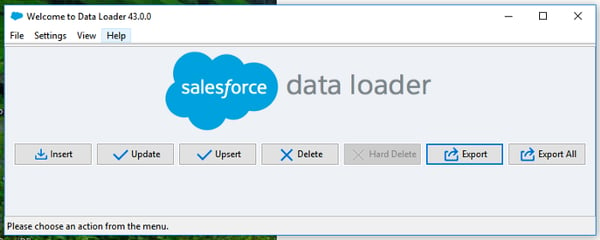 In this article, Salesforce shares best practices when you want to migrate data to Salesforce.
Migrating data to / from Microsoft Dynamics 365
Many organizations have been using an old version of Microsoft Dynamics CRM for years. Today, they would like to move to the more future-proof Microsoft Dynamics 365 Customer Engagement (CRM).This is especially the case since Microsoft has released Dynamics 365, that includes both CRM and ERP applications.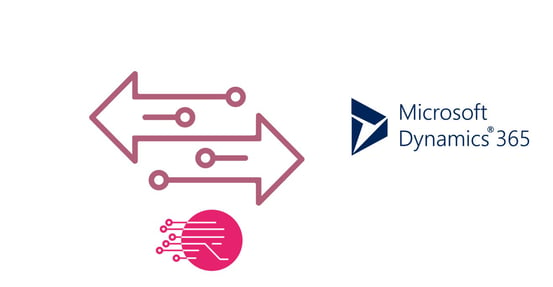 The same logic goes for companies that are still using a Microsoft Dynamics legacy system such as Axapta, Dynamics AX, Navision, Dynamics NAV, Great Plains or Dynamics GP. At some point, sooner or later they will have to move to a newer system - most likely Microsoft Dynamics 365.
The upgrade path between the Dynamics legacy systems and Dynamics 365 can however be difficult and therefore painful and expensive. Therefore, many organizations consider getting the newer system and then doing a migration of their data from their legacy system to the new.
Because CRM and ERP data is often more complex than one may think, Microsoft Dynamics 365 (ERP or CRM) data migration projects can be difficult and risky. Microsoft Dynamics provides out of the box templates for data import. You can find them under Settings, and then Data Management. Using these templates require that you have a set of data in the right quality and format just waiting to be transferred.
Often, organizations simply want someone to take care of the data transfer. In this case, using data integration and migration solution providers like Rapidi can be a good idea.


Migrating Salesforce or Microsoft Dynamics 365 data using RapidiOnline
RapidiOnline is a data integration and migration tool that can be and has been used countless times to migrate data to and from Microsoft Dynamics and Salesforce.
Data migration vs data integration
You might know RapidiOnline as a data integration tool more than a data migration tool. The truth is that RapidiOnline is both and can also handle data integration processes simply and easily.
Before digging deeper into the data migration capabilities in RapidiOnline, it is important to clearly define the difference between data integration and data migration.
As described above, data migration consists in moving data from one location to another. Data integration, on the other hand, is a more complex process. It consists in combining data (rather than just transferring) into one single view. Just like with data migration, data is extracted from one source, but is then consolidated with other data into one single data set before being transferred to the desired destination.
Data integration is somewhat more complex than data integration, as it requires combining data from different sources and formats into one data set to get a meaningful and insightful view.
RapidiOnline as a data migration tool
RapidiOnline has been designed to integrate Salesforce with Microsoft Dynamics (AX, NAV, GP, 365 Customer Engagement, 365 Business Central, Finance & Operations) simply, smoothly and easily.
With RapidiOnline, it is simple to transfer data:
From Salesforce to Microsoft Dynamics
From Microsoft Dynamics to Salesforce
From Salesforce to Salesforce
From Microsoft Dynamics to Microsoft Dynamics
Using RapidiOnline as a data migration tool makes plenty of sense considering that the solution provides easy data transfers from/to Salesforce and Microsoft Dynamics ERP and CRM. These transfers are made via pre-configured templates. These templates come out of the box in RapidiOnline. Additional transfers can easily be set up in RapidiOnline, with no programming required. Many RapidiOnline customers have already taken advantage of the solution's data migration capabilities with great success.
The RapidiOnline data integration solution has a subscription-based pricing structure. This means that organizations using the RapidiOnline data integration solution pay a recurring monthly fee. This would not make much sense in the case of data migration, as the data transfer is usually a one off process and effort. In this case, RapidiOnline is exceptionally available as a time-limited "subscription" for the time needed to perform the transfers.
This way, you can take advantage of RapidiOnline's advanced data integration technology for your data migration project.