What is the best Customer Relationship Management (CRM) tool in 2020? Is it different from 2019? How can you select the best CRM solution for your company? Many of the companies that are using Microsoft Dynamics as their ERP are wondering if Microsoft Dynamics 365 CRM is the best solution for them, or if they should select another of the proven CRM software available, such as Salesforce or NetSuite.
Websites such as Capterra provide detailed software comparisons, including for CRM solutions. For example, if you are wondering how NetSuite and Salesforce compare, you can have a look here.
More generally, when you need to select a CRM solution for your company, you might want to know which the top 10 CRM systems are. In that case, you can refer to the renowned Gartner Magic Quadrant for CRM solutions. Basically, the Magic Quadrant will tell you that Salesforce is (and has been for years) the undisputed leader of the CRM software market. Does it mean that it is the right solution for you? Not necessarily. It is always wise to consider all your options carefully. For example, if you are using Microsoft Dynamics as your ERP, you might want to consider Microsoft Dynamics 365 CRM as well in your research.


What is Microsoft Dynamics 365 CRM?
There has been (and to some extent there still is) quite some confusion about Microsoft Dynamics 365. What is it? Is it an ERP or a CRM system? The name Microsoft Dynamics 365 is the name of the Microsoft product line including both ERP and CRM applications. It gathers under one name what used to be Microsoft Dynamics ERP and Microsoft Dynamics CRM. Microsoft Dynamics 365 also includes productivity tools and AI (artificial intelligence) tools. Still, many people are not aware that Microsoft Dynamics 365 has a CRM. Others do not know that it includes ERP.
If you have been confused, it is quite understandable. When it comes to their business solutions, Microsoft has a long history of renaming their applications. Not just once, but many times and it can be difficult to keep track – even if you are working in the ERP and CRM software industry. The thing is, Microsoft released the CRM application as the first application under the name Microsoft Dynamics 365 and people have naturally associated the name with a CRM solution. It is, however, much more.
Microsoft presents and markets Microsoft Dynamics 365 as one product, one platform, but the reality is not that simple yet, even if it is the vision for this product. Here is a handy list of current Microsoft Dynamics 365 names and what they represent:
Microsoft Dynamics 365 CRM



Microsoft Dynamics 365 CRM is what you used to know as Microsoft CRM and then Microsoft Dynamics CRM. So, if you were wondering what the difference is between Microsoft Dynamics 365 CRM and Microsoft Dynamics CRM, there is none. Microsoft Dynamics 365 CRM is the name given to the newer versions of Microsoft's CRM offering. It includes Sales, Marketing, Customer Service and Field Service.


Microsoft Dynamics 365 Business Central
Microsoft Dynamics 365 Business Central is an ERP system and the successor of Microsoft Dynamics NAV, GP and SL. Microsoft Dynamics 365 Business Central is primarily based on the codebase for Microsoft Dynamics NAV, a solution that you used to know as Navision, Microsoft Business Solutions – Navision, and more recently Microsoft Dynamics NAV. Business Central is positioned as the solution for smaller businesses.
Microsoft Dynamics 365 for Finance & Operations
Microsoft Dynamics 365 for Finance & Operations is another ERP system in the Microsoft Dynamics 365 product suite, targeted at medium to large size companies. It is the solution you used to know as Axapta, Microsoft Business Solutions – Axapta, and more recently Microsoft Dynamics AX.

If you are wondering how to use Microsoft Dynamics 365 CRM, or if you believe that you should learn Microsoft Dynamics CRM, have a look at these training sessions and tutorials provided by Microsoft. They will give you a fair understanding of how their CRM solution can benefit your organization.
Should you choose Dynamics 365 as your next CRM?
What kind of companies choose Microsoft Dynamics 365 CRM? Microsoft Dynamics 365 CRM has grown a lot since the early days of Microsoft CRM and has become very attractive to a lot of companies, in all kinds of industries. In 2015, Microsoft reported 4 million users of their CRM solution, in over 40,000 companies worldwide. Microsoft Dynamics CRM has grown so much indeed that it has made it to the "leaders" box of the Gartner Magic Quadrant. Microsoft does not need any introduction and their CRM solution keeps growing and gaining market shares. Its revenue grew 50% between 2018-2019.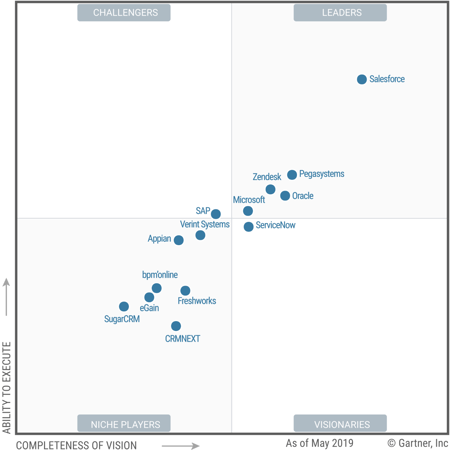 So, what is special about Microsoft Dynamics 365 CRM? On paper, its biggest strength is that Microsoft offers a fully integrated suite of ERP and CRM applications, presented as one product, and of course that it integrates with the Microsoft stack. However, the reality can be quite a bit different. Microsoft might have a vision to have all solutions working as one, but they are not one product. In fact, at the time of writing, Microsoft does not provide a plug and play integration between Microsoft Dynamics 365 CRM and ERP (whether it is Business Central or Finance & Operations). Therefore, using a Microsoft Dynamics 365 ERP alone is not a reason enough for you to choose Dynamics 365 as your CRM solution.
Microsoft Dynamics 365 ERP can just as easily be integrated with other CRM solutions as it can 365 CRM. For example, using a solution like RapidiOnline, you can integrate Salesforce with your Microsoft Dynamics ERP solution in just 10 days. RapidiOnline even comes with out-of-the-box, pre-defined templates the most common transfers.
Finally, one of the strongest assets of Microsoft Dynamics 365 CRM is the proven, experienced and established partner network Microsoft is relying on. These partners have over the years developed a wealth of add-ons and vertical solutions that can support almost any industry.
What is Salesforce CRM?
Just like Microsoft, Salesforce does not need an introduction. But unlike Microsoft, Salesforce has built from the very beginning built its name on its CRM solution. Very few people are asking if Salesforce is a CRM tool. Salesforce is just known worldwide, not for being just another CRM tool but for being one of the best CRM tools available. The scope of Salesforce goes far beyond being a simple CRM tool. The Salesforce Platform is an extensive enterprise platform-as-a-service (PaaS) solution that allows developers to build and deploy cloud applications. More recently, Salesforce even introduced Salesforce Lightning platform that makes it even easier to develop apps based on Salesforce.
What is the scope of Salesforce CRM?
The CRM scope of Salesforce is very comprehensive. It is perfect for any company that wishes to streamline their marketing, sales, commerce and services processes and have these functions work better together based on one single, shared view of every customer. Salesforce was developed from the very beginning with customers in mind and therefore, it seamlessly supports the processes of people working with customers daily. It is intuitive and easy to learn. In addition to that, Salesforce provides great online training with trailhead, a series of online tutorials that coach users, developer, and admins all they need to learn how to use and benefit from the Salesforce platform. Trailhead is a unique and fun way to learn Salesforce.
AppExchange is another great side benefit of Salesforce CRM. AppExchange is a sort of Salesforce store, where Salesforce partners can offer ready-to-use apps that add value to Salesforce CRM. AppExchange provides over 5,000 apps from registered Salesforce partners, for example data integration solutions. Here you can view the RapidiOnline page on Salesforce AppExchange.
In 2017, Salesforce reported that 150,000 companies around the globe were using their CRM solution. These are companies of all sizes and from all industries.


How did Salesforce become the #1 CRM?
Why is Salesforce so successful? Who do people say that Salesforce CRM is better than other CRMs? Many CRM experts recommend using Salesforce as a CRM. Does it mean that it is the best CRM?
The Salesforce story started in a small apartment in San Francisco, when Marc Benioff left his career at Oracle to pursue his vision and disrupt the CRM world. The first version of Salesforce was launched in 1999 and in 2000, Salesforce had already begun on their "no software" path, a vision to deliver software through a model called Software-as-a-Service (SaaS). The revolutionary idea behind this was that it eliminated the need for very high upfront costs and implementations that could take years, as well as the ongoing cost of maintenance and constant upgrades. This may sound like nothing today, but over 20 years ago, it was a very innovative idea, one that would change many things.
Why did Salesforce succeed? Why is Salesforce recognized as a better CRM than other CRMs? Why has it been for years the undisputed CRM leader? Is it because of their leader (Marc Benioff), their go-to-market approach and their corporate "ohana" culture? Is it their strong long-term strategy, supported by clever acquisitions? Or is it simply because they created a brilliant solution and platform? Probably all these elements contributed to Salesforce's success and growth.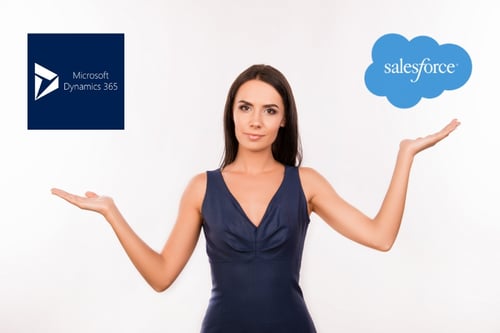 Which is better, Salesforce or Microsoft Dynamics CRM 365?
Many market analysts recommend Salesforce as a CRM system for companies that wish to increase the productivity of their sales and marketing teams. It is strong, proven, it keeps developing and it is supported by a large partner community. However, the Gartner Magic Quadrant for CRM shows that other solutions are progressively making their place in the Leaders box, for example Microsoft Dynamics 365 CRM. Microsoft's CRM solution is gaining momentum and has become one of the most popular Salesforce competitors.
So, what is the real difference between Dynamics 365 and Salesforce? In a previous blog, we have looked into this comparison, wondering if Microsoft Dynamics 365 is better than Salesforce? Or is Salesforce better than Microsoft Dynamics 365? There is probably no clear answer to this question. No clear winner.
Many different bloggers, influencers and websites have tried to make a detailed feature comparison of the two solutions. At the end of the day, the differences are getting smaller and smaller. Both solutions offer industry-leading features, both have a scalable platform. Digging into feature comparison does not make the difference. Executives do not pick a solution because the campaign targeting functionality, marketing automation or social media integration is marginally better. Industry can be a differentiator.
An organization may select one CRM from another because it offers a vertical or add-on that matches their industry, needs and processes. Company culture could also be an influencer and some executives will recognize themselves in the caring Ohana culture developed and nurtured by Marc Benioff and his staff. User experience could be the key. Some teams will be seduced by the Salesforce lightning experience, others will prefer Microsoft 365's united interface. Pricing always plays a part of course, but it is rarely the true decisive point.
Some companies might make their decision about which CRM to buy based on the ERP system that they are using. Companies using Oracle may instinctively be inclined to use NetSuite. Companies using Microsoft Dynamics ERP may go for Microsoft Dynamics 365 CRM. In 2015, more than 190,000 companies worldwide were using one of the Microsoft Dynamics solutions (AX, NAV, GP, SL). This is an impressive number. Microsoft has not officially communicated any update on these numbers since, but one might think that they have been growing. Some companies are still using the original 4 ERP solutions, others have migrated towards the newer Microsoft Dynamics 365 ERP applications (Business Central or Finance & Operations). Microsoft Dynamics 365 CRM could be a very natural choice for these companies, especially since Microsoft presents these CRM and ERP applications as one offering, one applications platform with the same name.

Integration between the Microsoft Dynamics 365 CRM solution and the ERP solutions is however not seamless. It is not even out of the box. At the time of writing, Microsoft does not offer a standard integration between Microsoft Dynamics CRM and Microsoft Dynamics AX, GP and 365 for Finance and operations. It is so far only a long-term vision around a common data model. If you are using one of the Microsoft Dynamics ERP solutions, the good news is that you can find solutions like RapidiOnline that will seamlessly integrate Microsoft Dynamics CRM with your Dynamics ERP. A cloud based solution such as RapidiOnline can just as easily integrate your Microsoft Dynamics ERP with other CRM such as Salesforce, which means that you are free to select the CRM solution based on your sales and marketing processes, your industry, your culture and preferences.

If you want to learn more about our company, I'd love to count you as a subscriber of our Linkedin page.