Many companies across the globe are using an ERP solution to improve the efficiency of processes across their businesses – from accounting to warehouse to inventory to fulfillment. When they have reaped the benefits that an ERP solution can give them, they soon get interest in a CRM solution to complement their ERP and bring them a new focus on customer-relationship processes and data.

When you are using a Microsoft Dynamics ERP, whether it is AX, GP, NAV, 365 Business Central or 365 for Finance & Operations, Microsoft Dynamics CRM is probably the first CRM system that comes to your mind. This is quite logical, especially because if you want to reap the full benefits of your two systems, it is best to integrate them, and you could believe that the integration between two Microsoft Dynamics solutions would be easier than integrating with third-party solutions. But is that so?

Killing a myth
Is Microsoft Dynamics CRM the only solution you should consider when you are using a Microsoft Dynamics ERP? This is a fair question, as there are many very good best of breed CRM systems out there, for example Salesforce Sales Cloud that are broadly used and have proven to be very efficient CRM systems. If you are, for example considering Salesforce Sales Cloud (CRM), should you be worried that it might not integrate with your Microsoft Dynamics ERP as well as Microsoft Dynamics CRM does? You shouldn't. In fact, you cannot take for granted that a Microsoft Dynamics ERP and Microsoft Dynamics CRM have plug-and-play integration solutions, just because they both are Microsoft products.
Read also: Do you need both CRM and ERP?
Read also: To integrate or not to integrate? The ERP-CRM dilemma
When it comes to Microsoft Dynamics AX, GP and 365 for Finance and operations, it is very simple: Microsoft does not offer a standard integration to Microsoft Dynamics CRM. There is a long term vision around the common data model, but at the time of writing, there is no out of the box solution supporting this direction - not even if you need to integrate Microsoft Dynamics NAV/365 Business Central and Microsoft Dynamics CRM. Integrating these solutions is of course possible, but you need to be aware of the fact that you will probably have to involve a partner and you will most likely end up have to do custom development or deploy a third party tool.
Read also: Data integration platform vs custom integration
A concrete example: Microsoft Dynamics NAV or 365 Business Central
Let's take the concrete example of a company that is using Microsoft Dynamics NAV or 365 Business Central and is considering both Microsoft Dynamics CRM and Salesforce.com as their CRM system. Now, I cannot tell whether Microsoft Dynamics CRM or Salesforce.com is best suited to their business processes. But, one thing I can say for sure, is that it is at least as easy to integrate Microsoft Dynamics ERP with Salesforce as it is to integrate it with Microsoft Dynamics CRM.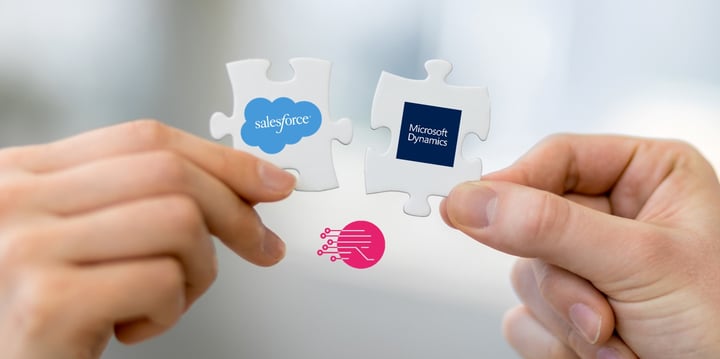 Today, it is actually fairly easy to find data integration platforms that allow simple, effective data integration. In their early days, data integration platforms could be tricky to implement. Now, they can be up and running in just three to 10 days. They should definitely be considered too. For example, RapidiOnline is a fast, user-friendly and robust data integration platform that specializes in Salesforce-Microsoft Dynamics ERP integration. RapidiOnline even comes with out-of-the-box, pre-defined templates the most common transfers.

Read also: ERP-CRM: 9 most common integration points
So, what should you be focusing on when you evaluate a Microsoft Dynamics NAV – CRM solution versus a Microsoft Dynamics NAV – Salesforce solution? You should consider:
Pros and cons: the Microsoft - NAV integration
It comes free of additional charges and is built as functionality developed in NAV. This means that if a customer needs to make changes or add new transfers to the standard scope of integration, it's a developer task. There are not that many references out there, and partners generally don't know too much about the integration (Microsoft Dynamics NAV partners and Microsoft Dynamics CRM partners are often different partners).


Flexibility around versions/upgrades
With an integration platform like RapidiOnline, you are independent of specific versions of Microsoft Dynamics. Rapidionline supports all Microsoft Dynamics versions. With a Microsoft integration you have to have compliant versions, thus you may be forced to upgrade the systems in parallel.


If you have multiple sites
RapidiOnline supports many-to-many and many-to-one integrations out of the box. For example, if you have several Microsoft Dynamics NAV installations (multi-site or international companies) or several companies in the ERP and you want to consolidate, integrate or automate data/processes to one CRM system, then this is not supported with the Microsoft integration and will require either development in NAV (extensions which are expensive to make) or the deployment of a third party tool. With the RapidiOnline platform it's easier to integrate Salesforce and Microsoft Dynamics NAV than for Microsoft to connect Microsoft Dynamics CRM with NAV.


Get more out of your ERP data in your ERP
The RapidiOnline platform comes with ERP Insight for Salesforce that allow you to better utilize your Microsoft Dynamics ERP data in Salesforce. This means that we have created views and reports in Salesforce that bring information such as Open Sales orders, Sales history, Return Orders, Payment history and financial history (outstanding payments) into Salesforce and displays it on e.g. accounts, cases, opportunities and items. This comes out-of-the-box with RapidiOnline and is in addition to the "typical" master data synchronizations which is just keeping data with comparable tables and fields in synch. The Microsoft Dynamics NAV-CRM integration does not provide this extra layer of data utilization, and it would require quite a bit of additional development from a partner to get the same result.


Flexible, low maintenance integration platform
RapidiOnline is an open programming free platform where any data between Salesforce and Microsoft Dynamics NAV can be exchanged/synchronized. It includes a full range of specific tools to handle different data formats, data architecture and processes in different systems. Maintenance of the integration is a lot easier with RapidiOnline, especially if you need to integrate with additional apps, or add custom functionality. With RapidiOnline don't have to add a NAV development side track to your integration. You have a secure, flexible and robust integration that gives you data you can trust.

Read more about how RapidiOnline easily integrates with Microsoft Dynamics 365 Business Central here:
Read also: Salesforce serves you better with ERP insight