The abundance of customer data generated daily is continuously increasing. So much that if customer information is not handled properly, it could become your biggest pain point for your business.
Investing in a CRM system is a great way for organizations to handle all front-end customer information. It makes sure that customer interactions are recorded, sales are tracked and pipeline is managed. A CRM solution equips marketing departments with tools to manage prospects and create marketing activities/campaigns.
A CRM system also helps them understand prospects and clients, manage relationships and sales pipeline, and up-sell and cross-sell products. This is, however, rarely enough.
While the customer data stored in CRM is invaluable, there is more to it. A great deal of the customer data is often stored in other systems such as Supply Chain Management systems (SCM) or Enterprise Resource Planning (ERP) systems.


Limitations of a salesforce.com and other CRM systems
Companies can increase their capital in two ways: more sales or fewer expenses. Customer Relationship Management (CRM) systems, as described above, will take care of boosting sales.
Salesforce.com is a good example of an outstanding CRM system. It provides considerable value. However, even the best CRM system has its limitations. Companies that are solely relying on a CRM software will typically be missing a full 360 degree customer view to perform their jobs optimally, for example:
Sales people may lack information about product inventory in the CRM system to provide the best service to customers and advise on product availability. When sales teams are in the middle of a crucial touchpoint in a customer's journey, they will need access to all customer inventory and orders alongside product and pricing information to allow them to close deals more efficiently – they must have up-to-date data during the interaction, not afterwards.
They will have no visibility into whether customers have been billed or have paid their bills. Being able to view a customer's credit limit, current balance, a list of outstanding invoices and previous orders placed will give them a full history of the customer's purchasing patterns and allow them to make the best decisions.
When a customer contacts them requesting an order status update, customer service representatives should have easy and fast access to that information not to risk a negative customer experience or even a loss in business


This kind of information is typically the type of information that is dealt with in an ERP system.
CRM and ERP systems are complementary solutions. ERP is focused on inventory, warehouse, shipping and billing address, etc. ERP is focused on cost savings and takes care of all critical backend processes: purchase history, billing and shipping details, accounting information, financial data, and supply chain management details. But if ERP systems are standing alone, they also have their limitations.
The best solution is to use both CRM and ERP.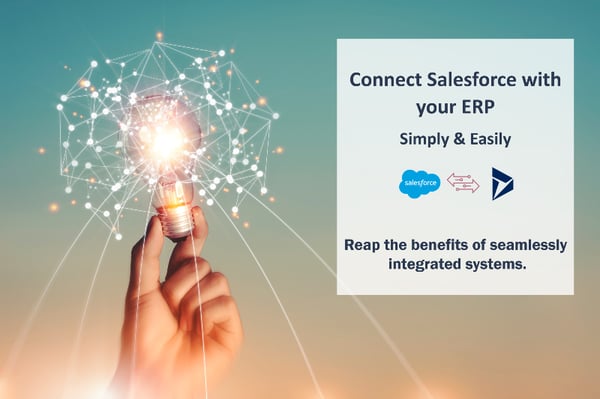 SALESFORCE ERP INTEGRATION WILL ENHANCE THE VALUE OF YOUR CRM
Once you have decided to invest in both a CRM and an ERP system (or Cloud ERP), having them separated might appear more manageable. However, if you are looking to streamline business processes and boost productivity, consider integrating your ERP and CRM systems.
Integrating Salesforce with your ERP solution will also increase the value of your CRM solution. And you will be able to increase the returns on investment of your CRM.
Adopting Salesforce is a major investment for many companies. Therefore, making sure you are measuring Salesforce ROI is vital.
ERP Salesforce integration will help remove data silos in your organization, optimally manage customer data and optimize operations to enhance efficiency.
Considering that satisfied customers are the most valuable asset to any business, imagine the benefits of a unified system. The ERP and CRM integration removes the tedious and error-prone necessity of duplicating data entry by providing identical rules for each system.
For instance, any changes made in the ERP database will reflect in the CRM system and vice versa. Take another example, once a CRM proposal has generated an order in the ERP software, having to switch systems and re-enter the data multiple times is neither time-sensitive nor practical. With ERP and CRM integration, businesses can turn proposal generation (created in the CRM) into actual orders (executed and tracked at the ERP level) using one system only. This both reduces time consumption for data management and increases company efficiency.


Salesforce ERP integration via a solid data integration platform
An ERP CRM integration can make a huge difference for a company. Today, such integration can be both easy and affordable. Data integration can be done real time or as periodic transfers.
ERP and CRM systems have both been enhanced to allow for easier integration with other systems. Also, it has become easier to find data integration solutions such as RapidiOnline that deliver out-of-the-box integration templates that can get you started quickly.
With a data integration platform like RapidiOnline, you can seamlessly integrate ERP data into a CRM system such as salesforce.com.
The integration allows your salespeople to drill down for details on open orders or sales history. They can look up accurate pricing to answer customer requests on the spot and get a fast overview of the main sales KPIs to focus on the right sales cases – all this without leaving salesforce.com.
RapidiOnline adds complementary functionality to salesforce.com and truly incorporates the ERP thinking into the sales environment.