Salesforce Field Service lightning integrated with your finance system such as Microsoft Dynamics can revolutionize the way you manage service to deliver a faster, smarter, more personalized customer experience from end-to-end.
Managing field service, in particular, presents unique challenges that require a complete customer view to resolve. Siloed teams out in the field, poor resource allocation, lack of mobile support, and lack of integration with CRM all contribute to the difficulty level of managing field service operations.
Many companies are using multiple tools and solutions to try to address the challenges of field service management. According to Field Service News, 77% of companies are still using an on-premises field service solution. As a result, leaders lack visibility across all customer touch points and insights, which is crucial in developing the panoramic customer view that modern businesses need.
Create work orders from any case
Create and manage work orders for field service operations and instantly view Knowledge articles and track SLA compliance with Milestones. Work orders are integrated with Accounts, Contacts, Assets, Cases, Entitlements, and other objects so you can pull in data across Salesforce. But it doesn't stop here.
Read also: salesforce.com serves you better with ERP insight
Convert a work order to an invoice
Whenever a work order is completed, and if it needs to be invoiced to the client. A work order can automatically be converted to an order or an invoice directly in your ERP system with the use of RapidiOnline data integration.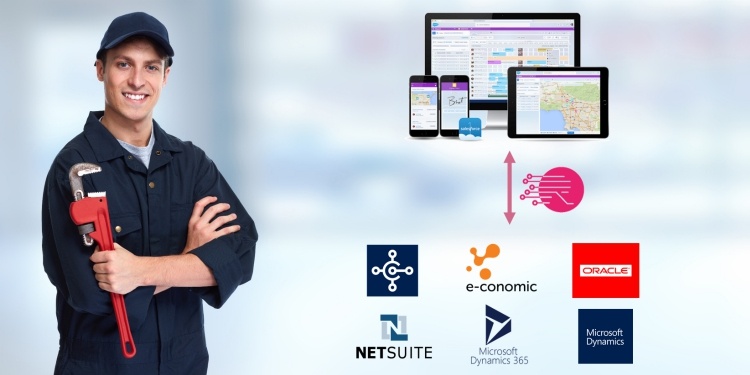 Write Assets back to Salesforce
It's also commonly seen that you want to keep track of assets or devices on the client side, and specific information you need related to assets can be written back from the invoice carrying e.g. serial number, items number etc.
Disconnected customer service experience can result in slower case resolution
Without the right customer insights, the results are potentially disastrous — a disconnected customer service experience can result in slower case resolution, customers needing to call back because a first service call didn't result in the right answer, and customer churn. According to the Aberdeen Group, the number one reason for return visits from field technicians is a lack of customer information, which comes at a cost of $200–$300 per visit.
With agents, dispatchers, and mobile employees all connected on one platform, operations can be streamlined across the entire service chain, and the customer experience can be more connected than ever.
Every service experience is made up of a series of moments, and each moment is an opportunity to exceed expectations and build a closer, more connected experience with the customer. By eliminating friction and frustration for both employees and customers from moment to moment, you're well on your way to developing a more personalized, predictive customer experience.

Read also: To integrate or not to integrate? The ERP-CRM dilemma
Personalized service
Service Cloud customer service software gives you faster, smarter customer support. Give your customers the answers they need, whenever they need them. Meet their new needs by providing personalized service that goes above and beyond what your competitors can deliver. Meet customers where they live with multichannel support, and fix problems before they happen, delight customers in the process and optimize your back office and finance functions with integrated systems powered by RapidiOnline.
Read also: Boost your sales: become data-driven and customer-centric