In 2020, no CRM or ERP system should be an island anymore. Integrated, systems can boost your business' productivity to new heights. This is true for ERP and CRM, and for all kinds of other solutions, including Microsoft Dynamics 365.
In the past couple of years, Microsoft Dynamics 365 has become an essential business solution. This has increased the need to integrate other solutions and applications with it. How difficult is it to integrate with Microsoft Dynamics 365? Which solutions are the best connectors?
These are some of the questions we will answer in this article.
What is special about Dynamics 365?
Microsoft Dynamics 365 is the umbrella name for the Microsoft ERP (Enterprise Resource Planning) and CRM (Customer Relationship Management) applications. Microsoft Dynamics 365 was officially released in 2016. It is the continuation of the Microsoft Business Solutions product suite, which used to include:
Microsoft Dynamics CRM (formerly Microsoft CRM)
Microsoft Dynamics AX (formerly Axapta)
Microsoft Dynamics GP (formerly Great Plains)
Microsoft Dynamics NAV (formerly Navision)
Companies using these applications will most likely be invited to upgrade to Microsoft Dynamics 365 in the near future. There is nothing wrong about it. The wealth of Dynamics 365 applications is nearly a guarantee that any company will be satisfied with the product. It is the Microsoft flagship product for business systems.
Why connect with Microsoft Dynamics 365?
Microsoft 365 seems to be offering everything a business could wish for. So why the need to integrate it with a third party application? It is important to understand that Dynamics 365 is not "just" one product. It consists of a set of 12 applications supporting vital business functions: Sales, Human Resources, Supply Chain Management, Finance or Marketing etc.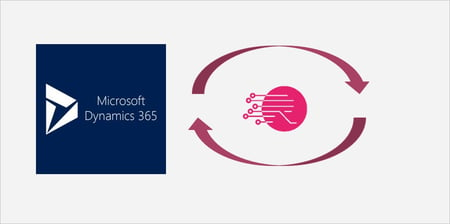 It is possible to purchase all applications. You can decide to only get the ERP applications (for example Business Central). You can then keep using the CRM solution you have always used. In this case, you will have to connect your CRM (for example, Salesforce) with Microsoft Dynamics 365.
You can choose Microsoft Dynamics 365 for both you ERP and CRM needs. You will then find that the Microsoft Dynamics Product suite does not work as one solution. To work together hand in hand, these Microsoft Dynamics 365 applications still need to be integrated. If you want your financial services to work as one with your customer services, you will have to integrate.
What is the best way to connect to Dynamics 365?
Many solution providers have developed data integration solutions for Microsoft Dynamics 365. Microsoft themselves are providing different ways to connect with Microsoft Dynamics 365.
In order to facilitate integrations, Microsoft created Microsoft Flow. Microsoft Flow was renamed to "Power Automate". It is a cloud-based service that you can use to automate workflow between Microsoft applications, web apps and services. Started around Microsoft Office, Microsoft Flows also works with Microsoft Dynamics 365.
Based on Microsoft Flow, there are two options to connect with Microsoft Dynamics 365
The Common Data Service Connector or "CDS connector"
The Microsoft Dynamics 365 Connector
Choosing the best connector will depend on your needs. The Dynamics 365 connector is an asset to integrate with more than the CRM applications in Microsoft Dynamics 365. On the other hand, it has been said that the CDS connector is more stable.
Regardless of which solution you choose, this will only get you halfway. These connectors can allow you to do great things. For a full-blown deep Microsoft Dynamics 365 integration, you should consider a dedicated Dynamics 365 data integration solution.
Start connecting with MS Dynamics 365
Unless you have tried it before, integration with Dynamics 365 can be a difficult task. One of the most common integration needs is to connect Microsoft Dynamics ERP applications with a CRM solution.
Working with an experienced integration services provider can prove to be a strong advantage. Solution providers like Rapidi have been integrating Microsoft Dynamics solutions with other applications such as Salesforce for decades. Using RapidiOnline, companies have seamlessly integrated with the full range of Microsoft Dynamics solutions. This includes the more recently launched Microsoft Dynamics 365 Business Central, Finance & Operations and Customer Engagement.
Including sales financial information in your CRM can make a big difference for your business. With RapidiOnline, integration only takes a few days. You can choose a triggered or real time integration. And you can select the subscription plan that suits you best.