When you first started using salesforce.com and Microsoft Dynamics in your business, you probably found that using those systems made running your business much easier. But as your business grows, using systems like these in isolation from each other can actually start to make life more complicated. As different teams collect, record and use data in different ways, it's hard to know how to make systems work together.

The answer is a Salesforce ERP data integration. This simple integration allows you to bring together all the vital data you need in one place from Salesforce and your ERP. No more worrying about how to share information between teams, no spending hours copying data manually and no mistakes. Just real-time, automated sharing.

1- Why integrate Salesforce with Microsoft Dynamics ERP?
A large majority of organization have a CRM and an ERP system. However, many refrain from integrating the two systems. Why? Often because the initial investment in the two systems has been bigger than planned and has utilized a great deal of the resources, time, and budget – sometimes more than originally allocated. So, the integration of the two systems might be set aside for a shorter or longer period. Sometimes it never happens. But is it wise? Combined together however, these two systems can help companies take an exponential leap. Watch this short video to learn what the benefits of the integration are.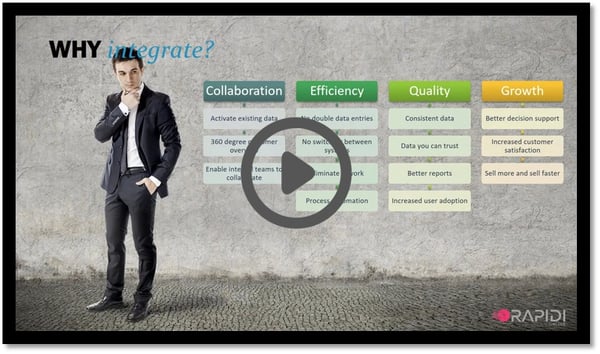 2- What and how to integrate?
You've decided to integrate salesforce with Microsoft Dynamics but still have to decide which tables and fields you want to integrate, whether the integration should be bi-directional or just one direction, as well as how often you want your data to synchronize. You can see below a graphical representation of what a "typical" case looks like.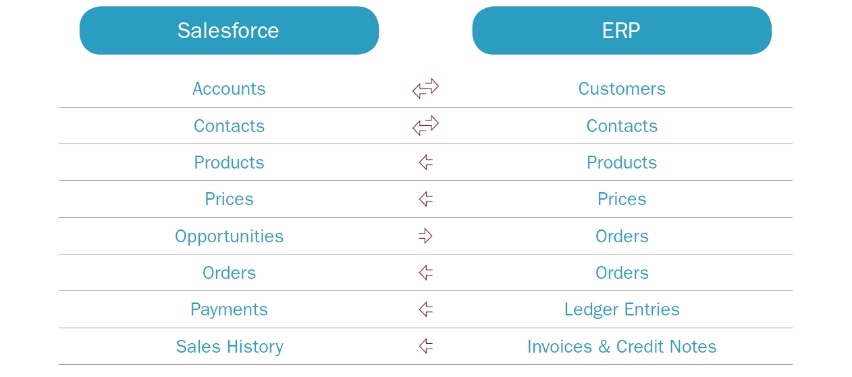 However, your integration does not have to work the same way. What should you integrate? What is a "must integrate", what is a "nice to have" and what can be kept out of the integration? This can vary a lot from organization to organization. It is therefore important that your data integration solution should be functionally rich enough to handle even very complex cases in a very simple way. RapidiOnline allows you to integrate any data between any version of Salesforce and Microsoft Dynamics, in any direction, on any platform.
3- Optimize your processes with a Salesforce-Microsoft Dynamics ERP integration – example: quote to cash process
Having to create a sales quote in your Microsoft Dynamics ERP and then once more in your salesforce.com is not an optimal process. When the quote becomes and order you can convert the quote to a sales order in Microsoft Dynamics but you have then to manually update salesforce.com. It's a workaround but it is not very flexible and very much error-prone. The integration adds a lot of value at this level. Sales teams, which rely on their CRM system, shouldn't work in isolation from the financial heart of the company. Sales strives for quotes that turn into invoices that eventually generate cash for the company, the so-called quote-to-cash pipeline. See how a Salesforce-Microsoft Dynamics ERP integration can help you optimize your quote to cash process.
Read also: Salesforce serves you better with ERP insight
Read also: Supplementing Salesforce CRM with a Microsoft Dynamics ERP solution
Read also: All you need to know about Salesforce-ERP connectors