International and multinational organizations often share the same challenges and to some extent the same setup. Data integration projects can be daunting - especially in a multicompany setup.
In this article, we will present a good and effective way to handle a data integration project in a multi company scenario. We will do this by studying the concrete example of a large and fast-growing international company.
This fictitious company has 19 subsidiaries located in multiple regions. They collect large amounts of customer data. They are using Salesforce at Headquarters, while their subsidiaries are Microsoft Dynamics users.
One of their biggest challenges is getting information from their 19 local Microsoft Dynamics into Salesforce. It is important for them to easily control their intercompany transactions.
They want a unified view of their customer data. They strive to get better business intelligence. They wish to have optimized business processes and give their sales staff access to up-to-date customer information.
They need to keep the data stored in their systems always accurate and updated. How can they handle this in the most optimal way? How do they find the best suited solution to these challenges?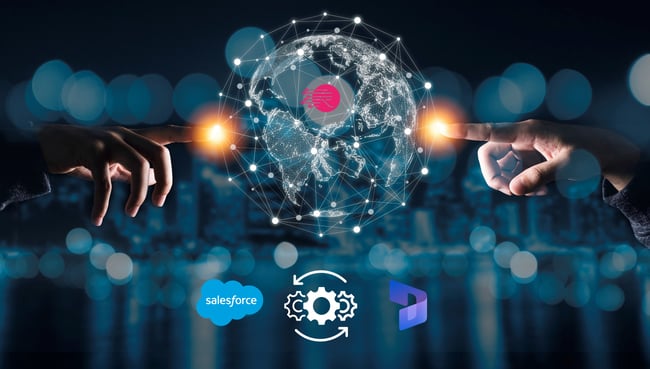 Selecting the right data integration solution for multinational companies
Data integration has its share of joys and challenges. There are many solutions that can help companies transfer data from different source systems to other systems. The difficult part often lies in the choice of the best suited solution.
Many good data integration solutions were made based on the simple ETL principle (Extract, Transform and Load). Today, however, data integration platforms are available to make the data integration processes smoother and more affordable.
A solution such as RapidiOnline makes accessing data from source systems easier. It facilitates enterprise data management and improves data quality.


Scalable design is key
When you have multiple sources of data - for example local Microsoft Dynamics (NAV, GP, AX or 365) databases to synchronize with salesforce you have two major challenges.
How to configure the integration so you integrate many local Dynamics systems into one Salesforce org?
How to maintain master data across your local Dynamics installations?
The benefit of using a tool like RapidiOnline is that you get both major challenges solved with the same solution. RapidiOnline can handle both the Salesforce to Microsoft Dynamics integration. In addition, it can also take care of the synchronization of data between local Dynamics databases.
Best of all, RapidiOnline can do all this without a single line of code in the Microsoft Dynamics code. Forget all about rigid custom development or traditional ETL technologies.
Because the company is growing at a fast pace, their number of subsidiaries is likely to increase with time. As a result, the volume of data and transfers they need to perform will just keep increasing.
The data integration solution that they select must be able to scale with their expanding business. RapidiOnline is built to optimally support organizations with multiple companies/databases. No special programming is needed to handle such scenario,
Using RapidiOnline, it is possible to configure an integration setup once and use it instantly over and over again to support multiple local companies. It can also be used to open a new company.
A good data integration solution must be able to secure consistent master data across individual companies/databases. The final goal is to turn data into valuable information and easy reporting.
Ultimately this will result in an ability to (re)act rapidly on changes.
RapidiOnline simplifies international and multisite Microsoft Dynamics installations with a data integration tool


AVOID DISRUPTION WITH A QUICK IMPLEMENTATION
Being part of a fast growing company inevitably brings time pressure and such a company cannot afford costly business disruption. When considering which data integration solution to choose, selecting the least disruptive solution is a crucial element.
Finding a data integration tool that works 100% as plug and play is more or less impossible. This is especially true if your ERP and CRM solutions are customized to fit your needs.
You can, however, reduce the work to be done by selecting a solution such as RapidiOnline that comes out-of-the-box with pre-configured transfers.
RapidiOnline comes out of the box with best practice integration templates. These templates are ready to use and can let you jumpstart your project. If you have specific needs, RapidiOnline can easily be adjusted to match them.
Solution support and responsiveness
The better your provider's support is, the smoother the integration will be. This is true during implementation and in your daily operations moving forward. It is true for any solution, whether it is ERP, CRM, or data integration.
The selection of the right solution also requires a thorough screening of the different solution providers. A good solution provider offers customer-friendly, dedicated, responsive and technically competent support.
Data integration projects are a little different from other projects. When your data integration solution is down, when transfers don't happen, you want spotless support.
Good support means being able to talk with someone who understands the data integration solution. That person also needs a deep understanding of the two solutions that are integrated. This will result in the ability to make the fastest and best informed diagnosis and resolution of the issue.
Many of these arguments can apply to any choice of data integration project. They are not solely specific to international projects. They are, however, even more important in a multi-site or international context. Having a proactive, responsive, globally-based support team becomes an even greater asset when you have subsidiaries all around the world.