Companies worldwide use CRM (customer relationship management) or ERP (Enterprise Resource Planning) solutions to improve their business.
CRM is widespread and is said to be used by more than 90% of all companies of 11 people. The CRM market is still booming and is expected to grow to $82 billion by 2025.
Likewise, ERP is no longer the exclusive system of large corporations and multinationals enterprises. It can also be the recommended cure for small businesses. According to Apps Run the World, the ERP market will reach $95.37 billion, 7% more than in 2020.
CRM and ERP software solutions help companies boost their business operations. But as businesses grow, using systems like these isolated from each other can prevent them from reaching their full potential.
Different teams collect, record and use data in different ways and it can be difficult to know which version of the same customer data is the most current and accurate one.


Salesforce ERP data integration
The answer is connecting the CRM and ERP systems. Over 150,000 companies use Salesforce as their CRM systems worldwide. Salesforce is one of the most recognized Cloud customer relationship systems. It has helped companies for decades and will most likely keep doing so for decades to come.
Salesforce ERP integration allows you to synchronize the totality of vital customer data your company collects. As a result, you have 100% accurate and current customer data in one place - whether you access it from Salesforce or from your ERP.
Integrating Salesforce and your ERP solution removes the worries linked to sharing information between teams. Your sales reps do not need to spend hours duplicating data manually from system to system. As a result, you significantly reduce the risk of manual errors and inaccurate double data entries.
The result is simple, real-time data-sharing.


Why is it important to integrate Salesforce with your ERP?
ERP and CRM implementations have been common for many years. In the past decade, people have started to understand that they can improve business processes by connecting these two systems.
While some might still wonder why integrating, there are many arguments to convince any executives to go for it. Here are five good reasons.


How does data integration help boost business operations?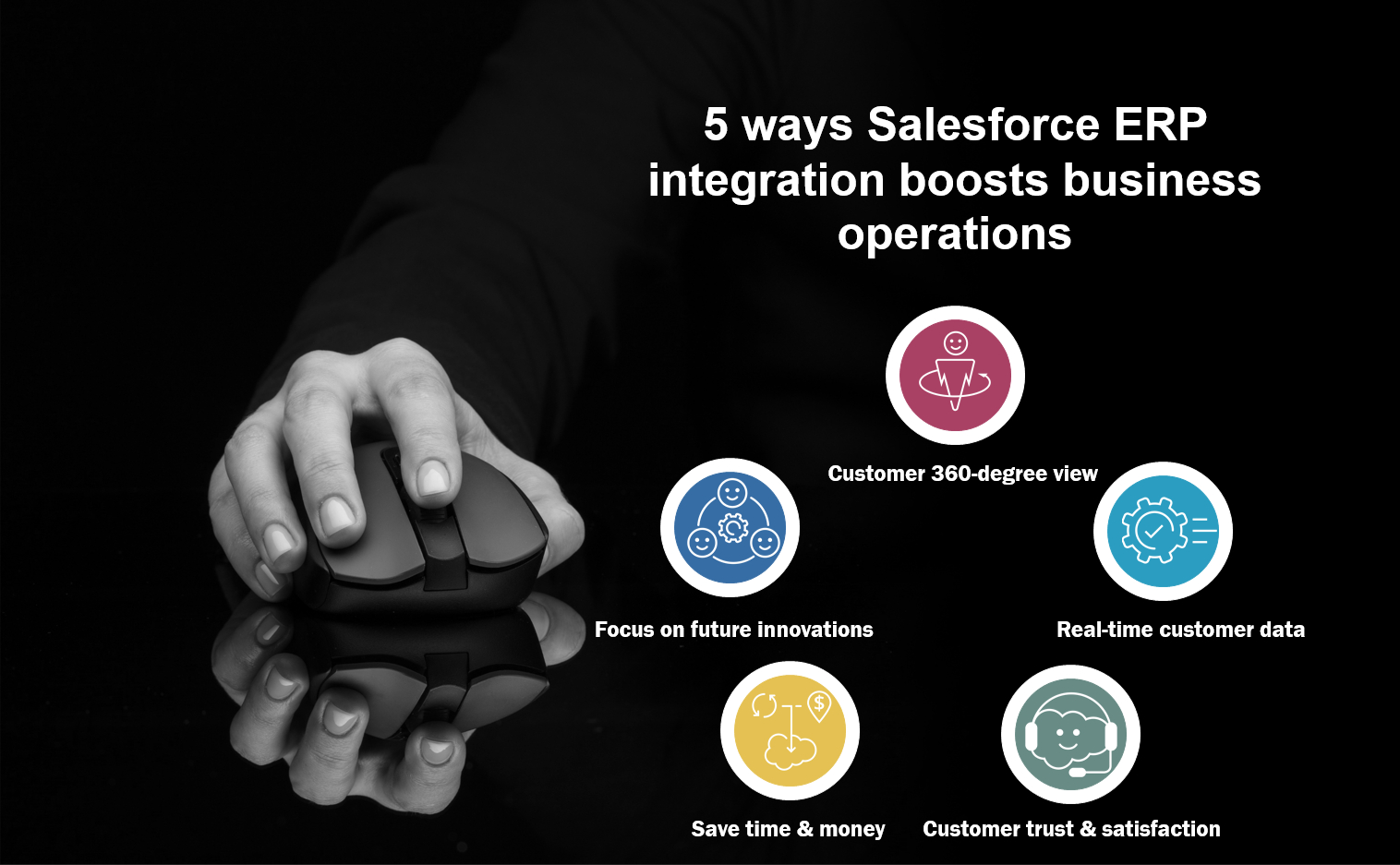 #1: Full customer information at your staff's fingertip
Many different departments in your company collect and manage customer data. A CRM software is not the only place to find customer data. As a result, Salesforce is not the only place where you collect information about your customers and products.
In your ERP solution, you might have gathered information about your supply chain activities, your order history or finance operations. Some of this information could also be very useful for other departments, for example sales or marketing.
Likewise, some of the information stored in your CRM that staff outside your sales and customer service teams could use to offer better day to day service.
Having information about sales history, payment and products or services formerly purchased, your sales team is better equipped to guide customers towards a new purchase. This information is usually stored in the ERP solution. The integration of the erp and crm systems makes sure that everybody has access to this information.
This is what many business operations management specialists are striving to achieve. No more time wasted asking another team for the information, no need to look it up in another system.
No more sales lost due to time wasted waiting for information. Any ways your customers interact with your organization are stored and available for all your employees, within seconds.
# 2: Real-time access to vital business information
Customer data is not static. It changes as people leave companies, or as companies change addresses. This information must be updated regularly as it evolves.
Orders are made, bills are paid, leads are logged in, and they need nurturing. Even with the best discipline, there is a chance for mistakes each time there is a manual operation.
Duplicating the data in multiple systems also implies a delay and some people might still be using outdated and obsolete data.
When you integrate Salesforce with an ERP solution (or even just a supply chain management system), you make sure that your staff is always equipped with up-to-date and trustworthy data.
This is game-changing in many ways. Your staff works faster throughout your company. They are empowered to make decisions, fast and independently. Collaboration between teams is increased as everyone can trust the data they have.
#3: Build trust with customers
Long-term customer relationships are vital to the long-term sustainability of any business. It is simply cheaper to sell again to existing customers than to find new customers. If your offering allows it, customer care, up- and cross-sell should be a top priority for you.
In order to keep your customers satisfied, you must provide a timely and professional service. Customers will expect you to answer their questions and deal with complaints quickly and accurately. Showing that you care is essential - and you can only provide this with a full overview of what your interactions with the customer have been.
Connecting your ERP with your Salesforce.com CRM solution helps you achieve this. WIth the integration, you have access to all customer data in one place. You know if they have experienced troubles with your products or services. You can anticipate their next needs.


#4: Save money and time
In a world of big data, data lakes and master data management, being on top of your data is essential. It is not an easy task, but you must master it in order to adapt and grow faster.
A Salesforce ERP connection will eliminate unnecessary time-consuming double data entries. It will give your staff the ability to focus on driving business and executing according to your business plans.
Manually copying isn't necessary any longer. Neither is checking databases manually to correct manual errors. Even the best of staff can make mistakes. It is human. When the inevitable manual mistakes are removed, it is a lot easier to focus on business improvements - and sales.


#5: Focus on future innovations
Businesses need innovation to grow and expand. When you integrate your ERP system with your Salesforce CRM, your resources are free to focus innovation and business improvements.
The burden of admin tasks is significantly lowered. Your staff spends less time looking for data. They are free to think about process enhancement. It is the perfect environment for new ideas and innovations.
Having valuable data at their fingertips, they can back up their ideas and suggestions. They can make fast and informed decisions. They are fully empowered to take your organization to the future.
How to successfully integrate Salesforce with your ERP?
Data integration projects have the reputation of being stressful, risky and always more complex than you had expected. It does not have to be the case. Data integration can be simple and hassle-free.
Work with Rapidi and understand how you can easily integrate your systems with the Rapidi Salesforce integration platform.